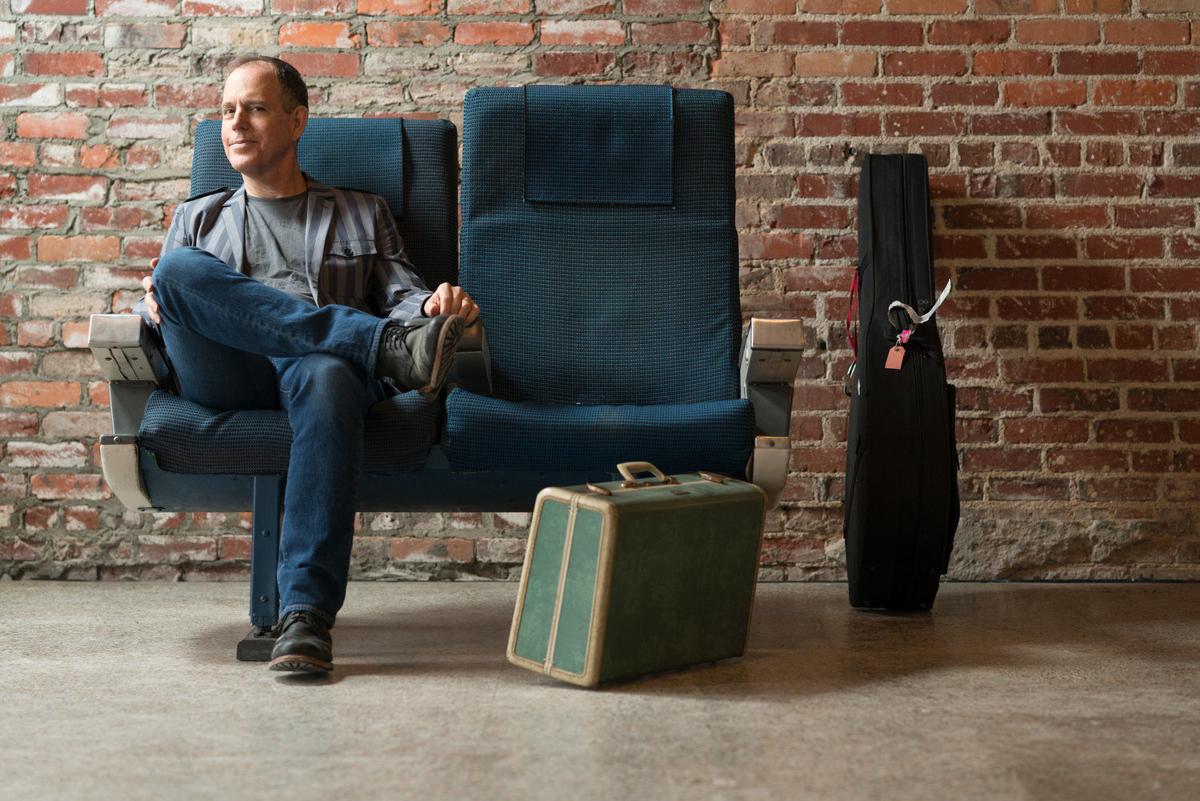 There's an openness to David Wilcox that's been evident since before he wrote or recorded a single note.
Back in 1977, while attending Antioch College in his home state of Ohio, he encountered a woman on campus playing Bob Dylan's "Buckets of Rain" on an acoustic guitar. Wilcox had a friend who wanted to learn the song, so he asked her to teach him to play it, so he could show his friend. She did, and Wilcox fell in love with the instrument's potential. It spoke to him in compelling ways.
"Open tuning," he recalled. "That whole 'Blood on the Tracks' [1975] album is in open D. It just gives the guitar a wonderful, welcoming personality. For the first year or so, I just played in open tunings — lots of Joni Mitchell songs and all that."
A decade later, he released his debut, "The Nightshift Watchman." It was the promising beginning of a journey that's covered 30-plus years in 20 albums. His most recent effort, 2018's "The View from the Edge," is yet another sparkling collection of meticulously crafted observations, this one focused on grappling with the limits of one's own perspective.
Songwriting, for Wilcox, has never been a means to a lucrative end; he sees the form in its purest sense, as opportunities to navigate, teach, connect, heal and evolve. Asked to describe the popular landscape when he first emerged as a recording artist, his reply is simple. He doesn't know the answer, and it wouldn't have mattered to him anyway. He had other priorities.
"It's not like I was looking for a stable career," he said. "I was just finding my way of knowing my heart. I had this little window into a blissful sense that life was going to be OK when I was deeply into music. Music was a compass that happened to align itself with the direction I wanted my life to go. It's not like I had tremendous access to my heart. That's not why I was a songwriter. I was a songwriter because I didn't have access to my heart and saw music as the only place where that started. I was not aware of the viability of the singer/songwriter as a lifestyle. I just knew that I would die if I didn't live a life that was more alive."
Little has changed since then. Today, Wilcox laughs easily and considers his thoughts carefully, wending through words for the perfect summation of his insights. It's the songwriter at work, forever learning, always open.
CORY FRYE: How did you find your voice as a songwriter?
DAVID WILCOX: I think I may be discovering it now. (laughs) It's such an adventure of learning to trust this wonderful, confusing process, going with a subtle little hunch and delving into it, spending hours on what is probably nothing but might be something great. That trust has been slowly growing, and it's easier for me now to have that audacious belief that one little wisp of an idea could become something worth singing.
Years ago, I interviewed Bruce Cockburn and when I brought up something he'd recorded in, like, 1970, he replied immediately that he wouldn't have written that "today," because it was the perspective of a younger man. Do you have such a relationship with your earlier work as well?
I do have songs that are great portraits of who I was, but it's not like I'm going to try and wear those clothes again, especially that mullet. (laughs) I'm grateful that I'm not that person anymore. Man, I was hurting a lot and I wrote my way out of it. Music was the ladder up out of that hole.
So, then, how do you regard the guy who released "The Nightshift Watchman"?
It depends on what level you're answering that question. If you're talking to your meditation teacher, the answer to that question is, "First you have to get an ego in order to lose it." Talk to your music teacher, you say, "After 30 years, it starts to sound good." But I hated that record for decades. For example, when my wife met my family of origin, she had great compassion for me. It's not that she thought I was any wiser or smarter; she thought, "Oh, my God, you've come so far." (laughs)
In that vein, I wanted to ask you about revisiting and updating "Blue Horizon," from 2003's "Into the Mystery," last year. (Both versions confront death and loss, the original by car, the latter in the tragically common phenomenon of school lockdowns and active shooters.)
You have free articles remaining.
The story was a powerful one. There are a lot of kids now who have experienced that, and a lot of people who've lived with it. When I was trying to find a way into that feeling, that emotion and that story, I realized that the song I'd written years before about a completely different thing seemed to finally find its element. The chorus had been looking for this story. The song had this strange life cycle where it took flight for a moment and buried itself in the ground like a locust, then came to life again. I hadn't played it because it had never felt all the way right. But when it finally was in service to this story, I thought, "That's what this song's always been trying to be."
Where did you come up with that great line, "Everything I Think I Know, I Think" (from 2018's "The View from the Edge")?
It's a teaching story for me, a song that keeps me sane and reminds me that when I'm reacting strongly to something I think is a problem, a little warning light goes off on my mental dashboard. Instead of saying "check engine," it says, "Check attitude." That certainty is the real tell. The certainty is my way of knowing, "Oh, I'm kind of deluded now." I'm taking my emotions as if they were accurate perceptions of the world.
After all this time, I am delighted to play with that wonderful switch that happens when I become aware that my emotional read is not an objective reality; it's just my emotional read. Many times, as soon as I realize that I'm projecting my movie onto the screen of the world, I'm able to react in a much more constructive way.
The reason why that sentence is so convoluted and tumbles over itself is because that's the experience of that kind of mental shift, where the syntax of the sentence has that same sort of pivot point the shift in the perception does. It just seems satisfying to say, "Everything I think I know, I think."
You're known for improvising songs for audiences at your shows in something you call "Musical Medicine." How do you find that on-the-fly process over long, deep reflection?
Both are fun for me. I love the slow distillation of an idea, working out a song for days or weeks. But there's a wonderful bliss that comes with creating a song spontaneously. I start out by asking, "So how is it being you? Anything up?" And someone will tell me a story.
The crucial difference between the real song and the spontaneous song is that everyone in the room hears the back story. What makes a song difficult to write is communicating the whole setting: who is speaking to whom and why. In a spontaneous song, everyone's already heard the story, so I don't have to tell it; I just have to tell its emotion. It requires a ridiculous sense of trust, not only with me that the next word will somehow arrive, but a trust between me and the audience. At first, they think it's impossible. But when they see it a couple times, more people raise their hands. "Dave, I got one!" It is a wonderful way to remind people that the music is now. It's never happened before and it's never going to happen again.
So, what's the current status of the "Rusty Old American Dream" (from 1989's "How Did You Find Me Here")?
(laughs) That song has a lot of true things in it. It started out as an angry song; I was frustrated at the mistakes American car designers were making in the 1960s and '70s. A lot of it is filled with vestigial anger from my dad, because he was very aware of limited resources and the need to create cars that were efficient — he knew that in the '50s. He was always critical of the mistakes we were making by creating these inefficient cars. His rude name for them was "road locomotives."
So the song started out with that kind of attitude. When I grew up in Cleveland, the auto industry folded, and it became the Rust Belt. Everyone was complaining: "Look what happened to us. We got totally blindsided." The anger in that song is "Oh, no. We didn't get blindsided. We were purposely blind." Everyone knew this was going to happen and completely ignored it.
Then the frustration and anger turned, because I decided to write from the point of view of the car. It's not the car's fault. The car was made with this ridiculous ideology: The world can't touch us; we're America. So, the car is oblivious to the fact that mistakes were made. When I sing the song, it's a song of compassion. It's a character that's so different from where the song started.
That's why I love the process. You begin a song with one emotion. You write deeper and deeper, and soon there's this wonderful emotional alchemy. You're shown a different side of something. It was therapy for me. Instead of carrying this grudge — how stupid American car designers were — suddenly I have compassion. Oh, I see. It was an idea of innocence and youth, like we're impervious to the finite nature of resources. It was a way for me to forgive.
So it was an early realization of "Everything I Think I Know, I Think."
David Wilcox explores three decades of craftsmanship in a 6 p.m. performance Sunday at the Whiteside Theatre, 361 SW Madison Ave., Corvallis. Advance tickets are $25 general and $30 reserved; all tickets are $30 on the day of the show. For more information, visit https://app.arts-people.com/index.php?show=109540.