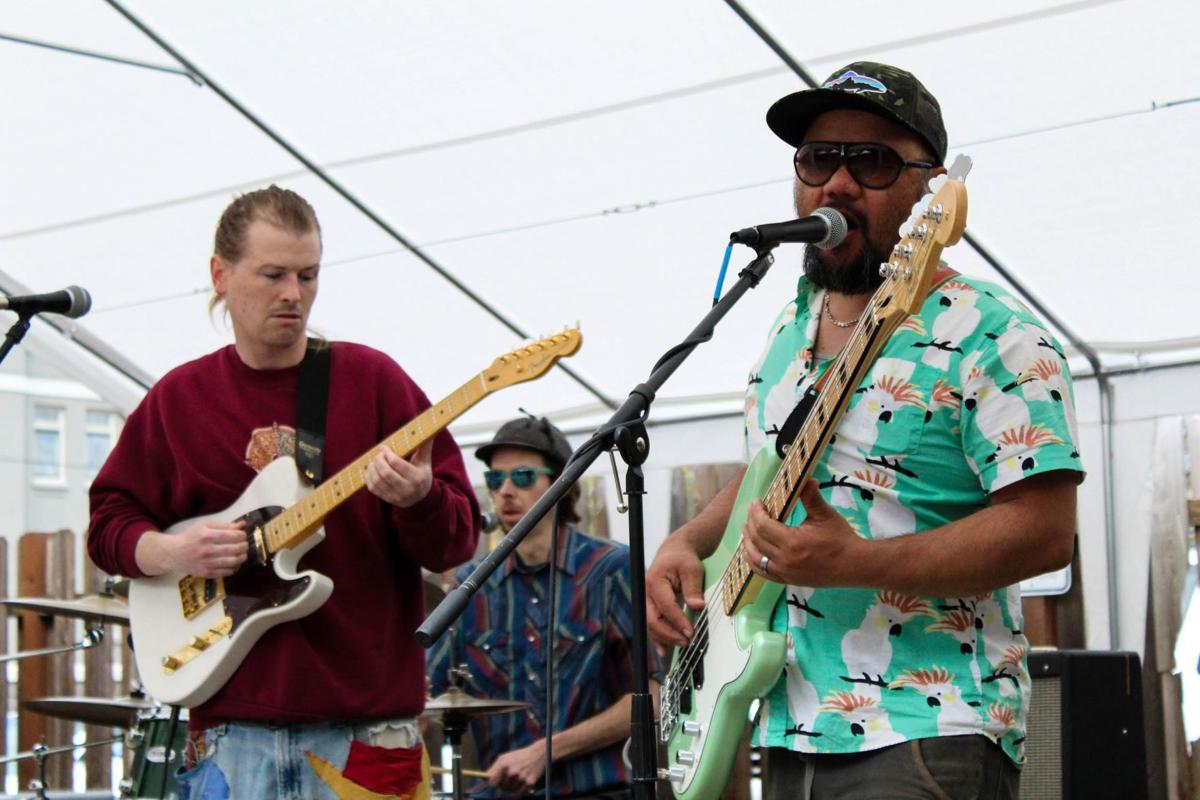 It's been a while since we've visited the neighborhood, almost nine years. Things have changed, yet the groove moves feet and minds as ever.
The Space Neighbors nucleus is the same as our last transmission: John Navarro on bass, Nick Rivard on guitar and Rigel Woodside on drums. But it's just them, or, rather, all them now, a funky-hearted trio. You can hear this tightened drive — still loose enough to throw down when down must be thrown — on their latest trip, "Which Way's Up?" (2019), a sonic melange of funk, rock, reggae, Latin and multi-flavored jam that answers its own question with "everywhere."
The band celebrated its 10th anniversary last year. Some may have left the neighborhood, but the neighborhood's never left us. In fact, they've continued building. They're sitting on an expansive repertoire of 40 or 50 original songs and spreading a consistent message of universal peace and love, whether through a rigorous show itinerary or the occasional post-"Escape Pod" (2009) recording, like "Crucial Pie," a mixed platter of studio-honed tracks and live blastoffs. And more are forthcoming; it's just a matter of time and space.
Speaking of space, Thursday night's gonna be a real shoe-killer. The Neighbors are opening for the Eugene-based High Step Society, a brain-blowing union of hot jazz and electronic dance, i.e., electro-swing, hailed by the Eugene Weekly as the city's best band of 2019. (See info box for details.)
"They're amazing," Navarro said in a recent telephone interview. "Their focus are those highs and drops. We're an interesting mix. But I think both bands get to that end point, which is pushing a unifying experience of people sweating and dancing together."
Navarro also discussed with The E the importance of music as evolution and revolution, among other subjects, in a parley 'cross the cosmos.
Let's talk about life at the 10-year mark.
It's like, "We're still here." (laughs) Mostly. I'm surprised by the longevity, but it's also working as intended. It's supposed to be a neighborhood band that keeps going and keeps building. When we hit our 10th year we thought, "Well, let's get our current stuff on record and keep pushing." The neighborhood, as we call it, grows and evolves to whatever's going on.
How do you like the trio format?
You have free articles remaining.
We love it. I think it brings out a lot of the characteristic songwriting. Nick and I basically share songwriting duties and Rigel, of course, is still drumming with us, pushing the whole world or larger-than-just-one-genre vibe. We really moved to the trio format just for ease, so we could get a bunch of songs written and not just jam in the living room weekly.
I think it's working. On our last album ("Which Way Is Up?"), we're not really pushing straight funk anymore, though it still has some funky elements. We're trying to grow into an all-world concept. The straight funk and groove, we'll still pull off, especially at shows. We still play half of our old stuff. But our repertoire has built up quite a bit, so we have a lot of choice and now we can adjust to the venue, so to speak.
As a trio, you're allowed to reinvent yourself a lot. You're not restricted by ideas like, "Well, there has to be a horn section" or "We're writing in funk, so it has to follow a certain thing." We can back off and focus on space, musical space, between three instruments. But we try not to cut off our ties, especially when it comes to album work. We hope to push a new album here in the next few months with a stockpile of songs. You can still pull those vocalists and bring artists back in for recording. Again, it's part of the neighborhood, you know.
There's gonna be a new album?
We tracked it a few months ago as far as getting all of our parts in except for vocals. That's looming in the future, and 2020 seems the perfect time to release an album. We're excited for the year and the new stuff too.
On your most recent album, you have a great song called "Transcendental Goat." Could you describe what that is?
I got it from a meme called "The Transdimensional Goat." But a transcendental goat, he sees through you. He is you and your own reflection. It's our vehicle for going beyond our humanness to a oneness with the universe. It's a great crowd-pleasing song as well. We push that character a lot. He's been a huge theme in our shows recently, and people love the song now. That one's made it high into the list.
What keeps the Space Neighbors going?
I describe Corvallis as a vortex. It's off the beaten path and I do think, truly, that there's an energy, there's an energy in this area that pulls us all here. We're all drawn to be here and drawn to be together as a trio and a larger neighborhood too. We try to look and feel like this tapestry of interwoven inspirations. That keeps it going.
We're experts at space now. We've got that decade under our belt and I hope this is a transcendental year. We'd love to see it switch. It's that time politically. The unifying forces of folk back in the '60s coalesced into a lot of popular music.
I want the Space Neighbors to have that same vibe, and it feels like now, we need something. People need something to rally around and feel like it speaks with them, to them and for them. We talk about community, what it means, what that looks and feels like, and certainly what it dances like. We push that, getting that sort of message out: a transcendental society open to more than one genre of music or message. We want people to come together in positive ways.