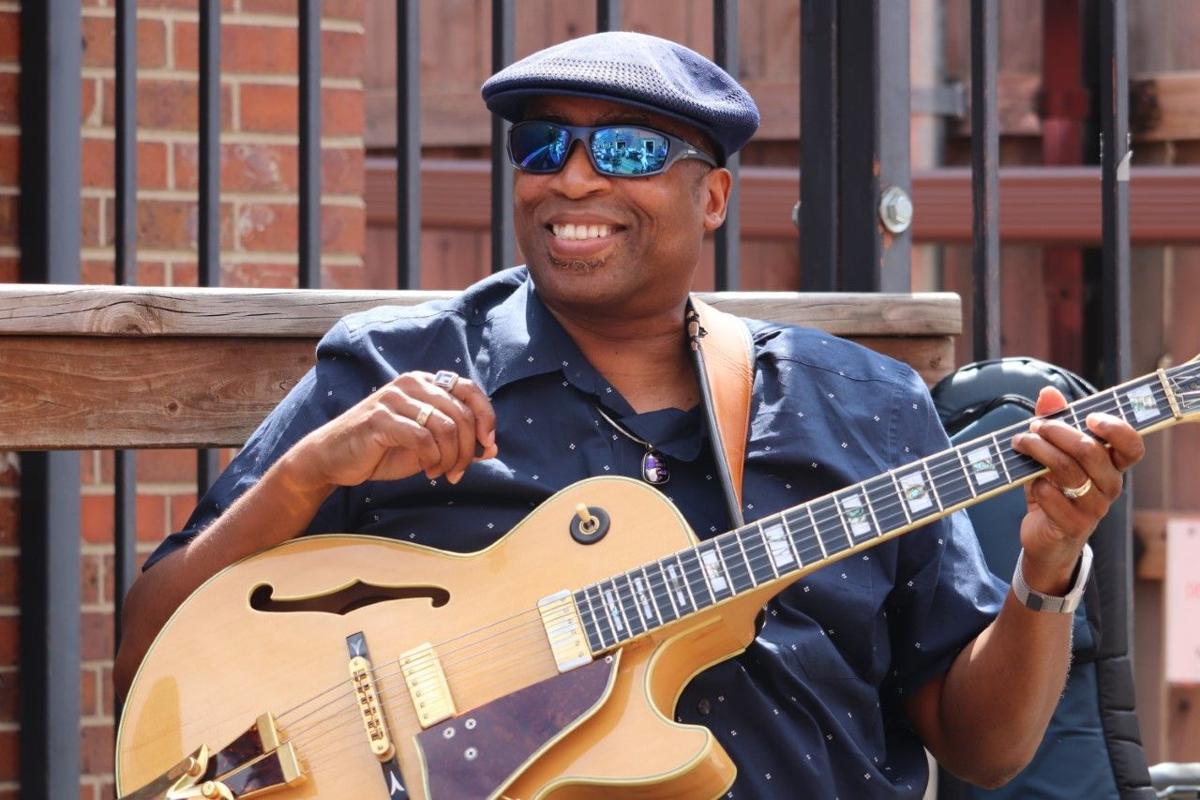 Guitarist Wayne Goins mourned the day when Larry Rodgers and Susan Jackson Rodgers departed Kansas State University for new jobs at Oregon State University.
Then as now, Goins taught in the jazz studies program at KSU. Larry Rodgers, who was headed for OSU to serve as the dean of the College of Liberal Arts, was a big supporter of the program. (Susan Rodgers now teaches in OSU's School of Writing, Literature and Film.)
"We lost two good people at one time," Goins said. "I missed them horribly when they left."
But they vowed to get back together. Maybe Goins could swing by the Corvallis campus for a time, work with some students, play a show?
Of course, that was back in 2008. 
Better late than never: Goins has been on the OSU campus now for a couple of days, working with students and giving them a taste of his blues and jazz guitar — he tends to teach, he said, with his guitar strapped around his neck. On Thursday night, he plays a show at the Majestic Theatre in Corvallis, accompanied by an all-star band of local musicians.
In an interview this week, the 58-year-old Goins said he knew from an early age that he wanted to play guitar. It helped that he grew up in Chicago, surrounded by blues and jazz. 
"Every year I used to get a toy guitar" as a gift, he recalled, and when he switched over to the real thing, he was a natural. "It's all I've ever wanted to do."
Teaching in the college setting came just as naturally: "I think I've always been a teacher. I love teaching. I love showing people what I know." He's added author to his resume as well, with books about artists such as Jimmy Rogers, Charlie Christian and Pat Metheny.
It's a great time to be teaching jazz, he said, with artists like Robert Glasper and Esperanza Spalding working hard to push through musical boundaries and explore other genres. "Jazz is as popular as it's ever been," he said. "Jazz is damn near everything these days."
But one of the points he tries to make clear to his students, both in Manhattan, Kansas and Corvallis, is that they need to keep an eye on business matters as well. "The music business is more business than music and most kids don't know that."
But, sometimes, it's the music that takes center stage, as it will during Goins' show at the Majestic. He said the lineup for that concert will draw heavily on jazz standards, songs that have stood the test of time and leave plenty of room for players to stretch out.
"You can always pump fresh things into those songs," he said. "They were so well-written."
But there's one additional requirement, he said: 
"I like things that swing."
Stay up-to-date on what's happening
Receive the latest in local entertainment news in your inbox weekly!