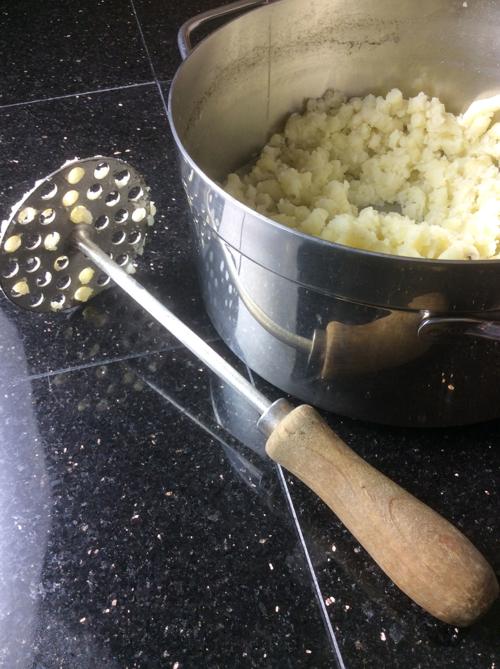 If you have awakened to a snowy landscape this morning, well then, chances are you will be in the mood for a bit of cozy cuisine tonight. At least that's the frame of mind I'll be in. And it takes me back to another time in my life. I was finishing up my fourth cookbook, "The Onion Book," and the calls between me and my editor at back at Doubleday, smack-dab in the heart of Manhattan were frequent. But on this one particular day I was, frankly, surprised to be hearing from her because I had just seen a report that city officials had ordered all non-essential workers to stay the heck out of town.
Judy had pooh-poohed such nonsense. She reminded me that she lived only a few measly blocks from her office, "and no damned pain-in-the-neck snow storm" was going to interrupt her schedule.
Pain in the neck storm? I was incredulous. The news coverage showed a magical, mellow city — deserted snow-packed streets lined with silent, stately giants of steel and concrete. What I would give to be able to cross-country ski up Broadway; to feel the peace and silence that a thick blanket of snow had laid upon the cacophany of New York City.
In fact, the more I thought about it, the more I wished I really was there. How wonderful it would be, warming myself in front of a grand fire after a leisurely ski-tour, first, down Fifth Avenue for a bit of window shopping, then hanging a left at The Plaza for a spin through Central Park. I found myself plastered in front of the television, seeking fresh glimpses of the storm, and wishing I was there.
You have free articles remaining.
Well, one hankering led to another. So finally, I headed into the kitchen to prepare the kind of comfort dish I would be fixing for myself and a lucky few if we were indeed curled up by a warm, crackling fire with the blizzard of the century raging outside all around.
And that's how I ended up with a big ol' steamy pot of mashed potatoes. Never mind that this simple, down home offering has evolved into "a concept" with gourmet status. Even if it weren't so, they would always be welcome in my kitchen.
But the fact is, mashed potatoes are very restaurant chic. Meaning, more and more of the nation's top chefs have made room for them on their menus. In fact, these days, it's more unusual NOT to encounter a serving that doesn't include some additional form of flavoring, be it roasted garlic, caramelized onions, crispy shallots or vegetable purees.
So in celebration of this delectable and oh-so-comforting dish, here's a selection of what I consider some of the more straightforward and tasty mashed potato combinations.
Plus, there's the obvious advantage they present if indeed we are in the middle of a snow-week. Chances are you will be in the mood for a bit of cozy cuisine tonight. But running out for a long list of ingredients just might not be a thing you want to accomplish today. But chances are you've got potatoes and onions in your pantry. And perhaps a bit of butter and maybe even light cream (or milk!) In your fridge.
Jan Roberts-Dominguez is a Corvallis food writer, artist and author of "Oregon Hazelnut Country, the Food, the Drink, the Spirit," and four other cookbooks. Readers can contact her by email at janrd@proaxis.com or find additional recipes and food tips on her blog at www.janrd.com.