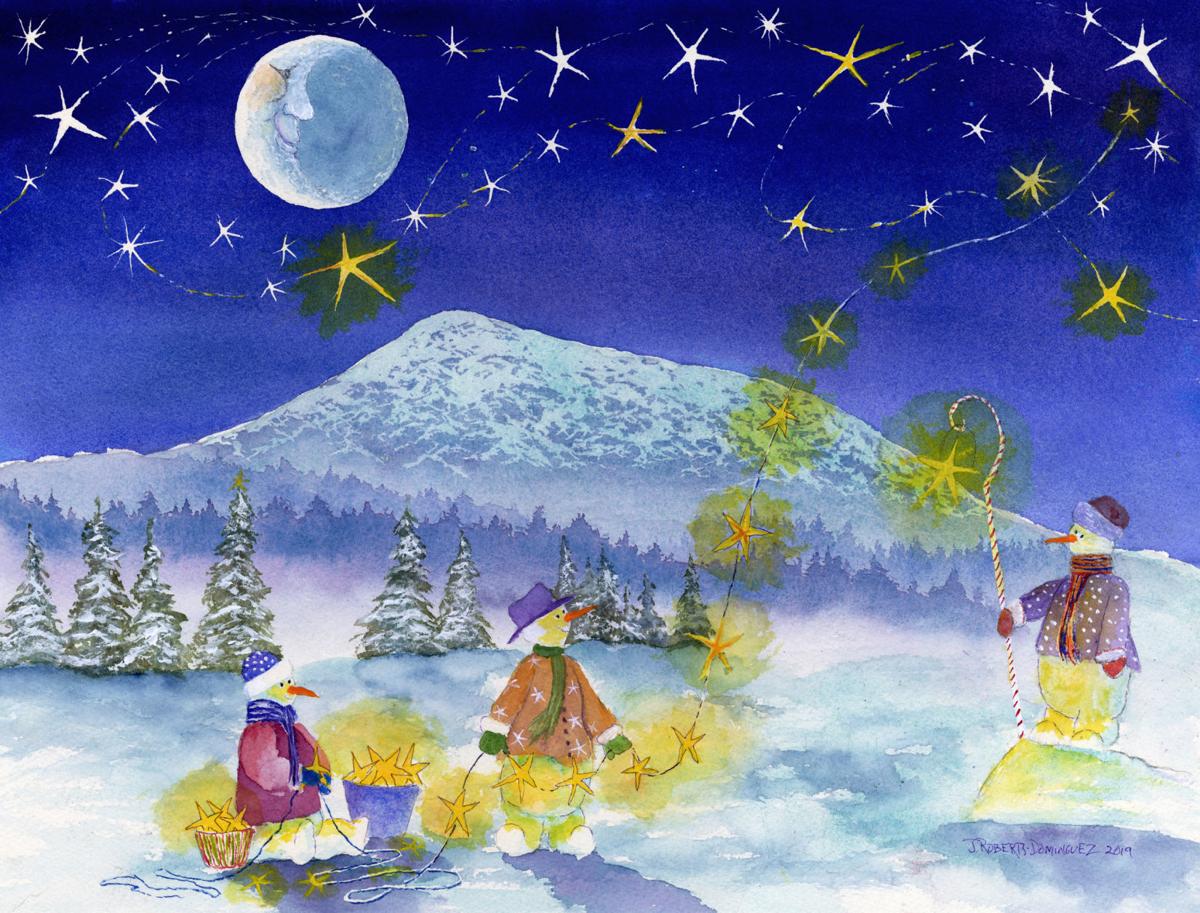 Here's to a month of getting out and enjoying the beauty of winter, Willamette Valley style. OK, so that rarely means the sort of Currier & Ives landscape that supports cross-country skiing from home to your nearest market for a quart of milk. But even a moderate dusting of the frosty white stuff would put a fresh face on the holiday season as we open our homes to family and friends.
Indeed, with folks coming and going during this festive time of year, why not take a few days to prepare? Clean out your refrigerator, including the gucky vegetable bin. Then re-stock it with offerings that won't completely undermine your noble efforts to behave during this month-long eat-a-thon. Stock up on lots of cut up carrots, a forest of broccoli and cauliflower florets, and tubs of lovely olives and pickled vegetables that can flavor-up a antipasto platter in a flash without a lot of fat.
Stock sparkling waters and healthy juices. You might even consider my favorite low-calorie thirst-quencher, a "Mer-tini." It's named after my niece, Meredith because she and I, though living several states apart, came up with the same concoction: a 50-50 mixture of sparkling water and whatever juice you favor.
Over the next few days, when you can afford the time and the mess, double up on your cooking so meals can be pulled from the freezer later in the month.
Ditto for your baking. IF you're baking. I'm not guilting you into the concept. But the week right after Thanksgiving would be a grand time to tuck away any Christmas and Hannukah goodies in the freezer.
Then it's on to the alcohol purchases. Start with your beer collection. If you're one of the fortunate few with an extra refrigerator on the premises, then you're probably already savvy in how to stock it with appropriate beverages. For the rest of us, space is a challenge. But I'll just lay out the basics and leave the logistics up to you.
WHAT TO BUY
Holiday beer drinkers tend to fall into two different style camps: lager or pale ale. What should you stock to please both camps of beer drinkers? Well, for a basic-but-respectable showing, consider the following (you'll have to decide how many bottles of each):
1 lager style, such as Corona or Budweiser. But there are a number of regional options to explore as well.
1 pale ale style. This is one of the most popular of the styles produced by Oregon microbrews; a medium-bodied ale with a complex, medium-dry flavor profile that complements a wide array of foods, from chips and dip to rich and hearty stews.
1 IPA style, which is another of the most popular styles produced by Oregon microbrews. It's heartier and "hoppier" than a pale ale.
1 "stout" ale. Stout is a rich, dark, full-bodied ale with a creamy tan head and an incredibly complex flavor profile with burnt-malt and hints of molasses in the finish.
1 or 2 "seasonal" ales. Again, most regional microbreweries produce one in time for the holidays. They tend to be somewhat rich in color and flavor, with hints of berries or spice. If you have one or two offerings on hand, your beer lovers will think you are very cool indeed!
For your wine selections, try to have at least three styles: one red wine varietal such as a pinot noir, syrah, or old vine zinfandel, that's slightly fruity, but with enough tannins and complexity to stand up to a hearty stew or grilled beast of some sort; one white wine varietal that's on the dry side (not sweet), such as a pinot blanc, pinot gris, or chardonnay, that would complement your subtle shell fish or creamy pasta dishes; and one white wine varietal that's a bit fruitier, such as a gewurtztraminer or riesling, which would pair well with your spicy Asian-influenced dishes (I'm thinking grilled chicken satay with peanut sauce, a variety of spicy curries, and stir-fries).
FOR THE FREEZER
Polenta's a great thing to have on hand for last-minute gatherings. But I'm not a fan of the commercially made stuff that's sold in a plastic tube (flavorless, with horrible texture). My homemade polenta can go straight from freezer to oven. While it's browning and re-establishing its luscious gooey-cheesy texture, simply saute some sliced mushrooms (don't forget, Chanterelles are in season), onions, garlic, and peppers in a bit of olive oil and butter, a splash of wine or brandy, several glugs of Worscestershire sauce, and a healthy shake of Tabasco.
Homemade soup can be thawed and heated in short order also, and makes a great meal, particularly when accompanied by a good quality loaf of artisan bread.
Another great thing to have lurking in the freezer is a generous batch of hot buttered rum mix. It's truly delicious! I've provided my version. Enjoy!
Jan Roberts-Dominguez is a Corvallis food writer, artist and author of "Oregon Hazelnut Country, the Food, the Drink, the Spirit," and four other cookbooks. Readers can contact her by email at janrd@proaxis.com or find additional recipes and food tips on her blog at www.janrd.com.