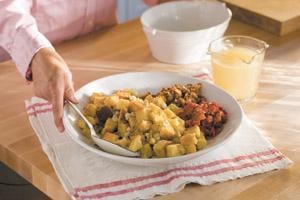 Likely derived from the Algonquin word rockahominie, hominy refers to corn that's been soaked in lime or lye water, a process that removes the hard outer hull. In the process, corn becomes more digestible, liberating B vitamins and amino acids.
Hominy was one of Native Americans' first gifts to European colonists, and the settlers no doubt gobbled it up. They'd helped themselves to Indian corn stocks during their first exploration of Cape Cod (records say they paid the natives back for the "borrowed" grain at some later date). But just what to do with the hard flint corn must have absolutely baffled them. The Indians taught the settlers to cultivate the mysterious maize, and use the alkali from wood ash to turn it into hominy. The hominy, in turn, could easily be cooked, broken into grits or ground into meal.
The process that turns corn into hominy is called nixtamalization (from Aztec) and was first practiced around 1500 B.C. in present-day Guatemala. If the idea of treating food with lye doesn't sound appetizing, consider the alternative: Nonnative cultures that relied on corn as a staple without nixtamalization know-how suffered severe malnutrition.
Today, we generally buy hominy canned. It figures prominently in posole (a Mexican stew) and menudo (a spicy tripe and hominy stew). It's also mashed to make the masa used in tamales and turned into the hominy grits ubiquitous in the "grits belt" of the Southeastern United States.
Serve this flavorful stuffing with roasted chicken or turkey. Look for hominy next to the canned vegetables.
1 (8-inch square pan) cornbread (about 1 pound), cut in 1/2-inch cubes
2 teaspoons vegetable oil
1/2 teaspoon poultry seasoning
1/2 teaspoon dried oregano
1 teaspoon hot chili powder
1 (15-ounce) can golden hominy, rinsed and drained
2 (4-ounce) cans mild diced green chiles, drained
1 cup roasted red peppers, chopped
1 (14-ounce) can reduced-sodium chicken broth
Preheat oven to 350F. Place cornbread on a baking sheet; bake 10 minutes or until toasted.
Heat oil in a large skillet. Add onion; poultry seasoning, oregano and chili powder; sauté 5 minutes. Combine onion mixture, cornbread, hominy, chiles, red peppers, chicken broth and water. Toss well. Spoon into a 13-by-9-inch casserole dish and bake 20 minutes. Serves 12.
Source: Recipe adapted from chef Andrew Schloss on behalf of the Canned Food Alliance.
Per serving: 140 calories, 3.5g fat, 15mg cholesterol, 4g protein, 24g carbohydrates,3 g fiber, 590mg sodium.
Look for Relish magazine, celebrating America's love of food, each month in the Gazette-Times. For more Relish recipes, see www.relishmag.com.