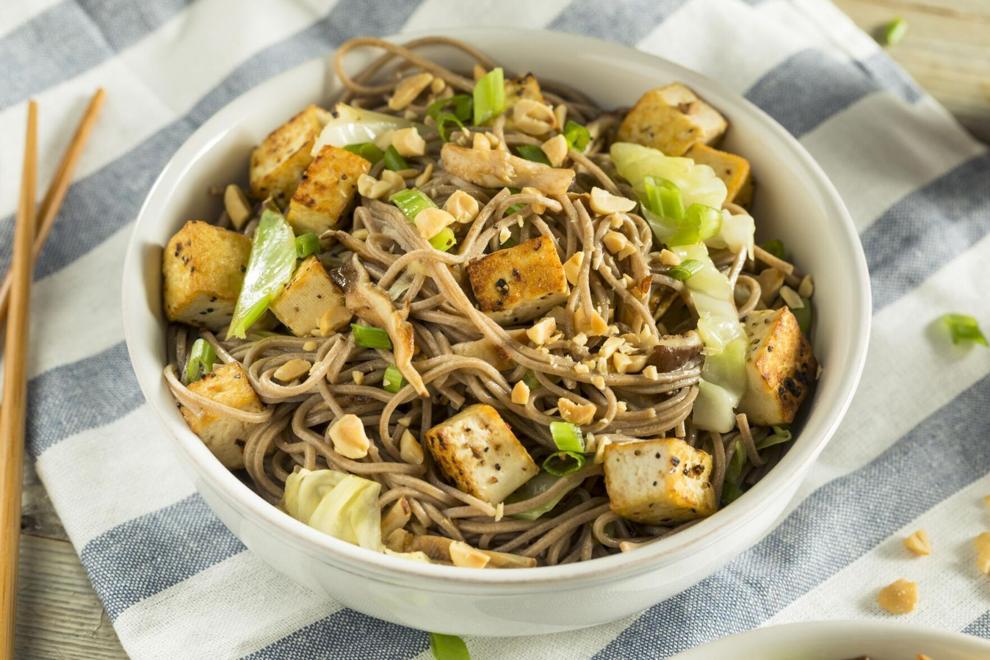 Like a lot of our favorite pasta recipes, the key to these noodles is in the sauce and letting that sauce really shine by making it hours in advance. This allows the flavors to combine together, creating a total umami bomb. If you have the time, prepare this sauce the night before you plan to serve these noodles.
When you make the sauce, you'll find it takes less than 20 minutes. Just chop 10 cloves of garlic (a mini food processor makes this a snap!), and add in the peanut butter, soy sauce, sugar, chili oil and rice wine. This recipe calls for all-natural peanut butter, but honestly, any ol' pantry staple PB will work just fine.
After making the sauce (and ideally letting it sit in the fridge for a few hours), it's time to make those sesame noodles! This recipe is uber simple — just cook spaghetti according to package directions, run the cooked pasta under cold water to cool them down and then toss them in sesame oil for tons of sesame flavor. If you want to play around with this recipe, Asian noodles like soba, udon, soba and rice noodles all work phenomenally.
Bring it all together by tossing your cooked noodles with the peanut sauce, and top them with sliced scallions and more toasted sesame seeds. You can totally eat this noodle dish as-is or serve it alongside grilled chicken recipes that are far from boring.
10 cloves garlic
1/2 cup all-natural peanut butter
1/2 cup soy sauce
5 tablespoons sugar
1-2 tablespoons hot chili oil
1/2 tablespoon Chinese rice wine or dry sherry
1 pound spaghetti
Toasted sesame oil
2 green onions, chopped
Toasted sesame seeds
Step 1: Cook 1 pound spaghetti according to package directions.
Step 2: Run the cooked pasta under cold water, toss lightly to dry, then lightly oil the strands with toasted sesame oil to keep them from sticking together.
Step 3: Mince 10 cloves of garlic in a food processor, stopping occasionally to scrape down the sides. Add 1/2 cup peanut butter, 1/2 cup soy sauce, 5 tablespoons sugar, 1-2 tablespoons chili oil and 1/2 tablespoon rice wine. Puree 1 minute.
Step 4: Put the spaghetti in a large bowl; top with sauce. Mix until the pasta strands are evenly coated. Garnish with green onions and toasted sesame seeds.