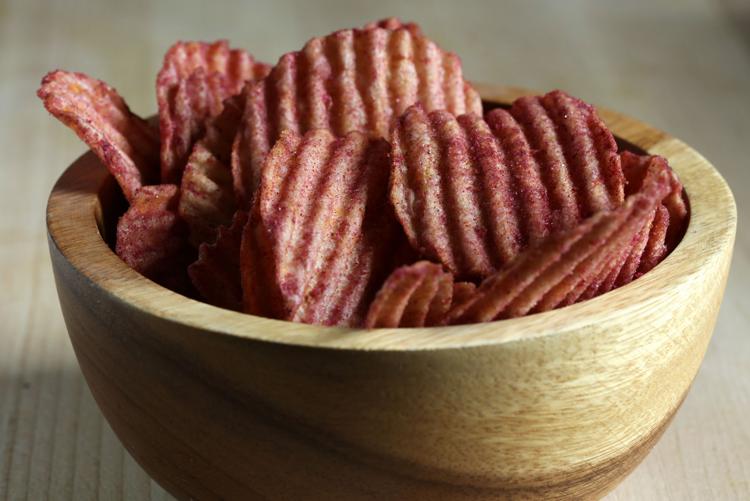 Maple syrup, round bacon and poutine may be the best known Canadian exports, but our neighbors to the north are keeping more than national health care and Justin Trudeau all to themselves.
Ketchup potato chips have long been the national snack of Canada, but we can't get them in the United States widely. Yet we love ketchup and we love potato chips. So what's the story, eh?
"In the '70s, we were trying to mimic the taste of french fries and ketchup, and put it on a potato chip," said Katie Ceclan, senior director of marketing at Lay's in the U.S. "It's almost a sweeter barbecue."
The origin story of ketchup chips remains disputed, but Lay's does make one of the best-selling brands. "It has become an iconic flavor in Canada," said Ceclan.
That's a claim corroborated anecdotally by just about every Canadian who politely asked why I was getting so many bags, from Walmart and Whole Foods, as well as my many Chinese-Canadian cousins, who all added to the collection.
Why no ketchup chips here?
"We tend to see in the United States some of the profiles that are a little more smoky, even tangy," said Ceclan. "Think of the different barbecue flavors you might see that vary regionally."
Meanwhile, like just about anything, you can find them on Amazon, where Canadian ketchup chips are resold at a premium price. They currently range from around $9 for a snack-sized bag of Old Dutch, including shipping, to $255 for a 15-pack of standard-sized bags of Hardbite. You can order Herr's Heinz ketchup chips from Pennsylvania too, one of the few American brands.
After a family road trip to Canada earlier this summer, I brought back every brand of ketchup chips from the Greater Toronto Area that I could find, 13 in all. As an American, I feel I should note that this may be the biggest and best taste test of ketchup chips ever published. Most of the chips were potato, with a few exceptions, as you will see.
Eight Tribune journalists assembled in our test kitchen to taste the chips blind, writing tasting notes, then scores that determined the final ranking. Only two of us had ever had them previously, and only recently, so we held no nostalgic flavor memories. While I knew which brands I had bought, and did taste a few, I waited to taste them all in our test.
Here are the results of the great American taste test of Canadian ketchup chips, from worst to best.