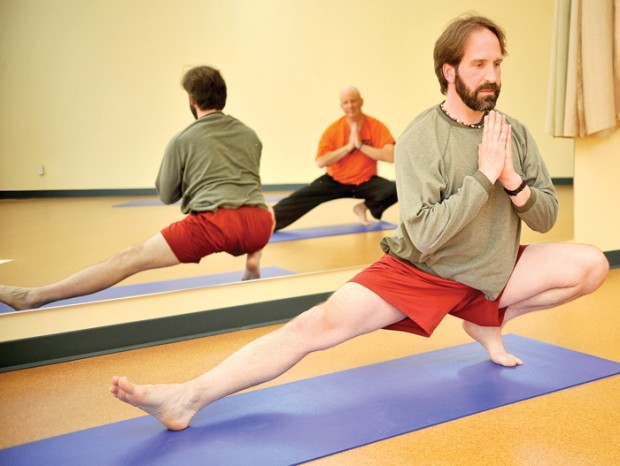 Maybe it's not a stampede yet, but men increasingly are turning to yoga for physical and mental conditioning — and some classes just for men are beginning to pop up throughout the mid-valley.
Exhibit A: On Monday evenings, instructor Andre Alyeska leads a class for men at Live Well Studio in Corvallis.
The hour-long class typically includes about a half-dozen guys, and there's room for more.
Alyeska, 43, said the postures assumed during a class session might be the same as they are in classes for women or both sexes, but the vibe definitely can be different in a class just with men.
"Guys can be a little more flippant," he said.
It was a friend who introduced Alyeska to yoga in the first place a few years ago: "My marriage was ending, and I was pretty much a wreck. … A friend invited me along" to a yoga class. "I probably would not have done it if a friend hadn't dragged me along."
But once in the class, it was the mental work — the centering aspects of yoga — that provided an unexpected boost: "When I started feeling competency in a posture, that was like the area of my life where I was making progress and for a time it sustained me."
The more he learned about yoga, the more he was intrigued. Eventually, he became a certified yoga instructor. Now, in addition to the men's class, he leads a variety of other classes — and also teaches yoga classes at the Children's Farm Home.
Children, like women, tend to be a little more open-minded than men when it comes to something like yoga, he said. And another factor is at work as well:
"The kids are willing to play," he said. "And I would say that women are a little more willing to play."
That's why his men's class tends to be geared more to beginning students, although he can accommodate a variety of experience levels. "This class really is designed so that guys can get over the hurdle and check it out," he said.
So a typical class might include five minutes or so at the start devoting to a "centering" exercise, since that sense of mindfulness is an important part of the yoga experience. That opening period also give participants a time they can use to unhook from the hectic pace of their daily lives.
What follows usually is 30 to 40 minutes of posture positions, which emphasize breathing, flexibility and good stretching. A cool-down period wraps up the session.
Alyeska's class is held in a room-temperature studio — unlike some branches of yoga, which are performed in rooms heated up to 100 degrees.
And the emphasis in his men's class is just to give guys a taste of what yoga is like and whether it's a right fit for them.
"We're trying to get guys to get a little more into it and give it a chance."