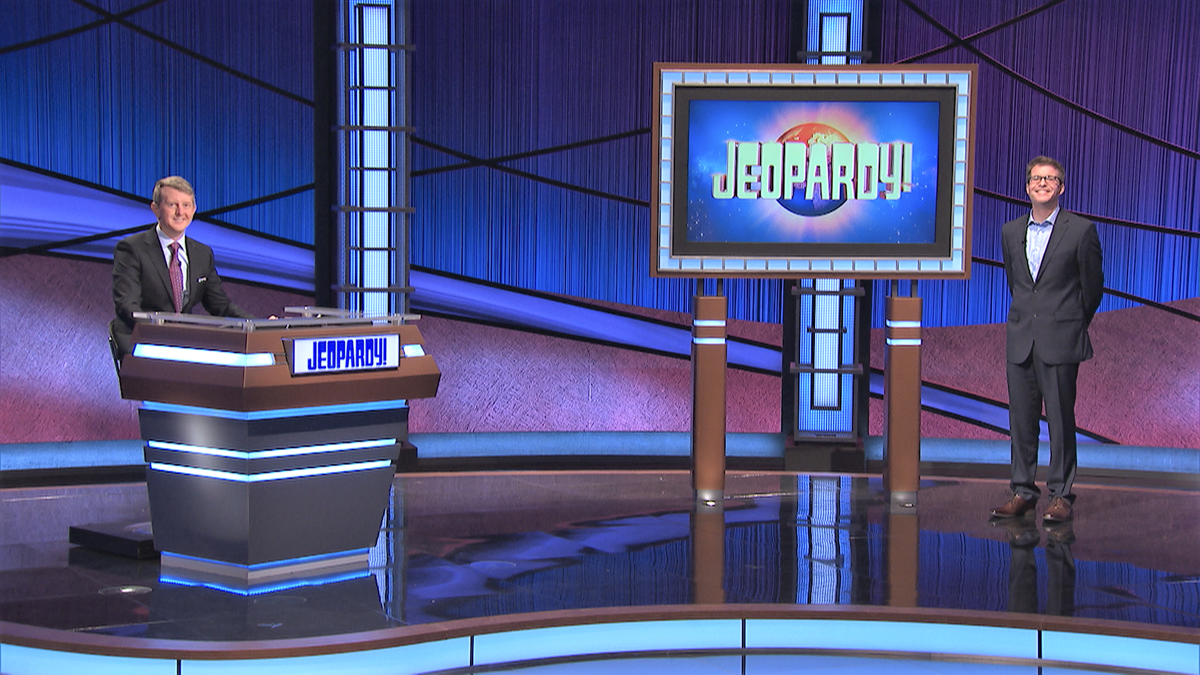 Corvallis resident Dusty Smith spent 15 years trying to become a contestant on the TV quiz show "Jeopardy!"
Tuesday night, the 42-year-old's tenacity paid off.
Smith placed third among the trio of contestants, taking home $1,000. He said it was the "thrill of a lifetime" even though, after the 30-minute quiz show, "I thought my brain was going to leak out of my ears."
The Dayton, Ohio, native and his wife, Dr. Rachel Elsasser, have lived in Corvallis for 5½ years.
Before that, they lived in Los Angeles, where Smith spent 10 years with Roadside Attractions, an independent film distributor.
In Corvallis, Smith volunteers with Meals on Wheels and books comedy acts at the Majestic Theatre.
Smith told interim "Jeopardy!" host Ken Jennings that during his years in L.A. he worked with actress Jennifer Lawrence and distributed her first film, "Winter's Bone."
"I bought the distribution rights at the Sundance Film Festival," Smith said.
He also worked with "The Cove," which earned an Oscar for best documentary, and on Chris Rock's "Good Hair" movie.
Smith's family did not watch "Jeopardy!" when he was growing up, but his wife "turned me on to it," he said. "Her family watched it."
Smith said that 10 years ago, he made it to the second round of testing to appear on the show.
This time around, he took the online test in January 2020, a second round of tests in April and a third round in June.
"After the final round, they told me I was in the contest hopper for the next 18 months," Smith said. "If I didn't get called in that time, I could try out again. They called in November and told me they would tape on Nov. 30."
Due to the pandemic, Smith said he chose to drive to L.A. instead of fly.
"Jeopardy!" contestants are given quiz answers and must provide the question that matches them. Each correct question earns the contestant an escalating amount of money over six categories. There are two rounds of play, with a $1,000 question for each of six categories in the first round and $2,000 each in the second round.
There is one at-large "Daily Double" question in the first round plus two in the second round, in which contestants can wager up to the entire amount of their winnings at that point.
Smith arrived on Sunday, Nov. 29, and taping was the next day. All of the contestants were tested for COVID-19 on Sunday.
"They shoot five shows per day, so all 15 of us were in the audience," Smith said.
Due to COVID-19, there were no other audience members.
Two new contestants per game are chosen at random to compete against the current champion.
In Smith's case, he and Lucy Ricketts, from Atlanta, were picked for the second game of the day against champion Tanay Kothari of Oakland, California.
"It was a bit intimidating," Smith said, because Kothara had clobbered his previous opponents.
Smith said it was the first round of tapings after longtime host Alex Trebek died three weeks earlier. Ken Jennings — considered the king of "Jeopardy!" players — was starting his first week as temporary host.
"It was emotional because the staff was just getting back after Alex Trebek's death," Smith said, but he added it was exciting to participate with Jennings as well.
Smith said the pressure to answer is intense and operating the buzzer to determine which player gets to answer each question is tricky.
"I knew more answers, but I couldn't get buzzed in," Smith said. "There are lights on the screen the TV audience can't see that tell contestants when the buzzers are live. If you try to buzz in too early, you get locked out for a brief time."
Kathari was in second place and Smith in third place for the final "Jeopardy!" question that involved the name of the German shepherd dog, nicknamed "Muttnick," that the Soviet Union sent into space in 1957.
Kathari guessed Checkers (which was President Richard Nixon's dog) and Smith wrote down, "Who is that Russian dog?" which brought a round of laughter from the host and others. Smith had $6,400 going into the round and bet $6,398.
Ricketts wrote down the correct answer, Laika, and took home $33,100 for the day.
Smith said he called his wife right after the show and asked her about the dog's name — which she knew.
Kathari earned $2,000 and Smith pocketed $1,000, which helps cover expenses since "Jeopardy!" does not pay travel costs for contestants.
Smith said he has received numerous social media comments from friends and people he doesn't know praising him for appearing to really enjoy being on the show.
"It was the most fun ever. It felt like I was grinning like an idiot," Smith said. "But people said it looked like I was having fun. I was so worried I would freeze up. I kept telling myself to have fun, have fun."
Even with COVID-19 restrictions, Smith said, he thoroughly enjoyed the experience.
"It was a great, lifetime highlight," Smith said. "So much fun."
Contact Linn County reporter Alex Paul at 541-812-6114.