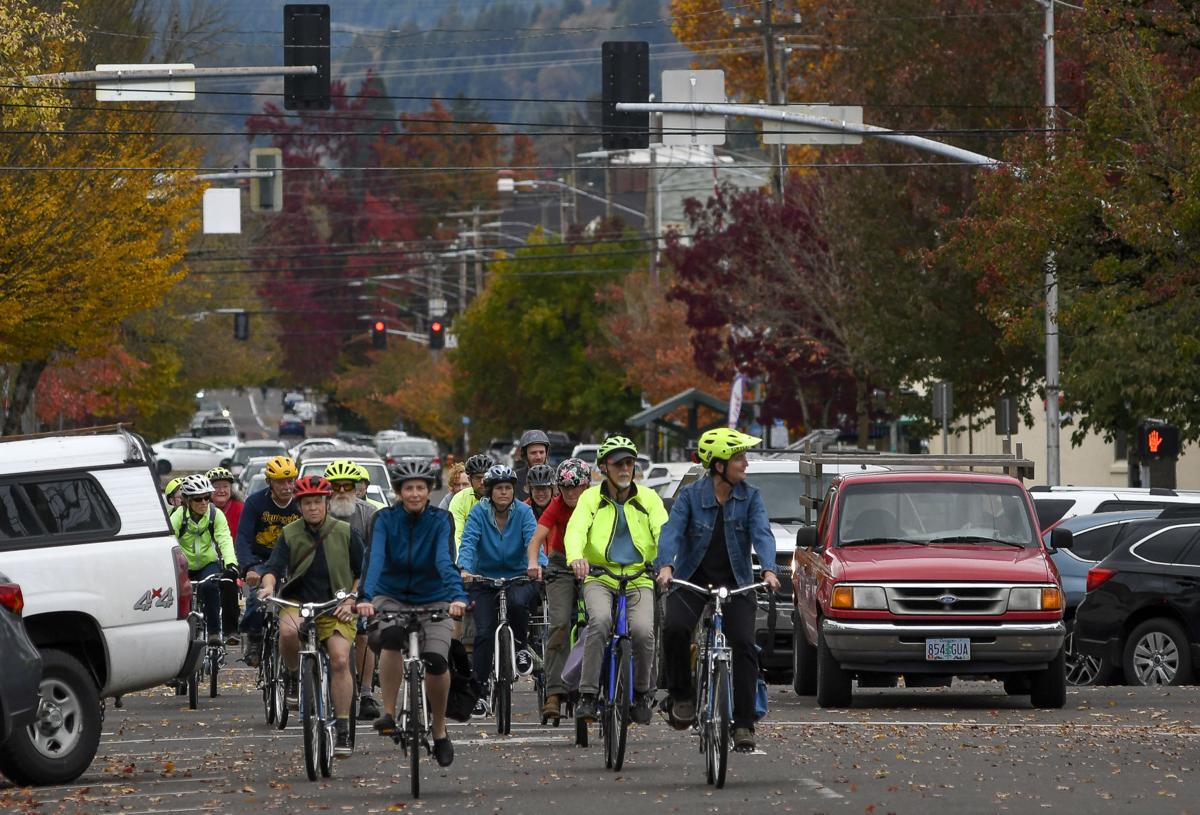 A group of more than a dozen bicycling advocates rode through the streets of Corvallis on Friday in response to the recent arrest of a bicyclist near the Oregon State University campus and a traffic collision involving a bicyclist earlier this week.
Ilene McClelland, who works for the Corvallis Bicycle Collective, said the event was an informal gathering not organized by any particular group.
"We're not protesting anything," she said, "we're just saying, 'Leave some space for bicyclists."
According to McClelland, recent events have shown that bicycling isn't safe for everyone.
You have free articles remaining.
"In recent days, a person on a bike ended up face down in the grass twice and another person is in the hospital right now after being hit on their bike," she said, referring to the Oct. 13 arrest of Genesis Hansen near the OSU campus and a collision Monday between a bicyclist and motorist on Highway 99W near the First Alternative Co-op's south location. The bicyclist was hospitalized with a serious head injury.
The ride started near Porter Park and ended at the co-op.
Wendy Byrne, who advocates for pedestrian and bike safety, said the event was a "critical mass ride," which is intended to bring enough bicyclists together to create safety in numbers and help people who wouldn't otherwise ride feel safe.
"It's not a protest," she said. "It's just about being out and visible."
She added that critical mass rides were more common in the past, but have subsided somewhat since an increase in more bicycle-friendly cities. However, she was surprised that advocates haven't scheduled similar rides recently, such as after the June 2018 death of Eric Austin, who was killed on his bike in a South Corvallis pedestrian crosswalk.
"We are traffic, we are part of traffic and it's OK for us to be part of traffic," Byrne said.
Anthony Rimel covers education and crime in Benton County and weekend events across the Mid-Valley. He can be reached at anthony.rimel@lee.net or 541-812-6091.