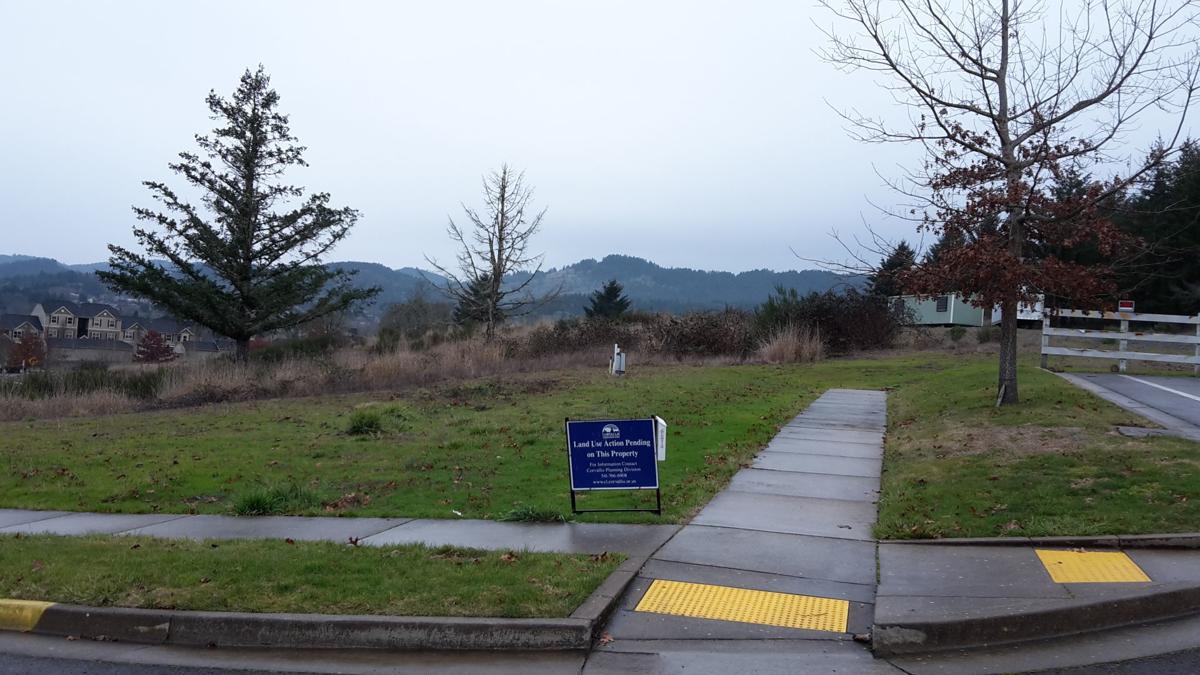 A proposed Bonaventure senior living facility in the Timberhill area of northwest Corvallis is one step closer to reality.
The Corvallis City Council on Monday night unanimously voted to tentatively approve the 150-unit complex for the intersection of Northwest Kings Boulevard and Northwest Century Drive.
Councilors still must consider formal findings on the proposal at their April 15 meeting. They can choose to edit or tweak the findings at that meeting.
Councilors considered two amendments. One, which mandates that the developer pay $1,000 for a possible future Corvallis Transit Service stop on Kings, passed on a 5-4 vote. The amendment was championed by Ward 7 Councilor Bill Glassmire, who received support from Charles Maughan (Ward 2), Hyatt Lytle (Ward 3), Barbara Bull (Ward 4) and Charlyn Ellis (Ward 5). In opposition were Jan Napack (Ward 1), Nancy Wyse (Ward 6), Ed Junkins (Ward 8) and Andrew Struthers (Ward 9).
A second amendment, proposed by Napack, would have required the developer to include drought-resistant landscaping in an effort to reduce water use and runoff. Napack wound up the lone "yes" vote on the amendment.
You have free articles remaining.
And despite the unanimous final vote many councilors expressed strong concerns about the project, particularly whether the variances the developer sought included sufficient compensating benefits. Councilors also cited the positive aspect of adding needed senior housing when discussing their "yes" votes.
Bonaventure, a Salem-based company that operates 26 similar facilities, is hoping to build a four-story project on a 5.43-acre parcel. The project would consist of 150 units divided into three levels of care: independent living (62 units), assisted living (61 units) and memory care (27 units).
The developers asked for variations from city code on maximum setbacks, hillside development cut and fill standards, block perimeter standards, pedestrian-oriented design standards and the width requirement for a multiuse path that is proposed for the site. The applicant also requested authority for four-story buildings with a maximum height of 38 feet. City code limits construction to three stories and the overall height to 35 feet. The developer said that the buildings would be built in a recessed "dug in" way and that planting more trees and larger shrubs than required also would mitigate the impact of the larger buildings.
The proposal took a long and winding road to Monday night's meeting.
The Planning Commission held a public hearing on the application at its Jan. 16 meeting, but requests to hold the record open led to the postponement of deliberations until Feb. 6. At that meeting commissioners voted 4-2 to approve the project, with both those voting for it and against it expressing the same concerns about variances and compensating benefits as councilors ultimately did.
Neighbors appealed the Planning Commission decision to the City Council, which held a two-hour, 50-minute public hearing at its March 18 meeting but chose not to deliberate until Monday night. Neighbors also can appeal the council decision but only after formal findings are approved.
Monday's meeting was choppy and chaotic at times. Midway through the process Mayor Biff Traber expressed frustration about when the council would finish "after spending 20 minutes on a $1,000 bus stop." And amid the debate over compensating benefits councilors had to be reminded that they had the discretionary power to make that decision instead of staff.