Your first instinct is to look for signs. What is different about this house than the others on the block? What are we looking for? It helps to have a tour guide, a LEED-certified Diogenes perhaps, guiding you into a greener future.
Our first stop Wednesday was at a construction site off of Southwest Country Club Drive in Corvallis. It was lunchtime and large crew of workers were sitting on chairs in front of what will be the first "passive house" built by Habitat for Humanity in the state of Oregon.
Aside No. 1: What is a passive house? It's a highly insulated, airtight, energy-efficient structure that uses up to 90 percent less energy than a standard home. Passive houses are so efficient that they can be heated from the heat generated by occupants, appliances and the sun. End aside.
As you enter the partially completed house there is a sign above where the front door ultimately will be. It says "AIRTIGHT BUILDING." And once you step inside the floor panels have tape — tape imported from Switzerland — covering up the seams where the panels meet.
"A passive house requires a continuous airtight air barrier and double to triple the code-required insulation levels in the walls, floors and ceiling, along with well-sealed triple-pane windows," said Benjamin Wolk-Weiss, LEED green associate with Zoetic Architecture.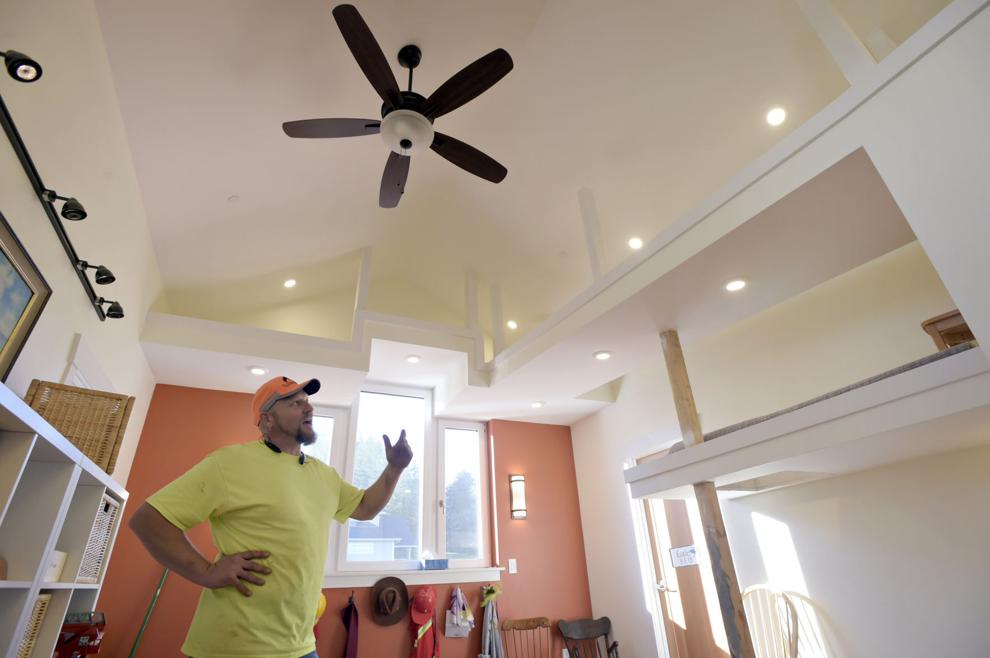 "Achieving this continuous air barrier requires careful planning, detailing and execution. Most code-compliant homes are quickly built and finished without any consideration of air leaks or gaps. As air leakage is one of the biggest sources of energy loss in a home, simply meeting the passive house levels of air-tightness reduces energy use by 30 to 40 percent alone.
"The increased insulation levels and attention to proper solar orientation and shading contributes to the rest of the energy savings for a passive house, which typically use about 70 percent less energy than a standard house."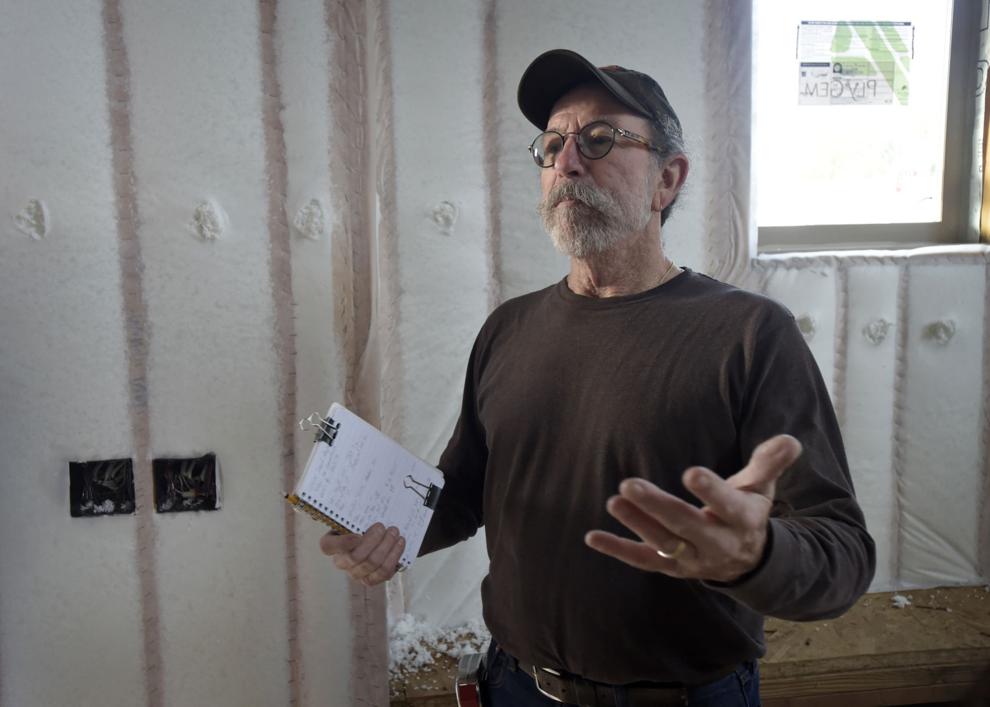 The tour moves to the side of the house where dozens of Larsen trusses protrude from what appears to be the outside walls. But they are actually the inside walls. The trusses, which still await the final framing, open up an extra eight inches of space to pump in cellulose insulation.
Insulation, which helps form the thermal envelope of a house and reduces heat transfer, is a critical piece of the passive house approach.
"We use one-third more (than a normal house) in the floor, two-thirds more in the walls and three times more in the ceiling," said Kevin Groh, Benton Habitat's construction manager.
Lunchtime is over and crew members re-enter the house and start working on the ducts that will be part of the third key element of the passive house — the HRV or heat recovery ventilator. It's another import, this time from Germany.
"It's basically a fan, some filters, ductwork and a heat exchange core that continuously brings in filtered fresh air and exhausts the stale air from the house," said Wolk-Weiss.
The HRV, combined with the added insulation and the air-tight and water-tight nature of the building, keep the inside temperature moderate, reducing heating and cooling costs, with the side benefits of no mold or rot in the wood and healthier air inside for those with asthma and allergies.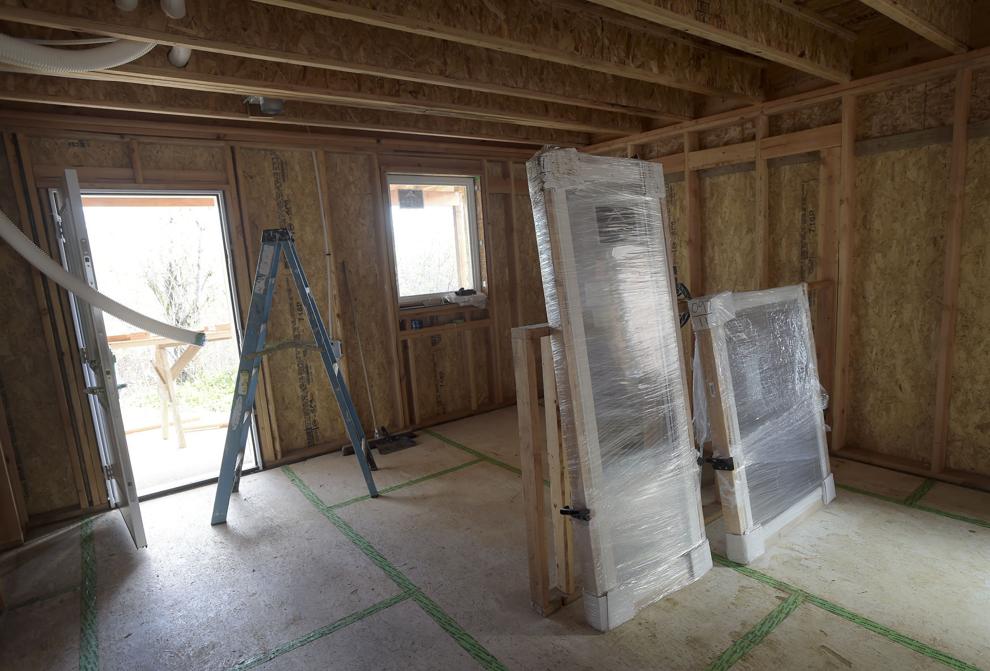 Speaking of costs … the answer is yes, this approach does cost more, about 15 percent more per house. But the crew of 10 to 12 putting together the Habitat passive house are volunteers. Labor cost: zero.
"We take the labor costs out of the equation," said Karen Rockwell, executive director of Benton Habitat. "For us it was a natural tie to join environmental sustainability with our projects because building to a higher standard allows our homeowners to have more financial freedom when it comes to utility costs."
When the homeowner, Monica Morton, moves in next spring, Benton Habitat estimates her annual utility bill will be $400.
The finished product
Less than four miles away, in the Oakmont subdivision, is tour stop No. 2, the home of Corvallis native Carl Christianson and his family. Christianson, whose home contains the energy-saving features of the Habitat house plus solar panels on the garage, pays just $10 per month for energy.
Even that 10 bucks is misleading. The house essentially is a "net-zero" house, meaning it produces more energy than it uses. The $10 is basically the fee to be hooked up to the grid.
Christianson, president of G. Christianson Inc., a company his father Greg started in Corvallis in 1986, decided to put his money where his heart was and build a passive house, the first such dwelling in city of Corvallis.
Christianson and his production manager, Trent Suing, employed virtually all of the energy-saving features that Benton Habitat is using on its house: an airtight and water-tight envelope, thicker than normal insulation, and an imported HRV unit.
Christianson and Suing, however, used cork installation instead of cellulose. They installed a trap door near the front door to show off the cork and also have a cross-section of the wall on the porch that they use to explain their concepts.
And showing off and explaining are part of the drill. You can't have two passive houses until you have one and you can't have two until others can see the advantages. As a result Christianson, Suing and the rest of their company are serving somewhat as proselytizers for passive.
"I live here," said Christianson, a Crescent Valley High School and Oregon State University graduate. "I had to try this out on my own home."
"It's very exciting to have the first one in the area," Suing said. "That's bragging rights. I've always had a passion to do the most advanced stuff. As code increases and people become more energy-conscious it's going to take off. People are asking about it, but it's going to take a year or so. Most people don't even know about it yet."
There is a learning curve to the process.
"You have to have attention to detail on every bit," Suing said. "It's a little slower to build the first one, but now that I've done it … the more people that are building to a higher standard the better it will be for the community.
"Otherwise you are just driving nails."
Inside the 1,950-square-foot home are $25,000 worth of imported triple-pane windows, a Zehnder HRV unit, a super-efficient heat pump water heater and LED bulbs.
Aside No. 2: Why all of the imported goodies? Because energy costs are so much higher in Europe "they have been doing this for 30 years," said Suing. End aside.
Christianson noted that a standard home the size of his usually has a carbon footprint of 20 tons per year. The energy-saving features (except for solar) brings it to four tons. With solar it goes to zero.
"Ninety-two percent of your heat stays in," Suing said. "And a lot of that is body heat. If you have eaten a bunch of sugar … it starts getting hot in here."
Other approaches
There are many other ways to advance environmentally friendly construction below the passive house level.
The typical new house in the mid-Willamette Valley is far more environmentally friendly than a few decades ago — or even just 10 years prior — said Mike Goodrich, vice president of Legend Homes.
"Things have changed dramatically," added Glenn Waer of Oregon City, who independently verifies the energy efficiency of homes.
Legend Homes offered solar panels as a standard amenity and as an option with some of its previous subdivisions, and buyers thought they were an interesting idea. But the mainstream demand simply wasn't there, Goodrich said, and solar panels tend to occupy a niche market.
"When it came down to spending money up front, it wasn't as important to them as the other features in the home," including finishes and surfaces, he added.
Marble countertops, in other words, were more critical when people brought out their checkbooks.
Legend Homes' recent changes toward increased energy efficiency started in 2004, when the company revamped how it installs windows, siding and more to prevent leaks that led to drafty houses, water infiltration, mold and other problems.
Window leaks were a particular concern for Legend. "We went from dozens of complaints in every major storm to almost none," Goodrich said.
Heating and air conditioning systems are far more efficient than a decade ago, and compact fluorescent lights are now commonplace, he added.
"In the next year or two, you'll see a huge switch to LED lights," Goodrich said.
Duct tape has been replaced with rubber mastic nowadays and many home builders are moving duct work and furnaces inside the house, rather than keeping them in the garage.
Third-party inspections and certifications also are becoming more common, Goodrich said. Legend Homes uses an Energy Trust of Oregon Energy Performance Score on every new home. During that process, the home and duct work are checked for leaks before sheet rock is put on the structure.
"A lot of the industry is really starting to embrace having that expert put another set of eyes on what's going on," Goodrich said.
The attention to detail adds to the cost of building homes — and the resale value — but Legend Homes and other companies that use the Energy Performance Score also get rebates back from the Energy Trust of Oregon, Goodrich said.
The practices that go above and beyond building code have become normal construction costs for Legend Homes and other companies, Waer said after completing tests on a Legend Homes' house in south Corvallis.
Based on Energy Performance Scores, Legend offers a 3-year guarantee of what homeowners will pay for natural gas and electricity. Lee Eckroth, principal broker at Town & Country Realty, said customers are particularly interested in that detail, which acts almost like a miles per gallon sticker on a car.
With its next subdivision, off of Research Way, Legend Homes is adding tankless water heaters, which heat up water as it's being used and will increase energy efficiency, Goodrich said.
Real estate market
Eckroth, the exclusive listing agent for Legend Homes, said that homebuyers are starting to get more interested in energy-efficient homes.
"We see people asking about solar, but usually about upgrade options, or making sure they have the ability to do those sorts of things later," he added.
Adam Hearn, a broker with Coldwell Banker Valley Brokers in Albany, agreed that people value energy efficiency and smart technology to save resources in their homes.
"I think people are still thinking about money a little bit. People value this when the opportunity or the affordability presents itself," he said. "People want to know how that will affect their bills, what their heating payments will be like."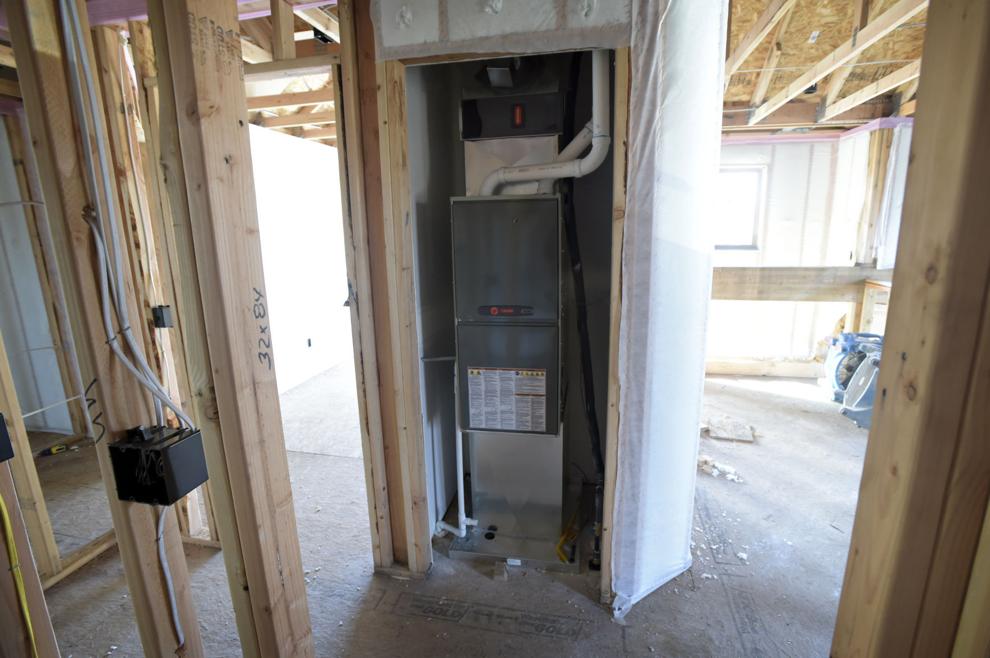 There's more of a market for environmentally housing options in Benton County, rather than Linn County, Hearn added.
Steve Redman, owner and principal broker with Windermere, said that the addition of low-energy vinyl windows and high-efficiency heating systems could add about 6 percent to the value of a house. On a $350,000 home, that is $21,000.
Pete Sekermestrovich, another principal with Town and Country, said energy-efficiency has not reached "must have" status yet.
"If there were two homes that were similar in all respects, if the more energy-efficient home was priced the same, then I believe a lot of our buyers would indeed select it," Sekermestrovich said. "But if it happens to be more expensive, some will pay more, but how much more is really up to the individual's perception of value, and that absolutely varies from individual to individual."
Builders also note that the cost factor affects even those with good intentions.
"Virtually every client asks about "green" techniques and building practices," said one builder. "That said, not a single client has ever asked me to install solar panels or a true thermal heat transfer type system after researching the costs and the overall cost/benefit tradeoffs."
Others offer differing perspectives, particularly given the scientific consensus on climate change.
"The truth is we live in an incredible time to do great things," said Devon Krukiewicz of Blue River Building in Blodgett. Krukiewicz said that "lumber can last forever in the right conditions" but too often we "treat our homes like muddy boots" by letting water in. 
"What I am trying to say is if we use small amounts of this stuff in the right ways we will use far less of it overall in time. Maybe we're being over optimistic here, but what are the alternatives?"