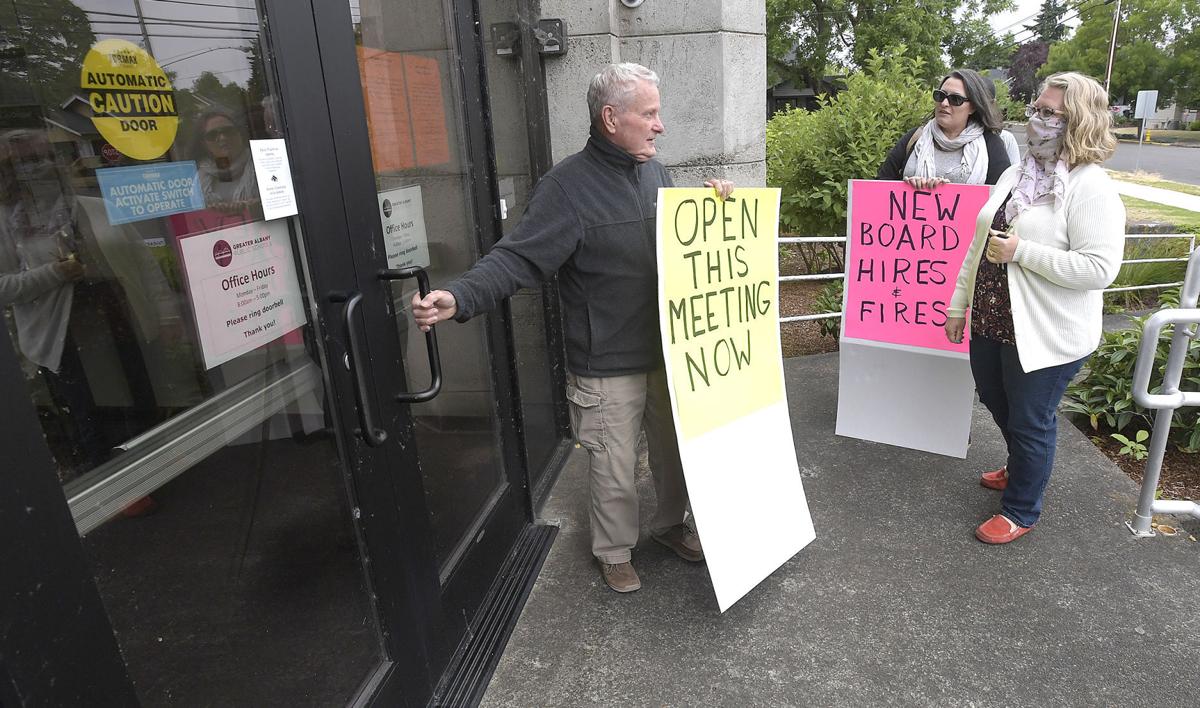 In-person meetings have resumed for members of the Albany School Board and school district staff, but not yet for the general public.
Board members and staff met Monday at the district office but kept doors closed to anyone else, which Superintendent Melissa Goff said was done in accordance with guidance from the Oregon School Boards Association.
"In May, the Board and staff only began meeting in person and live-streaming the meeting via YouTube. Guest speakers join via Zoom," Goff said via email Monday. "Yes, because Linn County numbers of cases and vaccinations are still not where we need them to be, we continue to follow the Oregon School Board Association recommendations for the Board meetings. We look very forward to being able to hold these safely in person for the public in the future."
The decision didn't sit well with a handful of residents who came Monday to protest the decision.
"I'm CDC-compliant and I've been that way for two months, and I see no reason why I can't attend that meeting and speak in public, in person," said Tom Cordier, one of the protesters. "The fact that they have their staff there in the meeting, I pose no additional threat to that meeting and nobody else does if they've been vaccinated. They refuse to have an open meeting. That's one of the problems they have at this time; they don't have to face people to speak to them directly."
Public comment is required to be submitted in writing by noon the day of the meeting and is read aloud by board members during the public comment portion. Cordier said he objects to the fact that board members won't engage with the public directly via Zoom for comments.
He said he wanted to comment on a personnel decision on Goff's contract to be made Monday, which was not specifically outlined in the agenda. Written comment from Cordier was not a part of Monday's agenda packet.
Board members approved adding a year to Goff's contract as part of the consent agenda and approved a shift in base salary from $174,720 to $181,440 starting July 1.
Cordier said he feels new board members, who will take over next month, should have had an opportunity to weigh in on this question.
Three GAPS board members decided not to file for reelection and their terms will expire on June 30. 
They will be replaced by Roger Nyquist, a longtime Linn County Commissioner, Dr. Pete Morse and Brad Wilson, all of whom were elected by voters in May.
All three ran on a platform of reopening schools.