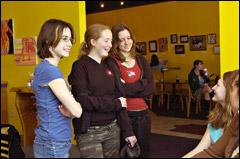 Cafe sets aside wall space for art from homeschooled kids
Student art shows are fairly common in local elementary and high schools, but for homeschoolers, the only place their work is displayed is often on the family refrigerator.
Mary Gold, founder of The Learning Community, a Corvallis homeschool organization, is also the co-owner of Sunny Side Up Café in downtown Corvallis. She decided that her restaurant was the perfect venue for a gallery, and that homeschool kids needed the opportunity to have their art appreciated on a public scale.
"We have this venue, why don't we use it?" she said.
Gold founded The Learning Community three-and-a-half years ago to allow homeschool families in the area opportunities to get together, share resources and support each other. The group is all-inclusive, serving any homeschooling family in the area that wishes to be part of the organization.
From weekly get-togethers to gym days, to ice-skating and theater events, The Learning Community provided about 75 participating families with the chance to break out of their home routine and broaden their contacts with other kids and parents.
Gold said she was thrilled with the result of her call for artwork from the community. She received pieces from artists ages 3 to 51, and she said viewers are hard-pressed to pick out which work is done by students and which by parents.
"The only parameters I had were it had to be something I could hang on the wall," she said.
Miriam Morrissette, 15, has been homeschooled her entire life, and has been in The Learning Community for a year and a half. Her passion is digital photography, and her pieces were all photographs. One of the pieces on display was a still life reflection.
"I have this thing for reflection," she said. "It's an otherworldly kind of thing. It gives people headaches trying to figure it out."
Morrissette is already taking classes at Linn-Benton Community College and hopes to pursue an art degree someday.
Laurel Thompson, 17, has been homeschooled since age 8, and she also takes a variety of art classes in addition to her home education. She recently started taking watercolor classes from Marjorie Kinch, and watercolor has now become her passion.
She said participating in the homeschool group offered her chances to get together with other homeschool kids her age.
"It's really great to have a group," she said.
Graphic artist and comic book aficionado Neebinnaukzhik, 17, has been homeschooled her entire life, and just recently began participating in the homeschool group.
Neebinnaukzhik's work focuses on different subcultures, including goth and punk, but she also delves into the fanciful. She is considering a career as a graphic novelist, and is inspired by works such as "Bone" and "Hellboy." She said she was excited by the opportunity to have her artwork seen by the public.
"If you are by yourself as an artist," you don't get as much feedback, she said. "It's fun to meet new people. This group is very supportive."