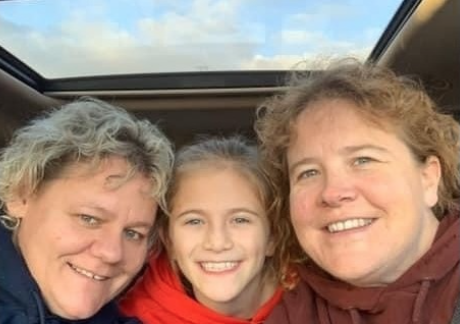 Albany Police Officer Jenn Williams is across the country, fighting for her life.
Earlier this week, while on an assignment on the East Coast, Williams grew ill. She doesn't remember a lot of what happened, but her family and fellow officers, both in Albany and across the country, have pieced a bit together.
She was doing a background check on a potential Albany Police Department hire and had to travel between Chicago and Cleveland. She remembers feeling ill in her hotel. She somehow got moving and, eventually, APD received a call.
"APD got a call from New York State Police that they had her and she was being transported to Rochester," APD Chief Marcia Harnden said.
Williams is currently in intensive care with life-threatening kidney failure. Harnden said she couldn't disclose the details of Williams' medical condition for privacy reasons, but said it may have stemmed from E. coli and the officer was in good spirits.
"We just need her body to gear up," Harnden said.
Williams' wife, Tara, who is also in law enforcement, was able to fly to New York to be with her, but their young daughter, Shay, is still in Oregon and hasn't seen her mother for three weeks.
Williams has undergone several rounds of dialysis, blood transfusions and medical testing, and Harnden said a lot of those costs are covered by the city. But not all of them.
"Anyone familiar with kidney ailments and recovery, there's a lot that goes into that and some will have to come out of pocket," Harnden said.
So, for the first time, APD is asking for direct financial assistance for one of their own. A GoFundMe page has been set up to help Williams and her family with the expenses of her illness — one APD hopes is short-lived.
"Jenn and her wife are lifelong residents of Albany, and Jenn does a lot of community outreach," Harnden said.
Williams trains other officers, attends Coffee with a Cop and heads the department's trust team — police officers who help other officers during trauma incidents. She's also spearheaded the effort to bring a new chaplain into the department to help with officers' wellness.
"She does a quality job as an officer, but she's invested in the community and the human side of what we do," Harnden said, noting that Williams is scheduled to take the sergeant's exam in November.
"We want her well," Harnden said. "And we owe a public thank you to the New York State Police. They treated Jenn like one of their own when we weren't in a position to help her. We're in their debt."
To donate, or for more information, visit GoFundMe and search "Jenn Williams Albany Oregon" or click this link. 
Get local news delivered to your inbox!
Subscribe to our Daily Headlines newsletter.