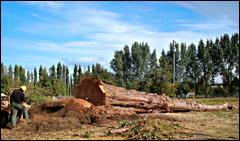 The removal of a large sequoia has residents feeling betrayed
A representative from a southwest Corvallis neighborhood association warned city officials last month that there could be controversy brewing over plans to cut down a giant sequoia as part of a new residential development off Country Club Drive.
People were upset because the developer told residents they planned to spare the tree, then neighbors learned later that it had been declared a hazard and would have to be cut down, said Ray Harris, who spoke on behalf of many residents in that part of town.
To some people who live in the area near Sunset Park, it seemed like a promise had been broken and that a valuable natural resource found itself in the path of development.
As the date that the tree was to be cut down drew nearer, anger and speculation seemed to grow.
There were even rumors that the developer had paid a tree professional to condemn the tree to make room for more houses.
That's not true, according to the arborist who evaluated the tree, Vernon Esplin, a certified tree specialist who works for Buena Vista Arbor Care Company Inc.
Esplin said the decision to remove the tree was a "no-brainer," given the potential for nine limbs that were already cracked to break or for one of the tree's seven split tops to fall and hurt someone or damage property. So the tree was cut down last week.
"If you're going to have people walking down the bike path or driving in and out, you need at least 80 feet in any direction of that tree" Esplin said.
In this case, people interpreted the size of the tree to mean that it was hundreds of years old or a species worthy of preservation. A colleague who counted the rings estimated the sequoia to be 70 years old, Esplin said. Trees that are 125 to 150 years old are considered "old growth," according to Oregon Department of Forestry standards.
"There are a lot of trees that merit preservation," Esplin said. "This isn't one of them."
In terms of monetary value, a giant sequoia adds slightly more value to land than a common cottonwood.
"This is not a very valuable tree," he repeated.
As an arborist, Esplin often makes recommendations to save trees that developers want to cut down. Sometimes he condemns trees that people want to save. Esplin said his decisions are unbiased and professional, even though the developer in this case first contacted him about preserving the tree.
"I can't preserve a tree that's a hazard. If I save a tree that kills somebody, then I'm liable," he said.
When he inspected the sequoia, he found it had multiple stems, which is unusual for a sequoia, which is a central leader tree. Each of the seven tops made the tree less stable.
"I don't know if it was topped wrong or hit by lightening, but it's not a typical growth pattern for a giant sequoia," Esplin said.
He also discovered nine limbs that were fractured, and two more were broken and hanging, likely damaged by the ice storm two winters ago. Corvallis' city forester, Becky Merja concurred with Esplin's evaluation, recommending removal.
Esplin said there are lots of ways for people who want to save trees to be involved, such as through Corvallis' Civic Beautification and Urban Forestry commission.
The best thing people can do to help trees is to become educated about them. Property owners need to watch for tree roots uprooting sidewalks, and to trim low-hanging branches that would impede pedestrians or bicyclists.
"What people need to understand is that people and property owners have a responsibility to the entire community to make the area safe," Esplin said.