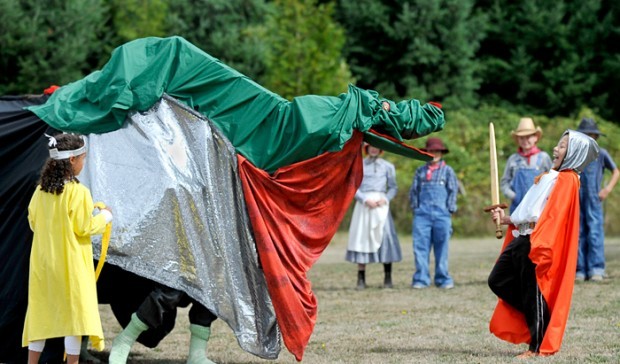 Chase Wilson's courage was on full display during a short play Monday morning at Corvallis Waldorf School.
Portraying St. Michael, the second-grader had a mission: Subdue a large dragon.
If that wasn't bad enough, consider that the dragon was played by several of the school's seventh-graders.
Despite being knocked to the ground and momentarily stunned by the dragon, Wilson bounced right back up and conquered the dragon.
His performance was one of the highlights of the school's 13th annual Michaelmas festival, which celebrates inner strength and courage.
"I think courage is standing up to things others are afraid of," Chase said shortly after his "battle."
You have free articles remaining.
As part of the festivities, students wore European-style costumes, sang songs and enjoyed a small feast after the play, which featured roles for students from every grade.
The feast even includes baked loaves of bread shaped like dragons, courtesy of the kindergarten class. Dragons are a central theme of Michaelmas because St. Michael, who represents courage, is traditionally pictured subduing a dragon.
Eighth-grade teacher Anaïs Alexander, who organized the event, said the idea behind the festival is to get students to face their own challenges - in other words, their internal and external dragons.
For example, she said, young Chase was selected by teachers to play the role of St. Michael so he could become more comfortable speaking in public.
Because Michaelmas falls near the equinox, it is commonly associated with the beginning of autumn. So Waldorf schools also use Michaelmas to teach students the importance of using courage to prepare for the colder, darker, winter months.
"It's symbolic of darkness," Alexander said. "So it's important for students to have warmth inside with them. It can be a difficult time for them."
In addition to honoring St. Michael and marking the beginning of fall, Michaelmas represents harvest time - a time when people make preparations for the winter.