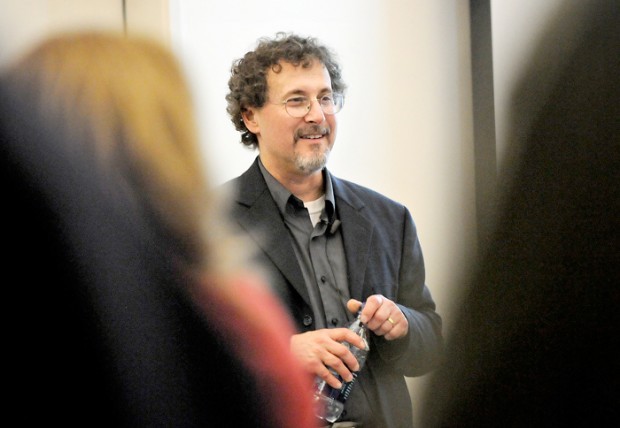 For cartoonist Leigh Rubin, every day begins the same way:
"I start with this blank sheet of paper every day, and I don't know where I'm going with it," the creator of the syndicated comics panel "Rubes" said Thursday night during a presentation in Corvallis.
About 35 people attended the event, held at First Congregational United Church of Christ. "Rubes" is the latest addition to the Gazette-Times' comics page. (You can see today's panel on page B5.)
During a free-wheeling 90-minute presentation, Rubin, 52, discussed his early days as a cartoonist, noted that the 25th anniversary of "Rubes" is coming up this Nov. 1, reviewed a handful of his early rejection letters and talked about how he fills that blank sheet of paper.
"Inspiration is always around, and I'm always on the lookout for it," Rubin said. The trick, he noted, is to stay open to inspiration from unexpected sources.
"I'm surprised every day," he said, "but if I'm surprised, I think you guys will be surprised" - and that's a good thing in a comic panel.
Rubin is the father of three boys - one's a teenager and the others are in their 20s - and he said he gets plenty of ideas from them.
In fact, he said, his wife, Teresa, sometimes "says she has four boys at home."
But Rubin launched a vigorous defense of immaturity during his talk: "I say immaturity is what keeps me young."
As for his wife, he said, she "shows up in the panel in various ways, but never as a person." Instead, she appears in the guise of the many animals that are a staple of "Rubes."
Rubin had some advice to aspiring cartoonists, some of whom were in the audience: Make sure it's fun. Consider the possibilities the Internet offers for artists to share their work. Be persistent. And keep on the lookout for creative ways to make a buck: Rubin himself started his cartooning career with a line of greeting cards.
"I don't believe an artist should starve," he said. "That's a bad philosophy."