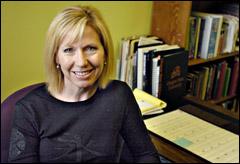 Their study is one of seven funded this year with an Erkkila grant
In our body-conscious society, virtually everyone seems to be obsessed with shedding excess pounds.
But Oregon State University researchers are finding that self-consciousness about being overweight may actually keep some people from exercising, changing their diet or taking other steps to slim down to healthier levels.
A new study titled "Weight Stigma and Perceived Physical Appearance: Their Key Precursors and Relationship to Physical Self-Worth and Health Behaviors" is attempting to measure people's attitudes about being overweight and gauge those influence actions that might help them lose weight.
The study is being underwritten by a $3,606 grant from the Good Samaritan Hospital Foundation's John Erkkila, M.D., Endowment for Health and Human Performance. The endowment doled out more than $75,000 to fund seven projects this year.
"If people feel stigmatized, how will that impact their behavior?" asked Rebecca Concepcion, a doctoral candidate in sport and exercise psychology who is conducting the weight stigma study with associate professor Vicki Ebbeck.
"We already know there are other things that impact health behaviors," Concepcion added. "Weight stigma is the new thing."
So far about 200 people have completed Concepcion and Ebbeck's 109-question online survey. They're looking for another 250 participants and hope to complete the work by this fall, but Concepcion said her initial analysis is already beginning to yield some results.
"Preliminarily, it's telling me that weight stigma does play a role in these health behaviors," she said.
While that result is not unexpected, having data to support the notion that stigmatization can discourage people from trying to lose weight could spur public-education efforts to counter negative body-image messages in society.
It's also important for people to know that a host of other factors besides diet and exercise play a role in weight gain, Concepcion said.
"People believe that your weight is totally under your control," Concepcion said. "When people are educated that it's not 100 percent controllable, they hold less bias."
For people who struggle to lose weight, it can be an emotional topic. Even though her study is not a qualitative analysis, Concepcion said, she's had some powerful responses from some of the participants.
"I've had people e-mail me and say, 'Thank you for looking into this - it's really important,and I'm glad you're working on it,'" Concepcion said.
Established in 1994 with $1 million donated by the late Ralph Hull, longtime owner of the Hull-Oakes Lumber Mill in Dawson, the Erkkila endowment each year finances various projects intended to improve health and fitness.
The endowment is set up to give away up to 90 percent of annual earnings based on a three-year rolling average. The winning projects are selected by a five-person committee chaired by Erkkila, an orthopedic surgeon with The Corvallis Clinic.
Erkkila grants are available to health-care providers and institutions of higher learning in Linn, Benton and Lincoln counties. Applications for next year's grants will be distributed in September.
Bennett Hall is the business editor for the Gazette-Times. He can be reached at 758-9529 or bennett.hall@lee.net.
2007 Erkkila grant recipients
• Mark Hoffman, Oregon State University, muscle activation difference in males and females, $8,100
• Dr. Thomas Lissman, Good Samaritan Regional Medical Center, identification, prevention and treatment of delirium, $12,800
• John Enrique Mata, OSU, feasibility study of cancer chemoprevention in smokers, $13,800
• Vicki Ebbeck and Rebecca Concepcion, OSU, weight stigma and perceived physical appearance, $3,606
• Dr. Glenn Huerta-Enochian, Samaritan Health Services, effect of vitamin D supplementation on fatigue in women, $11,400
• Vicki Ebbeck and Bradley J. Cardinal, OSU, effectiveness of a Lifetime Fitness for Health program on diet and exercise in college students, $13,000
• Russell Turner and Gianni Maddalozzo, OSU, effect of moderate alcohol consumption on bone turnover in postmenopausal women, $13,150