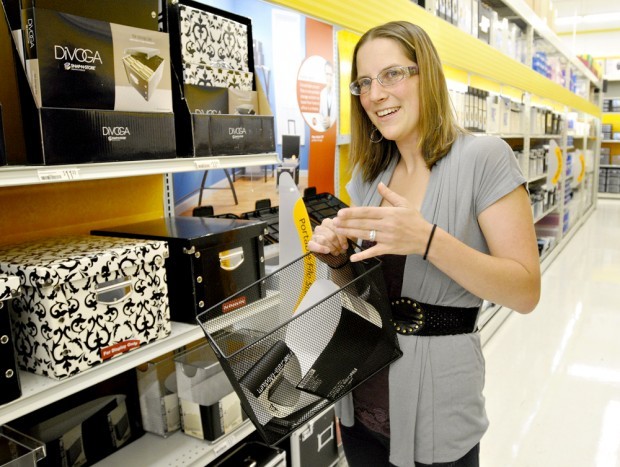 Owner of Queen B Organizing featured on TLC's 'Hoarding: Buried Alive'
Corvallis-based professional organizer Kristin Bertilson was featured on a July 17 episode of the TLC television show "Hoarding: Buried Alive." For the show, she worked with a Springfield woman who for about six years had accumulated so many things in her house that it was difficult to move throughout the house.
Although TLC's "Hoarding: Buried Alive" focuses on compulsive hoarders, Bertilson said the Springfield woman isn't alone; many people struggle with multiple levels of disorganization in their homes and workplaces and often need outside help to put their lives in order.
"It goes beyond putting things away," she said. "It's really a mindset that has to change."
The website for "Hoarding: Buried Alive" defines hoarding as "the obsessive collection of objects that seem useless to almost everyone else, the inability to get rid of any of them and a resulting state of distress or peril."
The psychology community hasn't determined if obsessive hoarding falls into its own category of mental illness or is a subcategory of obsessive compulsive disorder.
Bertilson, owner of Queen B Organizing, was contacted by TLC's parent company, Discovery Communications, for the episode titled "There are Mice Everywhere" by TLC; Eugene counselor Dan Duncan was also featured on the episode. It's the second episode of the third season of the  show, which first aired in March 2010.
A&E's similar show "Hoarders" first aired in August 2009.
Bertilson spent a weekend in March working with Kathleen and "Hoarding" producers, but she typically works with two to three clients a day, six days a week on everything from packing and unpacking from a move and organizing for seniors, small businesses, home offices and houses. Sometimes she works with clients over several months and others for short periods of time, depending on the nature of the job.
She estimates that one-third of her clients have hoarding tendencies. Though there's a clear difference between someone who hoards and someone who's simply messy, sometimes a common thread is the feeling of being overwhelmed with a space.
"A lot of times it can be that there's a lot going on in someone's life," Bertilson said.
Because a disorganized life can impact a person's time, space and money, Bertilson said that professional organizers aim to teach clients how and why it's important to organize their lives.
"There's an 'a-ha' moment, and it's really about getting to that moment," she said.