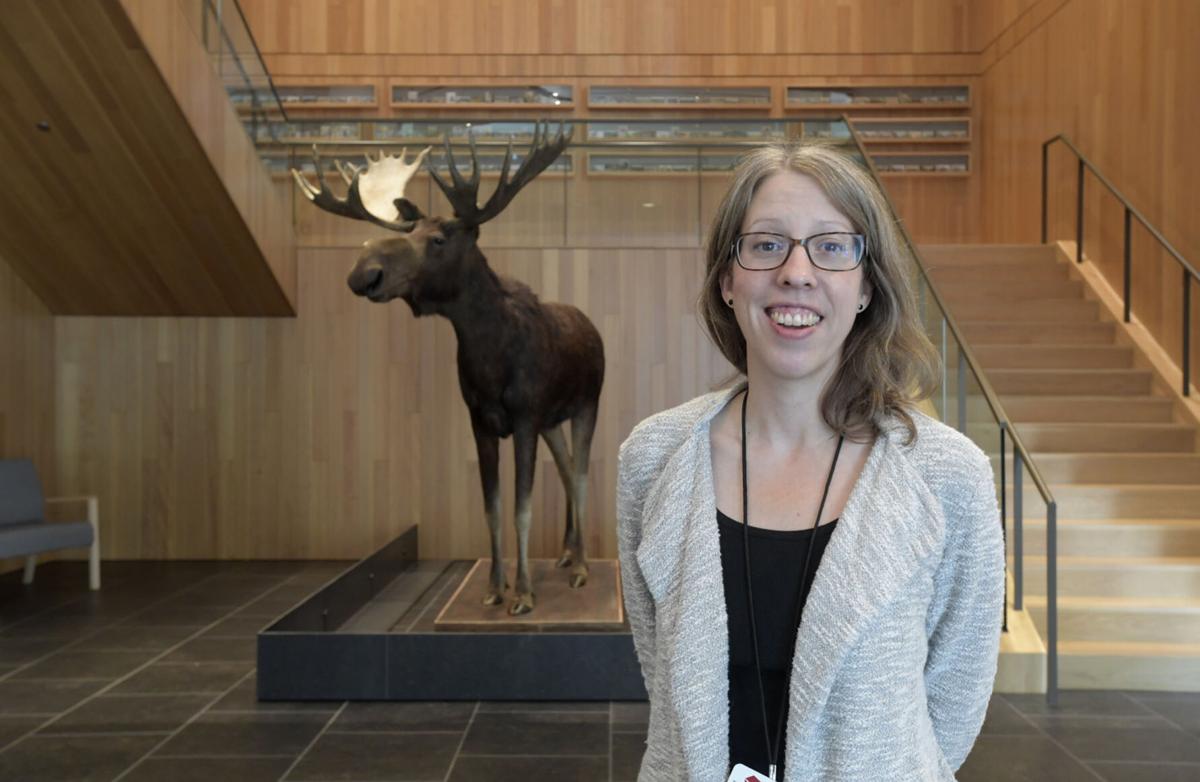 Jessica Hougen can't seem to escape moose. From England to Corvallis, one animal has brought everything full circle for the new Benton County Historical Society executive director.
When you walk into the Corvallis Museum, you're greeted by Bruce the Moose. This stuffed animal was once the beloved mascot of the Horner Museum at Oregon State University. After that museum shut down, the Benton County Historical Society took on not just Bruce, but the entire Horner Collection. Now, seeing that iconic animal takes Hougen back to her internship days.
While in England working towards her Master's Degree in Museum Studies, Hougen recalls a specific internship experience that also involved a moose.
The museum she was interning at was undergoing renovations and the natural history galleries were redone. It turns out one door was made smaller. A giant moose head with large antlers could no longer fit through the door to claim its spot in the exhibit. So instead, the moose head stayed in the room where Hougen worked.
"He was my companion every Friday," Hougen said. "He was my buddy while I was doing my internship work. So it's been really fun and sort of a nice dovetail to my career to come and have Bruce be the mascot here and to see him every day when I come into the museum."
Hougen started her new position on Aug. 2 and succeeds Irene Zenev, who retired earlier this year. 
Tom Gallagher, president of the Benton County Historical Society board, said Hougen stood out from the rest of the candidates.
"She came across immediately as a good prospect," Gallagher said. "The fact that she has ties to Oregon to me means she's someone who's likely to stay."
He added that her new perspective will be great for bringing non-traditional exhibits to the museums in order to draw a wider audience.
A little over a month into the job, Hougen is excited to get more community members into the newly opened Corvallis Museum.
She hails from Eugene and received her bachelor's degree from the University of Oregon. Since then, she's lived all over the country and even in Europe.
Hougen didn't go into college with a plan to work in museums. She didn't really have any idea what she wanted to do. When she needed to pick an elective, she stumbled upon an intro to museum studies course. Before she knew it, she was researching master's programs in museum studies.
"I thought, 'Where are the best museums in the world? The only programs I applied for were in England," she said.
Museum work has taken Hougen to New York, Nevada, Arkansas and most recently California. But she says she was ready to come back to the Pacific Northwest. She added that she had been keeping an eye on the Corvallis Museum project and hoped that some new positions would open.
"(The museum industry) is a much more competitive field than people would guess," Hougen said. "Also, there just don't seem to be as many museums in the Pacific Northwest as there are in other parts of the country."
Now that she's here, her first goal is to simply let people know that the Corvallis Museum is open. The building officially opened to the public in spring of this year. She's currently splitting her time between the Corvallis Museum and the Benton County Historical Society's other museum in Philomath.
During her day to day operations, Hougen is spending time strategizing for the future. The goal is to start a capital campaign to build up an endowment for the historical society so more programs and exhibits for all ages can be added.
"We built this for the community," she said. "I really believe we have something for everyone."
The hope is that more and more community members will visit the museums and see that the exhibits and artifacts are more than just dusty pieces from the past. History museums offer more than just old artifacts, Hougen said.
"Unless you know your history, it's really impossible to move forward in a good way," she said. "You're bound to repeat the mistakes of the past. By teaching people about things that have happened in the past, they're much better prepared for the future."
Maddie Pfeifer covers public safety for Mid-Valley Media. She can be contacted at 541-812-6091 or Madison.Pfeifer@lee.net. Follow her on Twitter via @maddiepfeifer_