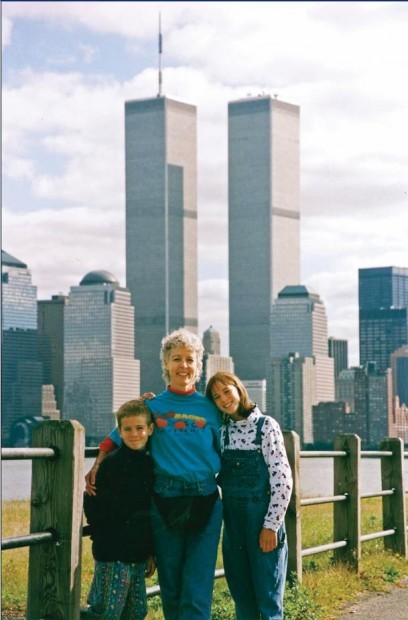 CORVALLIS — I remember when they began to build the Twin Towers, I don't know if I'd had followed it much but it was going to displace my favorite clothing store in the city. I think it was called Sims's Men's Clothing. They'd have crazy sales once or twice a year. I'd take the bus down to the George Washington Bridge from Nyack, my home from 1967 to 1979, and take the A Train all the way down to the Wall Street area.
The last time I shopped there construction had begun. I remember thinking how crazy it'd be to be working on those towers in the winter. There were large tarps covering the side (each floor area had its own) and so it was kind of a beige as it went up. I never went to the top, preferring the Empire State Building and its art deco interior for my views over the city.
We moved to Corvallis in 1979. We dealt with our first terror attack in New York in October 1981, getting word of the Weather Underground and their Brinks robbery. That started at the Nanuet Mall in Rockland County, N.Y., where my wife had worked in a bookstore. Pete Paige, a Brinks employee, was shot dead in the robbery. His partner, Joe Trombino, fired just one shot before he was hit several times in his upper arm and shoulder. The bullets all but severed his arm off his shoulder. "I've got no arm!" he screamed. (Remember Joe; he comes up later in the story.)
Off they sped toward the Tappan Zee Bridge on the New York State Thruway. Realizing that the bridge could easily be cut off and that they would be captured, they exited in Nyack. There they were met by a Nyack Police roadblock. Kathy Boudin was the lone person in the front of the U-Haul van. An alert student at the mall had called police saying he saw some of the group drive off in a U-Haul van.
But Boudin feigned innocence and the officers let down their guard. At that moment a number of Black Liberation Army members opened fire on the officers and two were killed. My best friend in Nyack was on the South Nyack Police force. Not knowing who was involved upon first hearing the news, I called Tom. He hadn't been there but one of the officers killed was his best friend on the Nyack force.
Another college friend worked at the McDonald's right across from the exit. She ran over to assist the dying officers as she was a nursing student attending both Nyack College and Columbia University's nurses program. A week after the event it hit her- that she had witnessed the death of two men that day. She emotionally crashed and had great difficulties for months to come.
Many of those in the attack were quickly caught, but a few escaped. Bernardine Dohrn, Bill Ayers' wife, was questioned as she was a member of the Weather Underground as well. She was jailed for seven months as a result of her refusal to assist police in the capture of the escapees. Bill and Bernardine later became legal guardians of Chesa Boudin, the son of former Weathermen David Gilbert and Kathy Boudin, after his parents were arrested for their part in the Brinks Robbery of 1981.
Eleven and a half years later, I once again was making a call to an old college friend, Bob, who worked for Marine Midland Bank.
His job was repossessing ships. Yes, I know that sounds crazy but someone has to do it. By maritime law the crew must be paid first before the bank can take possession of the ship, so Bob would often fly off to some seaport with a bag of cash (they had to be paid in cash most times as well), sometimes over a million dollars. He'd be met at the airport by body guards and off they'd go to the ship.
Last time I'd talked to Bob his office was in the Twin Towers. I didn't remember which one or how high up — we never talked about that.
Then on Feb. 26, 1993, I heard the news that a truck bomb had been detonated under the North Tower, killing seven people and injuring many others. I frantically tried to get a hold of Bob to make sure he was OK. He was.
I found out that his company had recently relocated their office out of the Twin Towers.
Lori and I planned a trip back to New York to visit with college friends at Nyack and visit the city with our kids. We had amazing weather and even went to the Statue of Liberty with them one day and took them to lower Manhattan, then walked and rode the subways back up to Central Park.
The Statue of Liberty was just stunning that day. Somewhere I have a picture with the a profile of the statue with the Twin Towers in the background. I now have a large mural that I did but can't find any scans right now.
It was fun to see in person and inspired Lori become the Statue of Liberty in the 4th of Corvallis July Parade that she started in 1991, with a few family members and friends. The pictures and the visit helped her refine her costume. A few years ago a little girl mentioned that the Statue of Liberty didn't have white shoes. So Lori spray painted a pair of old sneakers to complete the 'look'.
Lori always gets up before me. September 11th she had turned on the radio early and heard the reports that a small plane had hit one of the Twin Towers. She woke me up and we went down to the living room and turned on the TV. No one could understand how that plane had hit the tower — it was a beautiful clear day not unlike what we had seen five years earlier, how could that happen?
I was going to get up soon as I was to meet Bill Munson, a local skydiver, who was going to attempt jumping into Reser Stadium in the Benny Beaver costume and wanted me to take some pictures to see what that would look like. At that moment I had forgotten that appointment. We had been there just long enough  enough to fix a cup of coffee when the second plane hit and the news story took a new turn. I remember the announcer almost immediately saying this has to be on purpose. We were mesmerized, watching as one event led to another. The kids were up now. We kept them home, not knowing how the day would unfold. I went to work at Rush Hour Photo a little late then remembered my appointment with Bill, the skydiver. I had heard that airplanes had been grounded but I couldn't imagine that it would affect us way out here on the west coast. But my call to Bill told me that no, there were to be NO planes in the air- anywhere in the U.S. We never rescheduled that event — there were too many restrictions for years later.
Just weeks after the events of 9/11, me family was accompany me to a photo conference in Baltimore. We all wondered if our conference would be canceled or rescheduled . No one knew what would happen in the days and weeks right afterward.
Finally we were told that flights would resume soon enough that we could continue our plans. Our organization's director had been in Las Vegas at the time and lived in West Virginia. Being a quick thinker he quickly rented a car and drove all the way home as otherwise he'd had been trapped in Vegas for days and he had lots to do to get ready for our meeting.
The airports were a strange sight with National Guard troops all over every part of the airport, armed with rifles and very alertly watching everyone. We had planned to also take in D.C., as we hadn't taken the kids to D.C. during our 1996 trip. We hadn't planned to revisit NYC but changed plans as the result of the events just weeks earlier.
D.C. was very empty.  We visited the Supreme Court and some Senate offices. Our senator Gordon Smith's office was one of the few that was open, but he had returned to Oregon due to the death of his mother. The building was amazingly quiet. I took photos of the blocked off mail slots due to the anthrax scare.
The Supreme Court building was fairly empty. The grounds were deserted and we had the place to ourselves. Somewhere I have some pictures at the Supreme Court — with no one else around. The next day much of the court building was also closed due to another anthrax scare.
About the only other things open were parts of the Smithsonian and the Holocaust Museum, usually a hard ticket but not right now. There were not many at the Smithsonian either. From a knoll at Arlington Cemetery we could see the damaged Pentagon. A intermit was happening nearby. It was a very ethereal scene.
Off we went to New York City. We had no exact plans, as we had no idea where we could or could not go. As we approached the city and headed to the George Washington Bridge, the skyline came into sight, minus the all too familiar Twin Towers — a strange- looking absence. It reminded me of the city as we'd seen it in the '60s when the Empire State Building reigned supreme. We parked our rental car at the George Washington Bridge Port Authority garage after Guardsmen searched in and under our rental. We took the subway down to the Times Square area and then walked over to the Empire State Building, which had opened the day before, up to the lower observation deck. Smoke continued to rise from the empty hole which had been the Twin Towers grounds.
We walked down further. Each block added more security, more closed areas. There were stores where inches of dust still covered their stock on the shelves. The smell was still quite strong, a smell of powdery dust of crushed concrete mixed with a faint smell of an usual smoke from the burning that continued for weeks afterward.
Finally we could see burnt beams sticking up from the rubble. Memorials were on the barricades all around the area. I took a photo of one that someone from Oregon had put up. There was still a sense of quiet awe at the sight. There were still signs up asking if anyone had seen a certain missing relative or friend and their photo to identify them.
Now back to Joe Trombino, the Brinks employee who survived being shot in the 1981 Brinks robbery. Two years after being shot (and three surgeries that reattached his arm) he went back to work for Brinks. In 1993, just hours before the bombing in the World Trade Center parking garage, he had been making deliveries to the Twin Towers.
In September 2001, Joe was 68. He was at last planning to retire in a year or so, his wife said. But on Tuesday, Sept. 11, as ever, he was up at 2:30 a.m. and out by 3:30 a.m. to make it to work in Brooklyn by 5 a.m.
A little after 9 a.m., he was waiting in the armored truck in the basement of the World Trade Center for his three fellow guards to return from the 11th floor. They made it to safety.
Joe called into Brinks from a pay phone, his wife said, to say a policeman had told him to move the truck. The building was shaking and water was cascading down, Joe said, before the line went dead."
Paul Rentz of Corvallis is a former resident of Nyack, N.Y., north of New York City. Rentz, 62, owned and operated Rush Hour Photo for 24 years in Corvallis.