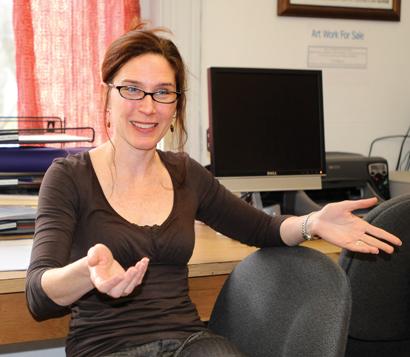 To better study homebirths, debunk myths, OSU anthropologist became a licensed midwife
When cultural anthropologists are looking at a group they want to study, one of the best ways to access the group is to immerse themselves in the culture, such as moving into a village to learn traditions and language. For Oregon State University assistant professor of anthropology Melissa Cheyney, the best way for her to study homebirths and the people who participate in them was to become a licensed midwife.
Now in her second year at OSU, Cheyney keeps busy, both delivering babies and lectures as she researches the serenity, safety and stigma surrounding homebirths. As a medical anthropologist, Cheyney is particularly interested in the world views of American women who chose homebirth, which is a very unusual decision in today's world. Becoming a midwife gave her access to many women and midwives practicing homebirth.
"You're more of an insider than if you were some detached observer up in the sky looking down," she said. "The idea is that intimacy you get from becoming a member of the community gives you insight you wouldn't get if you were analyzing from a distance … in order to write (about) someone's culture, you have to live that culture on some level."
In the OSU anthropology department, the focus is on community-impact anthropology. That means researchers seek solutions meaningful to the people whom they're studying, rather than operating on a more theoretical level. Cheyney's work involves studying midwives as a marginalized group that the broader medical community looks upon with suspicion.
"The most common misconception is that midwives are untrained or poorly trained," Cheyney said. This perception stems from the trend of midwives to use low-tech medical approaches, such as massage and herbs, during labor. But they also use medical high-tech devices, such as infant heart monitors and they carry anti-hemorrhage drugs and IVs for emergencies.
"It's this combination between the time-honored ways of being with women … combined with access to training in Western style biomedicine that you can use when you need to," Cheyney said.
Midwives tend to focus on avoiding medical intervention - such as Cesarean sections or inductions - unless absolutely necessary, under the belief that those interventions bring with them a risk of infection and complications in otherwise healthy women. However, a majority of midwives are not averse to those interventions when there is clear risk to the child. And according to a major study by the British Medical Journal, about 12 percent of intended homebirths end in a trip to the hospital, either during labor or following birth.
Ten percent of births in the United States are attended by midwives. Of those, eight percent take place in a hospital; two percent of births happen at home. Cheyney said this small percentage of homebirths is a goldmine for medical anthropologists, because the motivation and practices surrounding homebirth are so different.
She currently is working on a major study that she hopes will include a large portion of all midwives in Oregon, both licensed and unlicensed. She plans to track their work from the first visit they have with their patients until they give birth, and beyond. About 50 of approximately 125 Oregon midwives are enrolled. Cheyney would like to involve at least 100 midwives.
The information she hopes to gather includes infant mortality rate, safety and other aspects of home birth, and whether licensing, which is optional in Oregon, has an impact on outcomes.
"If you look at all the countries that have better outcomes than we do for material child health, they have two things in common: One is universal health care, and the other is midwives as primary-care providers," Cheyney said. "That tells us as researchers we need to be looking at midwives."
On Wednesday, Cheyney will moderate a panel discussion on homebirth that will take place after the screening of "The Business of Being Born," a documentary about how American women give birth. The event is scheduled for 7 p.m. at the Odd Fellows Hall, 223 S.W. Second St.