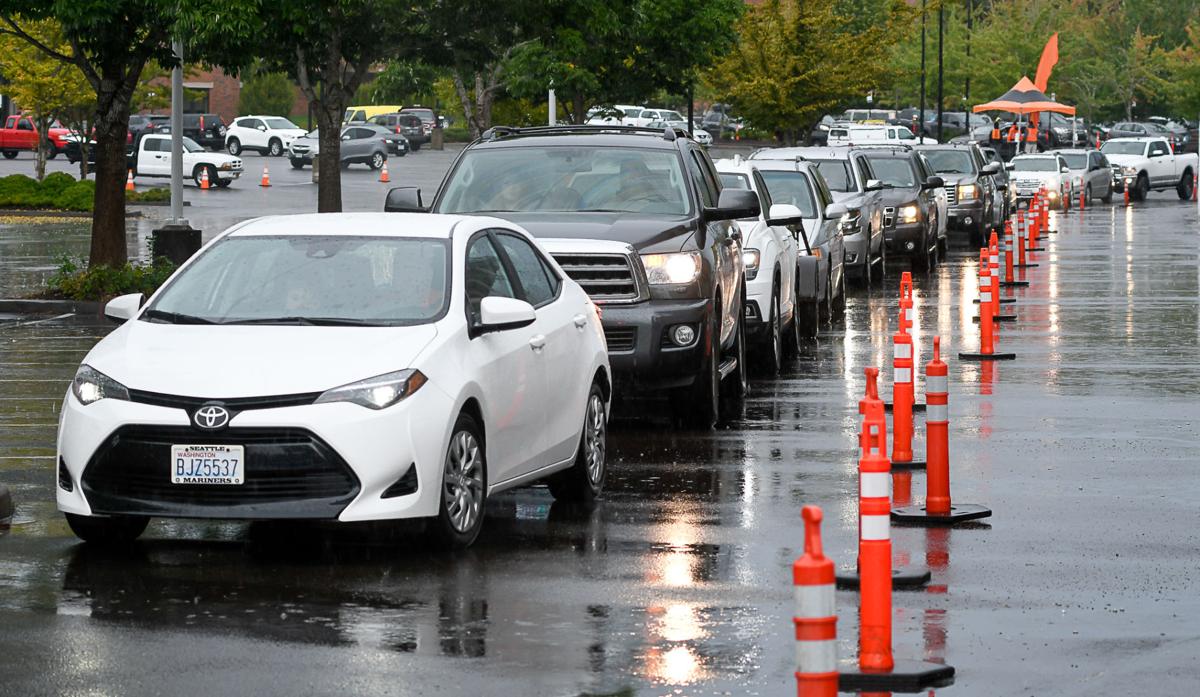 Benton County has racked up its highest one-day total of coronavirus cases.
The Oregon Health Authority in its Saturday report noted 27 new Benton County cases, a figure the Benton County Health Department said has not previously exceeded 10 in a single day.
Charlie Fautin of the Health Department said the spike in the positive tests is a function of students moving into the residence halls at Oregon State University. OSU officials predict that approximately 2,500 students will live in the dorms for fall term, which starts Wednesday.
Move-in started Friday and continues through Tuesday, with all students taking a self-administered COVID-19 test.
"There is a lot more testing going on," Fautin said, "and a lot of that testing relates to OSU's move-in."
Fautin added that "most of our testing has been of people who are symptomatic" – that is, individuals who are exhibiting symptoms of the disease.
"We were looking in obvious places," he said. "We're testing more broadly now and we're starting to see evidence of what we already knew was going on."
Steve Clark, OSU's vice president of marketing and university relations, told the Gazette-Times that approximately 1,175 students were tested in the past two days. Friday produced 2% positive results from among approximately 775 individuals who were tested. There were no positive tests among the 400 or so students who were tested Saturday.
Clark did not have information on the number of positive tests. But 2% of 775 is approximately 15, which essentially explains much of the big county spike.
OSU has set aside an isolation dorm for those who test positive. Positive cases can either stay in that dorm for two weeks or quarantine back in their hometowns.
"It is a strong safety measure," Clark said. "We understand that there have been positive cases and we expected that. It is occurring throughout the country" at other colleges and universities.
"Our students in general have been extremely mindful of health issues and I hope that continues, not only for students but for community members throughout the county."
"There are a lot of asymptomatic people out there," Fautin said, noting that there are those in the population without symptoms who still can infect others.
"That's why we're continuing to emphasize mask use, social distancing and hygiene," he said. "And that's why OSU has its protocols in place."
The 27 new cases bring Benton County's total to 279, with six deaths. The Saturday spike represents 9.7 percent of all Benton cases.
Meanwhile, the OHA reported that statewide there were 266 new confirmed and presumptive cases. Presumptive cases are people without a positive diagnostic test who have COVID-19-like symptoms and had close contact with a laboratory-confirmed case. The state now has 30,059 cases.
Four of the new cases were in Linn County, which now has 458 cases and 13 deaths. The other new cases were reported in the following counties, which are listed alphabetically: Clackamas (14), Clatsop (3), Columbia (2), Curry (1), Deschutes (16), Douglas (6), Jackson (13), Jefferson (6), Josephine (3), Klamath (4), Lane (11), Lincoln (2), Malheur (22), Marion (40), Morrow (1), Multnomah (40), Polk (8), Umatilla (10), Wasco (1), Washington (23), and Yamhill (9).
The OHA also reported five new Oregon deaths, bringing the state's total to 525. The death toll dropped by one when state officials realized that they had double-counted a case.
• A 93-year-old woman in Lane County who tested positive on Aug. 26 and died on Sept. 17, in her residence.
• A 72-year-old woman in Jackson County who tested positive on Aug. 28 and died on Sept. 15, at Providence Medford Medical Center.
• An 81-year-old man in Morrow County who tested positive on Sept. 4 and died on Sept.14. Location of death is being confirmed.
• A 97-year-old-woman in Marion County who died on May 10.
• An 86-year-old man in Multnomah County who tested positive on Aug. 16 and died on Sept.16 in his residence.
All five individuals had underlying medical conditions.