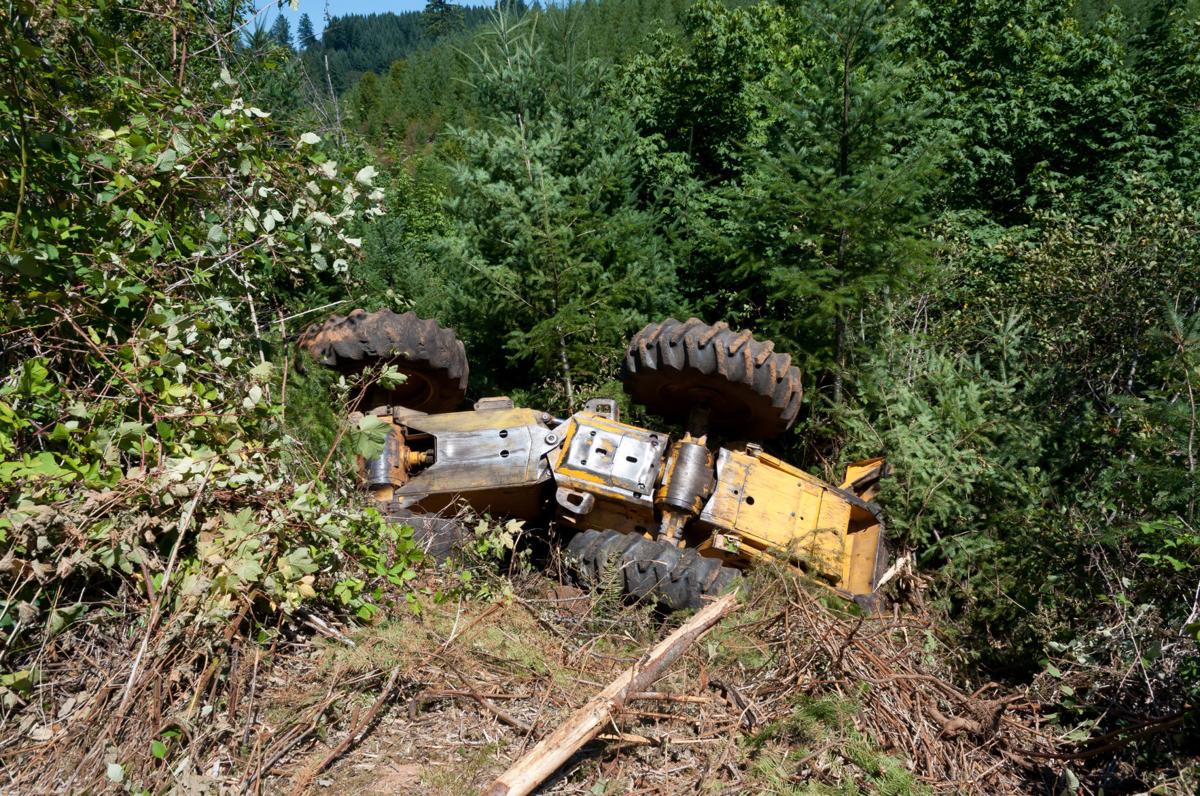 Benton County has been cited for five serious safety violations and fined more than $30,000 by the state Occupational Safety and Health Division in connection with the death of a county road maintenance employee last summer.
Oregon OSHA launched an investigation into the county's actions after veteran Public Works Department employee Pete Neuman was killed Aug. 9 while working on project to connect Hells Canyon and Starr Creek roads about 12 miles south of Corvallis.
Neuman, 59, was using a piece of heavy equipment called a skidder to move logs at the job site when the machine rolled about 300 yards down a steep hillside and flipped over. Neuman was partially ejected from the machine and was killed when it landed on top of him.
The citation, a copy of which was provided to the newspaper, faults Benton County for providing a faulty piece of equipment, not performing adequate safety checks and not properly training employees in its use.
Specifically, the citation notes five violations of state safety regulations, all classified as serious:
• The skidder did not have brakes capable of stopping it on the terrain on which it was operated. Fine: $12,500.
• The skidder did not have a parking brake capable of holding it on sloping ground. Fine: $0. (This violation was grouped with the first one; the fine covers both.)
• The county did not ensure that the skidder was checked at the beginning of each shift to determine whether it was in safe operating condition. Fine: $6,000.
You have free articles remaining.
• The county allowed the skidder to be operated by employees who had not been trained to run it. Fine: $6,000.
• The county failed to ensure that the seat belt in the skidder was properly maintained or could be used effectively by all operators. Fine: $6,000.
The fines for all of the violations add up to $30,500. The county has 30 days to file an appeal.
Benton County Counsel Vance Croney said the county stopped using the skidder after the fatal accident and has taken several steps to improve safety within Public Works and other county departments. Among other things, he said, the county has hired a full-time safety officer, implemented recommendations from its insurance company and conducted training sessions led by a safety expert provided by the American Federation of State, Federal and Municipal Employees, the union representing county road workers.
"There are a number of opportunities we have been given, and we have taken advantage of them," Croney said. "It is unfortunate that it has taken a death to do this, but I think our entire (organization) is safer, more knowledgeable and more aware."
The Oregon OSHA citation makes no mention of the rental arrangement for the skidder. According to the county's internal investigation and an incident report prepared by the Benton County Sheriff's Office, the skidder belonged to Charlie Stouder, the son of county road crew supervisor Jim Stouder. The investigators determined that Jim Stouder had arranged to rent the machine for the county's use through a Corvallis excavation company called Jackson Luck Enterprises under a three-month contract worth $9,000, of which $7,500 was to go to his son.
Jim Stouder no longer works for Benton County.
After reviewing the sheriff's investigation, the Benton County District Attorney's Office determined there was insufficient evidence to support a criminal prosecution.
A civil lawsuit is still possible, but no claim for damages has been filed against the county to date.