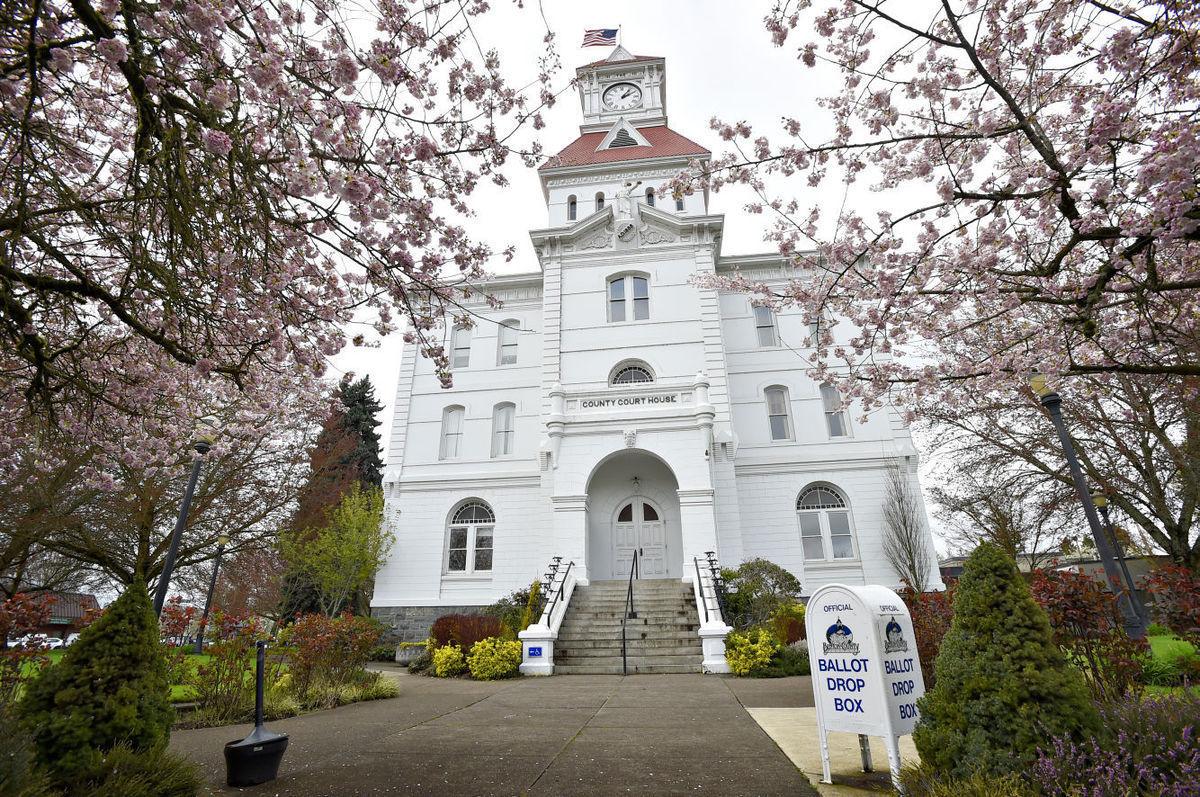 Work on overhauling the criminal justice system in Benton County entered a new phase on Tuesday when the Board of Commissioners voted unanimously to approve a contract for "predesign services" with an eye to asking voters to fund major facilities upgrades in 2022.
The contract, which will pay DLR Group up to $1.75 million, is the latest step in a process that began after voters rejected a $25 million bond measure to fund a new jail in 2015.
Early last year, consulting firms CGL and Greater Oregon Behavioral Health Inc. delivered a 124-page report outlining a series of proposed improvements to the justice system. The recommendations included replacing the county's 40-bed jail and 132-year-old courthouse (plans call for adaptive reuse of the historic court building), providing various treatment and rehabilitation services and potentially adding other facilities such as a new emergency operations center, municipal court building and sobering center. Construction and start-up costs were roughly estimated at $57.5 million to $84.8 million, not counting land acquisition, depending on which combination of facilities and programs is ultimately selected.
DLR Group, an Omaha, Nebraska-based design firm with a specialty in corrections facilities, was one of two qualified consulting groups that responded to a request for proposals issued by the county last October. The contract specifies that DLR will be paid up to $1.75 million to refine the earlier recommendations, develop firm cost estimates and do preliminary design work to support a justice facilities bond package.
"You will have a conceptual design and costs at the end of the predesign work," Ari Basil-Wagner of Greater Oregon Behavioral Health Inc. told the board at Tuesday's afternoon meeting. Basil-Wagner, who was part of the earlier consulting work, is serving as project manager for the predesign services contract.
Some of the county's project planning costs will be offset by state funding. The county has been awarded up to $2 million in matching funds toward the design of a new courthouse.
The predesign work will proceed in six phases. The first phase is budgeted to cost $146,000. Costs for the remaining phases of work will be hashed out during the first phase of the project, Basil-Wagner told the commissioners, with the total not to exceed $1.75 million.
"We have a maximum; it will not go over that amount," she said. "But the distribution of the six phases will be better established after the first phase."
Phase 1 will include developing strategies for site selection, assessment of facilities, preliminary work plans and schedules, and a communications plan for the project.
Later phases will focus on:
• Facilities site selection.
• Preliminary design and layout of facilities.
• Conceptual design options.
• Public engagement and outreach.
• Revised conceptual design documents, final site selection and final bond construction and project budgets.
The entire predesign project is expected to take about 18 months.
In other action on Tuesday, the Board of Commissioners voted 3-0 to post a weight limit for the Stow Pit Road Bridge, just east of Highway 99W near Monroe, in response to an updated load rating by the state bridge engineer.
The new load limits, which primarily affect a class of short but heavy vehicles used in construction and waste hauling, are 29 tons for SU5 vehicles, 30 tons for SU6 and 34 tons for SU7. The Oregon Department of Transportation still rates the bridge's condition as good.
Get local news delivered to your inbox!
Subscribe to our Daily Headlines newsletter.