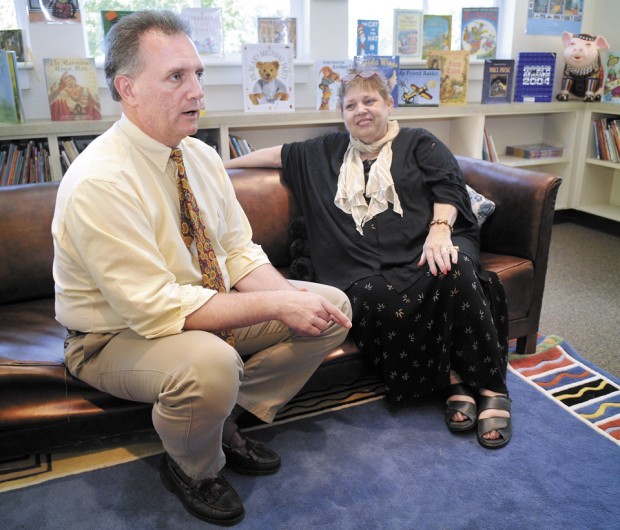 Bev Larson, founder of Old Mill Center, leaves a legacy of compassion and inclusiveness
When Bev Larson launched the Old Mill School in a Corvallis church basement with friend Barb Kralj in 1977, the idea of educating "normal" kids in the same room with special-needs children was considered a radical concept.
Today, mainstreaming kids with a wide range of physical and emotional disabilities is a widely accepted practice in public schools, and the integrated preschool program remains a cornerstone of the Old Mill Center for Children and Families, as the nonprofit organization Larson co-founded 35 years ago is now known.
Larson died Thursday evening at Good Samaritan Regional Medical Center. She had been hospitalized since Feb. 16, when she suffered a heart attack. She was 67.
After graduating from college with a degree in education, Larson got a job teaching disabled high school students. But she didn't like the way students with disabilities were separated from the rest of the school.
Education, she thought, should be a more inclusive undertaking. That was the inspiration for Old Mill.
"Bev had the notion (that) if they could find a way to create a curriculum where both those kinds of kids were in preschool together, everybody would benefit," said Steve Golston, executive director of Old Mill Center. "And our preschool program still operates that way today."
In other ways, however, the organization has changed dramatically. From an obscure preschool serving eight families in 1977, Old Mill has grown into a diversified service provider with its own facilities, a staff of 47 and scores of volunteers serving around 1,600 families a year.
In addition to the integrated preschool, Old Mill offers child abuse treatment, mental health services, parent education and counseling, and occupational and physical therapy. Last year it was certified as a Relief Nursery site, part of a statewide child abuse prevention program.
It's unusual for such a wide array of services to be offered in one place, Golston said, but it's a tribute to Larson's vision and passion.
Until September 2010, when Golston came on board as executive director, Larson managed virtually every aspect of the center's operations, but it had begun to take a toll on her health.
"Old Mill was her life, and she was really trying to do too much," Golston said.
After his arrival she stepped away from day-to-day management to concentrate on fundraising, grant-writing and donor relations, but she still maintained a full schedule. She threw herself into cementing the center's ties to the community and solidifying the nonprofit's financial underpinnings.
"She clearly wanted to create something in Old Mill Center that Corvallis and all of Benton County would be so invested in that the community would never let that dream die," Golston said. "Over the last 10 or 12 years, I think that became a driving force for her."
A big part of Larson's legacy will be the diverse mix of services she assembled under one roof, Old Mill board member Karen Misfeldt said.
"It provides services to folks who really need help and couldn't get it anywhere else," she said. "People come in for help with one thing and it spills over into something else."
The center's psychiatric treatment for young children is particularly critical, Misfeldt added.
"If Old Mill wasn't there, those kids would be falling through the cracks," she said.
Over the course of 35 years, fellow board member Pat Dixon said, Larson's passion for helping children has made a difference for a whole generation of Corvallis residents.
"Bev just had a great deal of love in her heart for kids," Dixon said.
"Bev mentioned at (her) last board meeting that she had adults coming back and thanking her for the help they got as kids."
Larson is survived by her sister, Geraldeen "Geary" Cuniff of Salem; two nieces, Meghann Cuniff of Spokane, Wash., and Katie Cuniff of Philomath; two nephews, Aaron Cuniff of Philomath and Jesse Cuniff of Corvallis; and a grandniece, Aleaha Cuniff of Philomath.
Funeral arrangements are under the direction of Twin Oaks Funeral Home and Cremation Services. A memorial service will be scheduled at a later date.
Larson never married, but she was very close to her sister's family.
"She was a big part of our life," said Meghann Cuniff. "She did a lot for us. She was always there when we were growing up."
Larson frequently took her nieces and nephews to Oregon State University sporting events, Cuniff recalled, and when it was time for them to enter preschool, they went to Old Mill, learning side by side with disabled children.
Cuniff remembers a classmate who used a wheelchair, and she recalls learning from an early age not to treat him differently.
"He was just another normal kid. He just happened to be a little different, like all of us," Cuniff said.
"And that's what Bev was all about. ... She made everyone feel special."
Contact Bennett Hall at 541-758-9529 or bennett.hall@