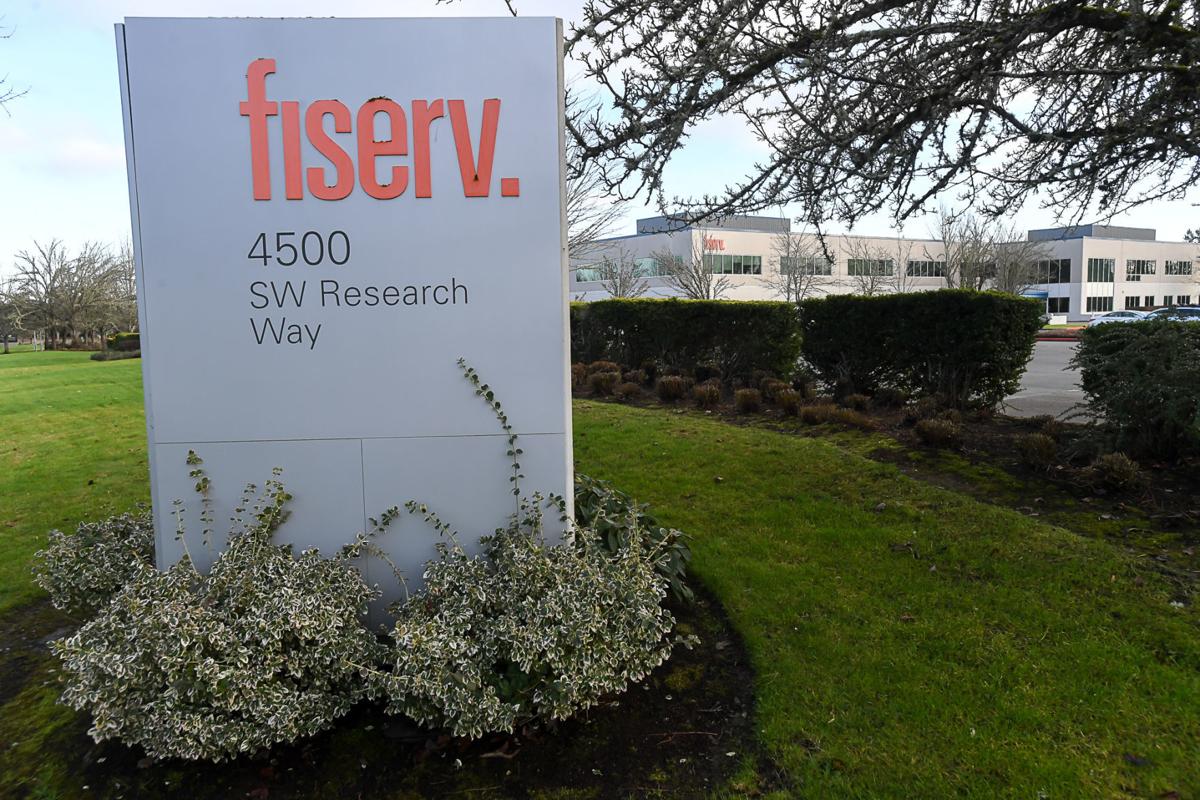 Benton County took another step toward acquiring a new office building Tuesday when the Board of Commissioners voted 3-0 to authorize up to $10 million in debt financing.
The board voted unanimously on Jan. 6 to buy a two-story, 54,000-square-foot building at 4500 SW Research Way in Corvallis for $7.1 million. The sale is scheduled to close Feb. 14.
Remodeling costs are estimated to run $1.5 million to $2 million. The county will buy the building with cash on hand but will refinance the purchase either by issuing bonds or taking out a bank loan. Tuesday's vote allows the county to move ahead with the acquisition while it evaluates which financing option makes the most sense.
The financial services firm Fiserv, which currently occupies 60% of the building under a lease agreement, will remain as a tenant until at least Sept. 30, 2021, but will vacate the premises no later than September 2027. Lease revenues, which currently amount to $550,000 a year, will partially cover the debt service on the purchase.
Fiserv once occupied the entire building but has downsized its Corvallis operations from about 300 employees to 70 today. However, the Brookfield, Wisconsin-based company has about 250 employees working remotely in Oregon.
The Fiserv building is within walking distance of the Sunset Building, which houses several county departments. Both are served by Corvallis Transit System buses.
County Administrator Joe Kerby, who brought the purchase proposal to the board, told the commissioners in a previous meeting that it would allow the county to replace "a labyrinth of facilities" and consolidate numerous public-facing county services in one compact location.
"This is a long-term investment," he said during the board's Jan. 7 meeting. "This is not just about our needs right now but also about our needs 10 to 15 years from now."
The financing question was just one item on a lengthy agenda for the Board of Commissioners on Tuesday. In other action, the board:
• Voted to hire DLR Group as the predesign consultant for the criminal justice system improvement project. DLR, which was retained under a previous contract to assess the needs of the county criminal justice system, was one of two firms that responded to a request for proposals. As a predesign consultant, DLR will be tasked with organizing a public engagement process to determine how to move forward on system improvements and which improvements to prioritize. Potentially, those improvements could include a new jail, courthouse, 911 dispatch center and transitional housing. Now that a consultant has been selected, the county will begin negotiating with DLR Group on a fee for its services and the scope of work to be covered by the consulting contract.
• Adopted a supplemental budget resolution adding $10,487,400 to total appropriations in the 2019-21 county budget. Most of that total — $10,362,400 — represents financing and other costs associated with the purchase of the Fiserv building, Chief Financial Officer Mary Otley said. The remaining $125,000 represents money from the city of Corvallis to cover the city's share of a joint program to address homelessness.
• Ratified a tentative performance-based pay agreement with the Oregon Nurses Association. Nurses employed by the county will receive a 1.5% salary range increase retroactive to Dec. 1 and a 1.5% base pay increase retroactive to July 1. The agreement also calls for nurse salary ranges to be adjusted by the Employment Cost Index in July.
• Authorized an auction to sell nine pieces of property acquired by the county through tax foreclosure.
• Formally approved the establishment and formation of a new taxing district to provide funding for 911 emergency communications. The district was approved by voters in November.
• Removed a weight limit on the Tobe Creek Road Bridge over the South Fork of the Alsea River.
• Scheduled a vote for Feb. 4 on an updated climate crisis resolution. The proposed language calls for Benton County government to cut its greenhouse gas emissions in half compared to 2010 levels by 2030 and for the county's emissions to be net-zero by 2050.
• Heard an update on plans for a rebuilt county health clinic at Lincoln Elementary School in Corvallis. Design changes and a proposed agreement with the Corvallis School District to allow the clinic to operate from a modular building on school grounds during construction could save the county about $310,000, consultants said. The overall project cost would be about $3.3 million.
• Scheduled a vote for Feb. 4 on whether to accept right-of-way dedication for a portion of Starr Creek Road in south Benton County from Dana Andrew Taylor.
Get local news delivered to your inbox!
Subscribe to our Daily Headlines newsletter.