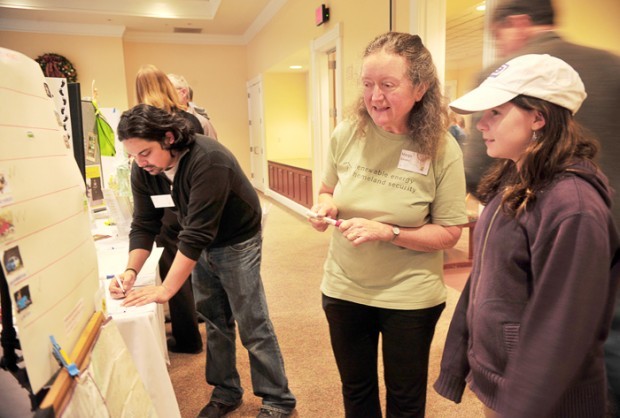 The theme at the Corvallis Sustainability Coalition's annual town hall on Wednesday night — and really the coalition's goal since it started in 2007 — is taking action.
"Get inspired to take part in this great adventure of creating a sustainable community," said Annette Mills, the facilitator for the coalition.
Between 400 and 450 people attended the town hall and a sustainability fair just before at the CH2M Hill Alumni Center on Wednesday. The building was abuzz from 5 to 9 p.m. with the annual events.
The sustainability coalition and its 12 action teams work hard to drum up local participation in community initiatives in food, energy, water, waste prevention, economic vitality, land use, health, transportation and more.
The local economy took center stage in discussions during the town hall portion of the event. Participants shared their ideas for how individuals, businesses and organizations could be more sustainable.
"Can we as a community rise up to this kind of challenge?" Rob Dietz, director of the Center for the Advancement of a Steady State Economy asked the crowd. "Can we look across our economic sectors and find 21st century solutions?"
After discussing three possible community challenges for the year to come, the overwhelmingly crowd favorite was a "Buy Local First" campaign for the coming year.
"We're just asking people to think about their local choices before opening their wallets," Mills said.
Past community-wide challenges led by the coalition include the 2008 Corvallis Energy Challenge and the 2010 Car Free Day Challenge.
Throughout the night, individuals young and old offered up examples of how they have made changes in their daily lives to live more sustainably: from biking to school, to replacing old appliances with energy-efficient ones, to designing a new home using recycled and re-purposed materials.
"You don't have to have a new house to make a net-zero energy home," Marge Stevens said. She and her husband have conserved and replaced appliances and retrofitted their 1954 ranch house on Highland Drive to the point that their monthly electric bill is only $8.
Others focused on the importance of basics, such as food and housing.
"I think meeting people's basic human needs is an important part of sustainability," said 13-year-old Ellie VanDevelder, who volunteer's at the men's winter homeless shelter.
Linda Modrell, the chairwomen of the Benton County Board of Commissioners and Corvallis Mayor Julie Manning both addressed the crowd and attested to the importance of sustainability concepts in developing county and city projects and goals.
"We see ourselves united by a common purpose and a sense of urgency," said Manning, who noted that the city is a key partner with 11 of the 12 action teams.
As is tradition, the meeting ended with hopeful words from two young speakers, Crescent Valley's Hayley DeCarolis and Corvallis High School's Nicholas Hochfeld.
Hochfeld ended the evening with a call to action reminding the people gathered: "We need to do more than our part."