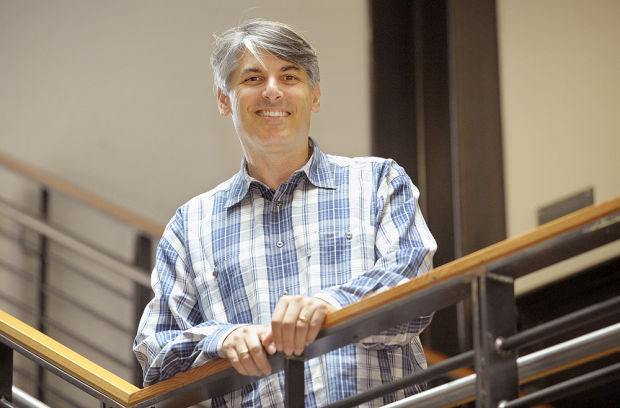 OSU prof honored for his role in mediating international water disputes
"Water management," says Aaron Wolf, "is conflict management."
He should know. Wolf, an Oregon State University geography professor and director of the university's Program in Water Conflict Management and Transformation, has traveled the world mediating some of the planet's most intractable water disputes.
While it's not the career he imagined for himself as a young researcher, Wolf says, it was a natural progression from his study of one of the world's most vital — and increasingly scarce — natural resources.
"I started off in the sciences doing groundwater modeling," he said, "and quickly realized people were at the heart of both the problems and the solutions."
Earlier this month Wolf traveled to Italy to accept an international prize for his work in the field. The Monito del Giardino ("Warning from the Garden") Award, bestowed by the Bardini and Peyron Monumental Parks Foundation of Florence, comes with a substantial amount of prestige: Last year's recipient was primatologist and environmental activist Jane Goodall.
Wolf calls his award more a recognition of the importance of water conflict mediation than an individual honor.
"The United Nations has designated this the International Year of Water Cooperation, so for (the award committee), this is what they wanted to focus on," he said.
Still, Wolf is undeniably one of the leaders in the emerging field, consulting with the U.S. Agency for International Development, the World Bank, the U.S. State Department and numerous foreign governments.
Since the early 1990s, he has been involved in facilitating negotiations among Jordan, Israel, Lebanon and Syria over how best to manage the water of the Jordan River Basin.
The resource is vital to all four governments, with surface streams and aquifers that cross multiple borders, but finding areas of agreement is a painstaking process fraught with difficulties and measured in small, incremental victories.
"To this day, Syrians and Israelis won't sit in a room together, nor will Lebanese and Israelis," Wolf noted. "To manage water efficiently you also have to manage it cooperatively, and that's something that is just not possible in some places."
But Wolf, and others like him, keep trying.
Where progress is made, it's often the result of patient and careful listening. In one multinational dispute, for instance, Wolf discovered that one of the most intransigent participants didn't necessarily oppose an agreement but was worried about its ability to meet technical monitoring requirements. He was able to broker a face-saving compromise.
"The party that says no the most and the fastest generally is the weakest party," Wolf said. "At some point, we find anger masking vulnerability."
The Monito del Giordano prize comes with a cash stipend, but it's not intended to go into the winner's pocket. Instead, the honoree gets to direct the funds to a worthy cause.
The award committee decreed that this year's payout of 15,000 euros is to help fund a water project that will facilitate dialog between Israelis and Palestinians, and Wolf has a doozy lined up: an effort led by an Israeli colleague to clean up a heavily polluted stream that starts in the West Bank, then winds past Bedouin and Jewish settlements in Israel before flowing into Gaza.
It's the kind of thorny problem Wolf has in mind when he's talking to students in his water conflict management classes, such as the one he's co-teaching this month as part of OSU's second annual Natural Resources Leadership Academy.
On a warming planet with a growing population and shrinking reserves of fresh water, he believes, the skills to solve these kinds of cross-border disputes are increasingly vital.
"It is an issue that's getting bigger and bigger, there's no question about it," Wolf said. "That's why it's so important to train these guys."