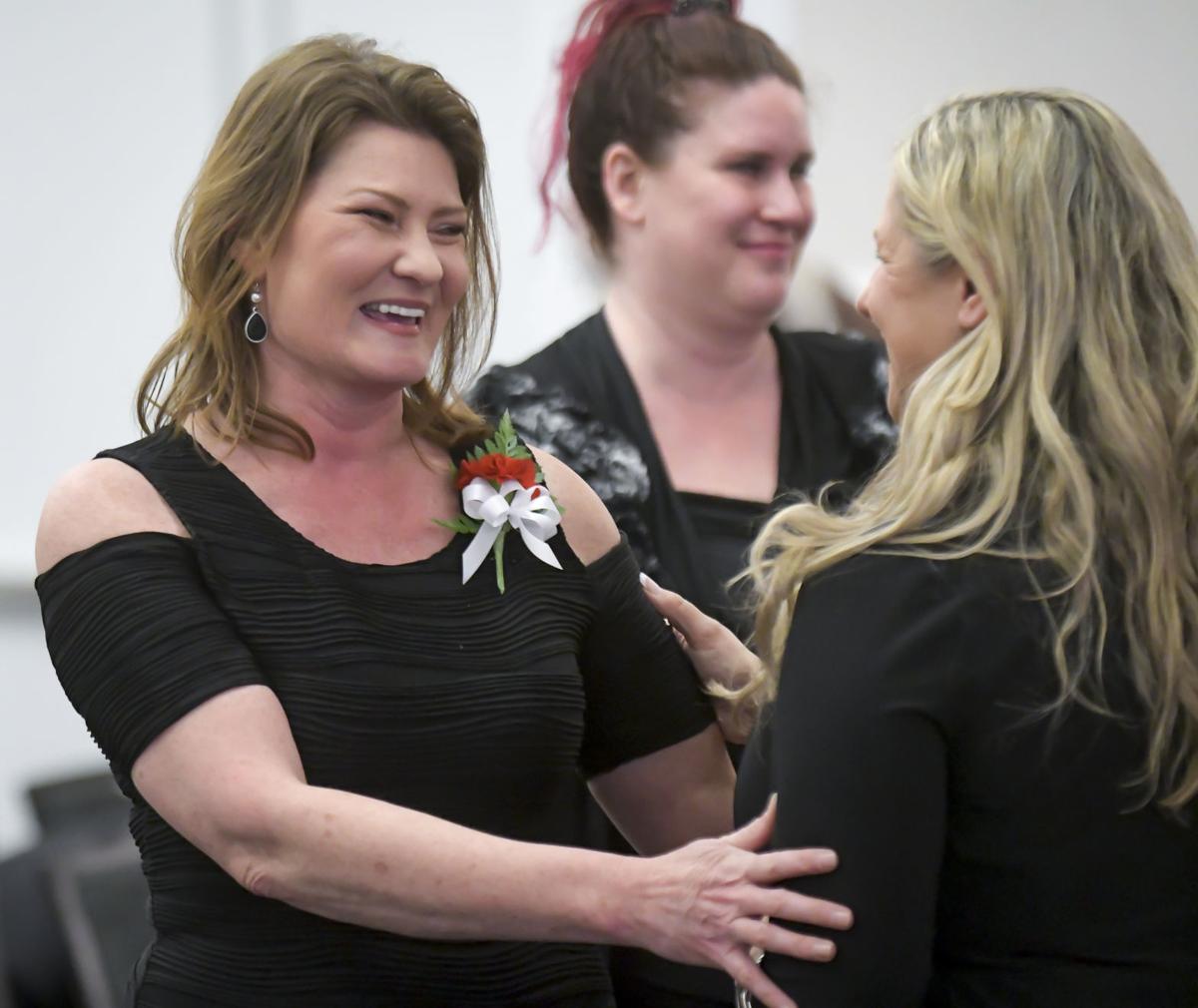 Tickets are on sale for Celebrate Corvallis, the annual bash hosted by the Corvallis Chamber of Commerce to recognize the city's best and brightest in business, philanthropy and the arts.
The 71st edition of the event will take place from 5:30 to 8:30 p.m. Jan. 18 at Oregon State University's CH2M Hill Alumni Center, 725 SW 26th St.
Chamber President Cooper Whitman and Corvallis Gazette-Times Editor Mike McInally will act as masters of ceremonies for the event, which will feature heavy hors d'oeuvres, beer and wine, valet parking and plenty of glitz.
Tickets are $70 for Chamber of Commerce members and $80 for non-members. A table for eight can be reserved for $700. Tickets are available online at www.celebratecorvallis.com.
A total of 53 individuals and organizations have been nominated this year for honors in 11 categories.
In a departure from past practice, the Business of the Year award has been split into two categories: one for large businesses, with 25 or more full-time-equiivalent employees (including franchises), and one for smaller companies with 24 employees or fewer.
In addition, the Good Steward of the Environment Award has been renamed and will now be known as the Sustainable Business of the Year Award.
Among last year's top winners were Benton County Fair Board Chair Trudy Overlin, First Citizen; Goat Yoga owner Lainey Morse, Entrepreneur of the Year; and Valley Catering owner Mary Bentley, Robert C. Ingalls Business Person of the Year.
This year's nominees are:
Large Business of the Year: Barre3, Willamette Vet Clinic, NuScale Power
Small Business of the Year: Running Princess, Evenflo Plumbing, Duerksen & Associates, Harris Bridge Vineyard
Future First Citizen: Geneva Wolfe of Crescent Valley High School, Samuel Sparks of Santiam Christian High School, Kari Gottfried of Corvallis High School, Sage Rasmussen of Crescent Valley High School, Nicole Langpap of Corvallis High School, Abby Abraham of Santiam Christian High School
First Citizen - Junior Category: Manju Bangalore, Jason Harris, Amy Yardley, Chrissy Lucas, Jennifer Beaumont
First Citizen: Leigh Griffith, George Abele, Liz Foster, Jim Mitchell
First Citizen - Senior Category: Pat Lampton, Sylvia Moore, Alice Rampton
Patron of the Arts: Bruce Burris, Holly Campbell, Marnie Zoa, Jennifer Moreland, Patrick Hackleman, Jim Martinez
Community Organization/Nonprofit of the Year: Old Mill Center for Children & Families, Bit By Bit, Trillium Family Services, Benton Community Foundation, Chintimini Wildlife Center, Corvallis Public Schools Foundation, Corvallis Bicycle Collective, Benton County Historical Society
Robert C. Ingalls Business Person of the Year: Tom Nelson, Tyler Childers, Helen Higgins, Josh Messner, Jeff Davis, Frederick Edwards
Entrepreneur of the Year: Jose Reyes, NuScale Power; Dan Orzech, Oregon Clean Power Co.; Kristin Bertilson, Queen B Organizing; Jeff Silverman, Rockstar Singing Telegrams; Scott Ramsey, RamZFab
Sustainable Business of the Year: Sky High Brewing, Wild Yeast Bakery, Equilibrium Painting