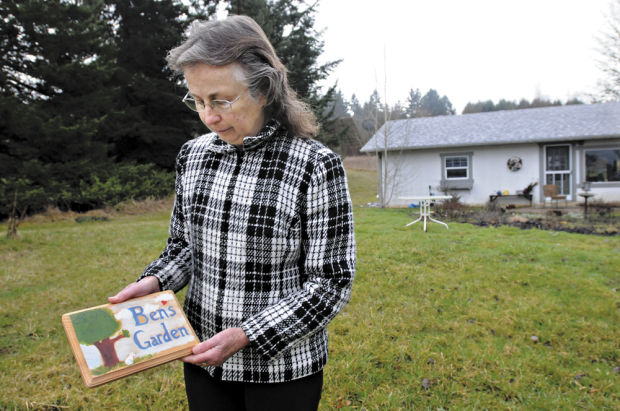 In May 2012, terminally ill Kings Valley resident Ben Wald opted to hasten the end of the his life with a doctor-prescribed lethal medication through Oregon's Death with Dignity Act
Pam Wald loves the everyday reminders of her late husband, Ben.
Looking out at the garden on her 5-acre Kings Valley property reminds her of the hours he spent tending it and how he loved to feed their daughter, Bonnie, cherry tomatoes, peas and green beans right off the vine.
"He was my soulmate," says Pam, 68. "And I was married to a very entertaining man. That's why my daughter has such a good sense of humor. He introduced her to all the Jewish comedians, himself included. He thought that was part of her education. He was a closet comedian."
Photos show a happy couple and family. There's Ben and Pam on their wedding day in 1971 in Pacific Palisades, Calif. In another 1970s photo, Ben is helping Bonnie, who was born with Cri-du-chat (crying cat) syndrome ("her vocal cords  were undeveloped," Pam says) learn the sound of words by using a Grover puppet from "Sesame Street."
In a photo from 2007, when Ben had been retired for five years from his private counseling practice, all three appear to be having a good time while visiting friends in Virginia. It was a year after Ben had undergone colon cancer surgery. He looked healthy.
But by 2011, the cancer had returned, metastasizing to his lungs.
"I hoped he would get better, but he didn't," Pam says. "He had stage 4 cancer, a lot of coughing and shortness of breath."
This man, who had been a muscular 5-foot-9, 175 pounds, was down to 118 pounds by early 2012.
After staring  in the mirror one day, Ben said  he looked like someone from Auschwitz, Pam recalls. He had a catheter, was on oxygen and the cancer had spread to his bones.
"We had been told this was a terminal situation," Pam says, noting they retained Benton Hospice Service. "They were just wonderful," she says.
On April 3, 2012, Ben decided he wanted to hasten the end of his life through Oregon's Death with Dignity Act. The law allows doctors to prescribe lethal medication for terminally ill but mentally competent people such as Ben.
The Walds were referred to Portland-based Compassion & Choices of Oregon, a nonprofit organization that specializes in helping clients and families with end-of-life care related to the Death with Dignity Act.
Ani Sinclair and Jane Riggs, volunteers  with Compassion & Choices, referred the Walds to a supportive physician, explained the law, helped with paperwork and talked about what the couple wanted to happen at the time of Ben's death.
Pam and Ben came to grips with the decision they had reached.
"We cried together," says Pam, who concurred with her husband's request. "I was there with him to do whatever needed to be done."
Over the next month, Ben met all the requirements of the law. That included receiving two doctors' diagnoses that he had less than six months to live, a 15-day waiting period, being deemed competent to make the decision, and getting a prescription from a doctor for the lethal medication.
Ben gave himself the medication on the evening of May 4, 2012, and died two hours later. He was 75.
Dr. David Grube, retired longtime Philomath physician who confirmed in April 2012 that Ben had a terminal condition, wrote the prescription for the medication with which Ben ended his life.
"Gentle Ben. He was a gentleman's gentleman," Grube says. "He had no hard edges. He was as soft as they get. Very witty and highly intelligent.
"He requested the (Death with Dignity) option. I was asked to be involved. I got all his medical records, met with him and confirmed his (diagnosis). That was his wish, and he was competent to use that option."
Ben was one of 77 Oregonians who died in 2012 from ingesting medications prescribed under the Death with Dignity Act.
The option is only for terminally ill people who have less than six months to live.
"You need to be on death's door," Grube says. "It's for really, really sick people who are suffering. Most of these people don't even have six months to live."
Grube has provided lethal medication prescriptions for about 20 patients since the Death with Dignity Act took effect in 1998.
"After practicing for many years, I've seen that in some cases doctors cannot prevent suffering," he says. "In medical ethics, the top value is patient autonomy. The patient should be allowed to choose what they want, not what the doctors want."
Grube is still haunted by the memory of a friend who had terminal bone cancer. The person, he says, "had insufferable pain and chose to take their life in a horribly traumatic way."
From 1998 through 2012, 1,050 people received Death with Dignity prescriptions and 673 patients used them to end their lives.
Of the 30 requests Grube has received for Death with Dignity prescriptions, he has written 20 prescriptions and 10 people took the medication.
"Many people who ask for it and get the prescription, don't take it," he says. "They just want control."
Grube says the law has not been abused.
"For seven years (2001-08) I sat on the Oregon Medical Board," he says, and he remains its interim director. "There has not been one single significant violation of the act. No doctor has been disciplined."
Grube will join Pam Wald and Susan Smith from Compassion & Choices of Oregon for a presentation about Oregon's Death with Dignity Act from noon to 1 p.m. Wednesday, Feb. 5, at the Corvallis-Benton County Library, 645 N.W. Monroe Ave.
"There haven't been any local programs on this," Grube says. "The word doctor means teacher. I want people to know about this. It's about education."
There was nothing maudlin about Ben Wald's death at home in Kings Valley.
"Once he learned that he was going to be given the choice to end his life, he relaxed," Pam says.
Ben and and Pam invited 10 of their closest friends, along with the Compassion & Choice volunteers, to join them on the evening of Friday, May 4, 2012.
"He was in bed," Pam says. "Prior to taking the medication, he spoke to each of them individually. We sang songs." And one of the friends read a poem.
Riggs, the volunteer Compassion & Choices nurse, gave Ben medication to prevent vomiting.
Then Riggs mixed the powdery lethal medication — 1,000 milligrams of the barbiturate pentobartibital — with orange juice and handed it to Ben. He drank it himself, as the law requires.
"His last words to everyone," Pam says, "were 'Thank you.'"
Ben fell asleep within five minutes. Two hours later, as Pam was holding his hands, Riggs tapped her on the shoulder to say that Ben had died.
"I'll never forget the experience," Pam says. "Anybody who is at that point in their life has a right to explore this and not be denied the opportunity to take advantage of it.
"Making this happen for Ben allowed me to give my husband my last gift of love."
Graham Kislingbury is the online editor for the Democrat-Herald and Gazette-Times. He can be reached at graham.kislingbury@lee.net or 541-812-6111.