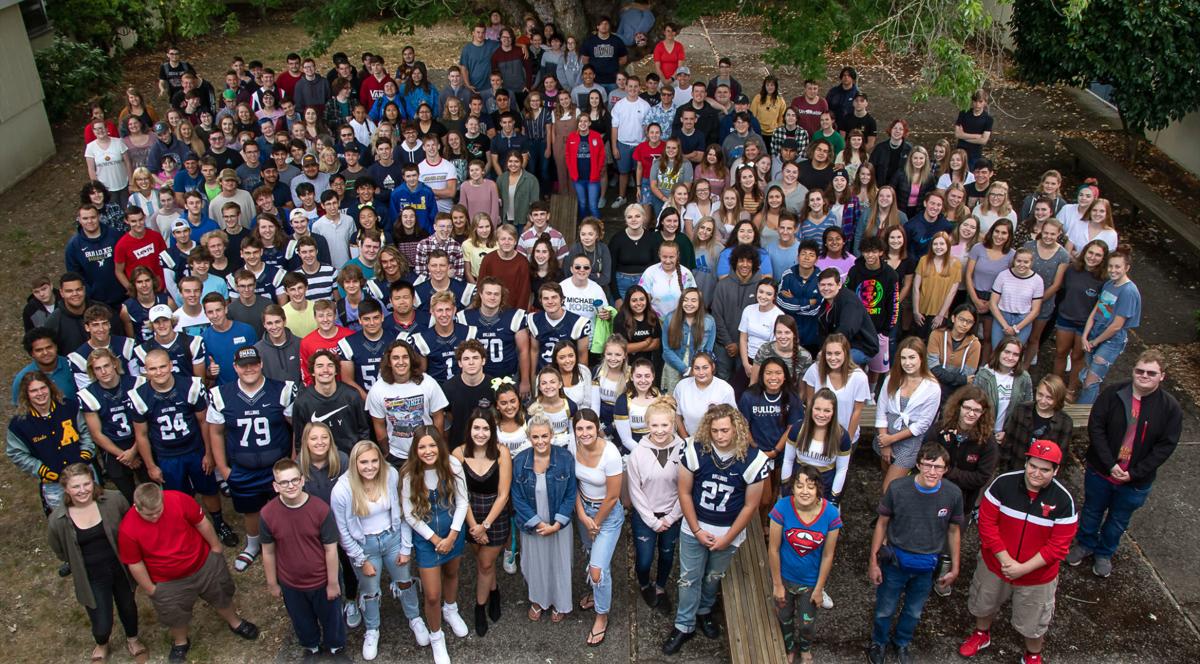 West Albany's Class of 2020 will walk across the stage at Memorial Stadium, social distancing regulations permitting, on Aug. 27. 
In May, the class was given the opportunity to see their teachers again and have a parking lot celebration to mark the end of their high school careers. 
During the event, students also received a coupon to a local pizza parlor, their graduation caps and gowns, and a standing ovation from their teachers, who formed a line down the driveway to cheer students on. 
Principal Susie Orsborn said seniors also got a letter stating they had met their graduation requirements. 
"It was awesome to see the seniors today," she said. "We miss them so much! It was also an emotional day talking about graduation and all the senior events we have missed."
Candidates
Eric Bryant-Scott Allam, Sylvia Rose Allen, Susana Cecily Maria Alvarez Perez, Jordan Elizabeth Andreas, Automn Spring Archer, David Armengolt, Jonathan Kai Aurand Paulino, Lorenzo Ãvalos-Mang, Liliana Rose Bacilio, Sydney Jo Backer, Lillith O. Bailey, Tristan Matthew Bailey, Chloe Maria Ball, Sarah McKenzie Ball, Bethany Rose Barnett, Chase Maguire Bauserman, Margaret Rose Bedrin, Sydney Elizabeth Beers, Isaac Alexander Benfield, Annie Elizabeth Berry, Sydney Rose Birchfield, Sahalie Marie Bishop.
Titus James Black, Erin Quinn Bliege, Blake Lee Bowers, Hamish H. Bradley, Darius Isaac Braithwaite, Caden Guy Buck, Alizah Renee Bueno, Amaya Lee Bulcao-Moore, Braden Andrew Burgess, Ebin Allen Burington, Tobin Jacob Burke, Hunter Ray Burris, Patrick Anthony Burris, James Boyd Burwell, Bjorn Arthur Carlson, Shyanne Marie Cartwright, Andrew Stewart Castaneda, Ignacio A. Cervantes, Eric Dean Chamberlain, Syara Chaudhry, Alexis Marie Chavez, Torin Davis Christenson, John Anthony Colgate III, Callie Belle Combs, Makaila Kahea-O-Kanoelani Cook Pauline, Angelica Guinty Coronel, Tanner Joseph Cox.
Derric Anthony Cox II, Gage Justice Crabtree, Haven Hunter Crawford, Lydia Joy Creager, Jayde Kathryn Crowe, Cayden J. Cumpiano, Devin Chandler Davis, Kai Louise Davis, Connor Bradley Delp, Sahijpreet Singh Dhaliwal, Jesus Madrigal Diaz, Macey Lauren Dittmer, Evan Julius Diviney, Connor Jeffrey Dodd, Rylee Michele Domagala, Gabriel Earon Dorgan, Olivia Jeanette Dykast.
Seth William Edmondson, Alix Edwards, Daniel Mark Edwards, Oonalea Aislinn Eger, Sarah Elizabeth Emry, Landon Price Engom, Rebekah Lynn Erhardt, Serena Danielle Estep, Bryant Alan Farnes, Jacob Allen Fawver.
Isaiah Eli Fernandez, Alyssa Lyn Ferreira, Rielly Michael Figueroa, Bailey Nicole Filley, Reina Isela Fiscal, Sierra Nicole Forester, Erickson Andrew Formiller, Kaitlynn Rose Forslund, Sarah Elizabeth Fraser, Amelia Rose Gates,Karlie Jo Gayler, Angelyna A. Geno, Madeleine Jane Getz, Hailyn Teresa Gibson, Grant Robert Gilman, Riley Allen Goff, Haily Madison Greening, Colby Scott Grieve, Trenton Lee Griggs, Lisa Marie Gutierrez, Emily Kate Haarstad, Roxy Andrea Haley, Ally Hall, Hailee Don Harmon, Sylvia von Harrington, Dylan Michael Hayes, Britton Joseph Hellman, Mattéa Jolie Hellman, Kyndel Blayze Hernandez, Coby Davino Herrera.
Mya Leigh Heward, Jackson Henry Hoehne, Dayton Thomas Hoffman-Sanders, Cody Lee Hostetler, Jade M. Howard, Preston Joseph Howard III, Justin Lane Howell, Timothy Michael Hubert, Colby Troy Huddleston, Seth G. Jackson, Hailey Ann James, Wyatt Jameson Javage, Zachary Kyle Jensen, Karen Jimenez, Nyah Vivian Hoene, Hanu Kalani Jimenez, Kendra Ronelle Jones, Nathanyel Dennis, Kalamaha Emily Madelyn Kaneshiro, Taylor Olsen Kelley, Sydney Stockton Kickner, Brayden Cordell, Kinney Nicole Ireland, Kistner Josiah, Tanner Kleint Jada Renee Kliever, Keely Quinn Kohlleppel, Lucy Qiao Kratka, Caledon Xavier Krebs, Evelynn Dawn Kruesi, Blake Herbert Kuebrich.
Liana Claire Lahann, Elizabeth Kateryna Lake, Mackenzie Taylor Lamm, Logan James LaMonte, Nolen Deveroux Larson-Scheffler, Bradley Dylan Layton, Austin James Leeper, Parker James Lehr, Isaac Andrews Linford, Christopher Michael David, Logan Freddy Lopez, Jonathan Loudon, Damon Emil Ludlow,  Alexie Park Lundgreen, Emmalee Paige Lyman, Francisco Manuel Maciel, Aisling Maeve Malone, Erin Michelle Maloney, Cloey Marie Marsh, Bethany Emmaline Marteeny, Reina Jae Martinez, Karissa Marie McBride, Trévon Tristian McCullough, Emily Jean McCurdy, Mason Christopher McKee, Hunter Marcella Mickelberry, Conner Lee Mier, Landon Lee Miller.
Piper Leslie-Anne Miller, McKenna Abigail Mills, Aaliya C. Mohamed, Eric Ismael Monroy, Colton John Moore, Ulises Uriel Moreno-Rodriguez, Evan Leo Morgenstern, McKenzie Ann Morris, Devon Ray Morrison, Alejandro Scott Muñoz, Schell Malachi, Tyler Murphy, Kaitrin Myra Nash, Grey Kailua Nazarian, Hayden Alexander Nelms, Maggie Leanna Nelson, Brandon Scott Newman, Lukas Jon Nguyen, Rachel Lyneé Nord, Cole B. Norlander, Danny M. Northcutt, Paul Tomás Novak, Jacob Matthew O'Leary, Kyle Adam Ollian, Logan Reed Osbourn, Bryce Oxford, Cortez Trinity, Paige Pendley, Ryan Patrick Pengilly.
Joelle Czarissa, Mae Sampang Perez, Mariah Brooke Perfect, Jazmyn Faith Marie Perkins, Jonathan Carl Perkins, Grace Elizabeth Peters, Osten Nhat, Minh Pham, Porter James, Phillips Paeson, Olivia Pimm, Ethan Nicholas Pohlschneider, Kyle Michael Pope, Leonid Yurovich Prokopovych, Alexander Danyel Ramirez, Naia CenCan Rasmussen, Blayke J. Ravert, Zanara Christine Raymundo, Josiah Clinton Reed, Zachary Christian Reese, Ahnalee Faith Reimer, Olivio J. Reller, Taliyah Julianne Reyes, Chase J. Reynolds, Coleton Alan Richey, Kaedyn Janae Roberts, Jaden E. Rodriguez, Carter Jacob Roeser.
Anna Michelle Rogers, Katie Michelle Rohrbough, Caden Michael Ross, Giselle Jasmine Ruiz-Ruiz, Hope McKenzie Samard, Kierra Jo Sanchez.
Isaura Ashley Sanchez-Hernandez, Christopher Sanchez-Ruiz, Austin Jay Schoen, Channon Job Schuerger, Eric James Scofield, Alysabeth Mya Shanks,Emma Erin Sherwood, Jacob Wessela Shipley, Shannon Dawn Shollenberger, Jaxon Keith Shufelberger, Diego Gabriel Silva, Seth Nathaniel Silva, Jolie Camille Simpson, Gabriel Joel Smith, Christina Larissa Soot, Kendra S. Spalinger, Brandon Dean Stafford, Austin Brian Stanaway, Kaleb J. Startin, Jeremiah Joshua Stirn, Kaden Joseph Dean Strametz, Sierra Roxanne Struthers, Jacob Aaron Stutzman, Cheyenne Autumn Such, Jasmine Lee Suhaka, Alina Valerie Sukhodolov, Ethan Russell Talsma, Raelene Nicole Taylor, Rebeca Danielle Theiss.
Josephine Anne Thompson, Hannah Fay Thorp, Noah Oregon Tigner, Jahnay Maria Ann Traynor, Shayna Danielle Tyler, Corbin Walter Ulibarri, Anthony J. Valdez, Carson George Van Dyke, Jose L. Vargas, Paris Michelle Vaughn, Ezequiel Villegas Chavez, Christopher Paul Walton, Tristan Alexander Warren, Tyler L. Washington, Renee Grace Watté, Emilia Jeanne Watts, Giavanna Noel Weber, Emmalynn America Weible, Simone Marie Welsh, Camille G. Wheeldon, Chase Braeden Archer Wheeler, Allison Kenzie Williams, Hunter James Williams, Madison Leila Williams, Abigail Marie Winter, Cody Jacob Wirth, Connor Grayson Wolfe, Kody C. Wollam, Alexis LeAnne Woodward, Nicholas Dean Wooldridge, Kailee Anna Young, Rachel Nicole Zielke.