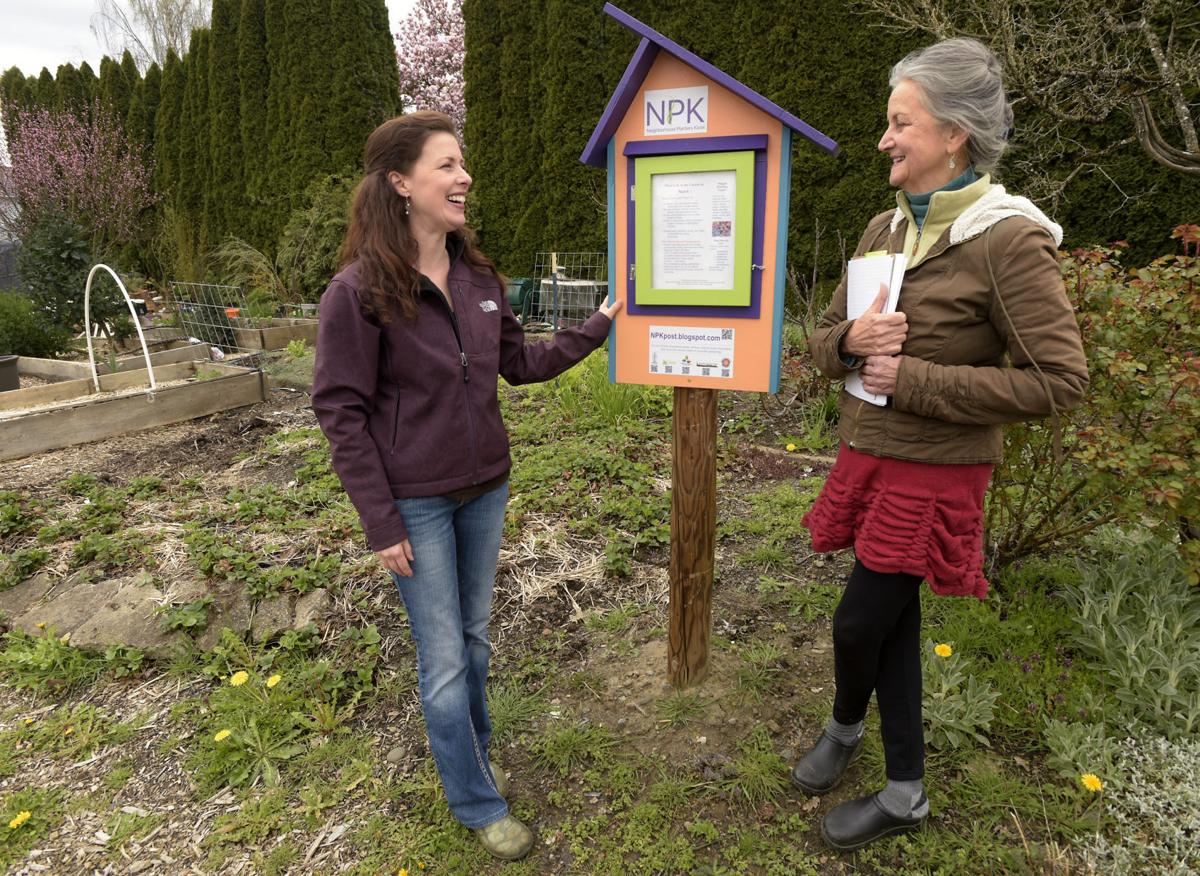 Sprinkle together a bit of grant money and add gardening expertise, throw in strong idealism concerning community engagement and some "sweat equity" and bingo! All of a sudden, neighborhood planting kiosks have sprouted all over town.
Local gardening legend Ruby Moon, whose spread at the corner of Southwest Seventh Street and Western Boulevard has stopped traffic for years, dreamed up the idea of sharing gardening knowledge.
Her goal was to involve area gardening groups and to get folks talking to each other. So with a $350 grant from the Benton County Master Gardeners and some donated and discounted materials, Moon and her pals have put up 14 neighborhood planting kiosks, brightly painted information portals for gardeners. Moon said her vision was influenced by a similar poetry kiosk created by Charlyn Ellis. 
"It's a huge concept, but if you don't think huge, nothing will ever happen," said Moon. "Community members … when they are engaged, they can do things. And when you get a community engaged, you find out things about each other."
Christina Clark of the Master Gardeners helped Moon nail down the grant funding. Others participating were the Corvallis Evening Garden Club, the Corvallis Sustainability Coalition, the Corvallis Parks and Recreation Department and the Civic Beautification and Urban Forestry Advisory Committee.
"I loved Ruby's idea because it helps build connections between several great community groups and also between the people they serve," Clark said. "It reaches a little different demographic than we've been able to reach before, literally people walking down the street in neighborhoods all over town."
Moon sees the potential for the kiosks to be community gathering spots with updated information and gifts of produce. And after watching a City Club panel on earthquake dangers, Moon sees a role in emergency preparedness.
"That's community engagement," Moon said. "Who do you have to check on? Who has food?"
Clark noted that the kiosks can be used to notify the community of things such as beetle infestations and other issues that reach the Master Gardeners. Jonathan Pywell, the city's urban forester, plans to offer advice on tree care.
Ultimately the group hopes to change out the information weekly, but their effort to date has been more focused on getting the kiosks in the ground … and planning for the next batch. And possibly expanding outside the city limits to places such as Albany or Philomath.
"We did a lot with that first $350," Moon said.
The kiosks are a bit labor-intensive, with multiple layers of paint required.
"It's a piece of art," Moon said, with "marine-grade" materials.
"We wanted to make them sustainable," Clark added. "Hopefully they will last a decade."
"We hope people will stop and see what's up this week," Moon said. "And, hopefully, people will stop and talk to you."