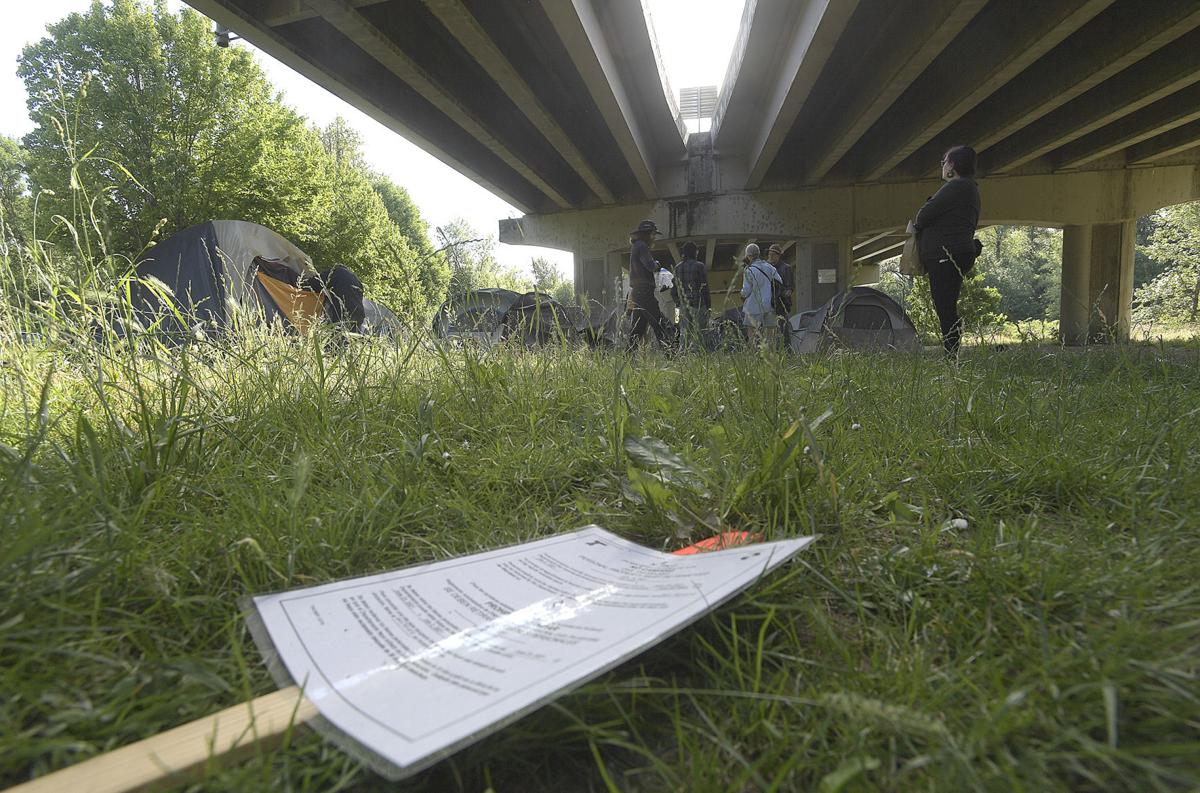 Corvallis will continue its posting and cleanup of homeless camps and will move toward annexing a large parcel on the west side of town.
Those were the highlights at a high-profile City Council meeting held remotely Monday night.
Here is a look at the council action on the two major items:
Homelessness
The issue of what to do about camping on city land was resurrected by Ward 2 Councilor Charles Maughan, whose motion to stop the cleanups was tabled (postponed) at the July 6 meeting because the matter was not on the agenda.
After a lengthy discussion, including four pieces of oral testimony from residents, councilors voted 6-2 to continue to post the camps. Ward 5 Councilor Charlyn Ellis was the lone councilor to vote with Maughan, although several councilors said they were torn by the matter and praised Maughan for bringing it forward.
Voting to continue the cleanups were Jan Napack (Ward 1), Hyatt Lytle (Ward 3), Gabe Shepherd (Ward 4), Laurie Chaplen (Ward 6), Paul Shaffer (Ward 7) and Andrew Struthers (Ward 9). The council currently has just eight members given the departure of Ward 8's Ed Junkins to a position with the University of Notre Dame in South Bend, Indiana.
Napack led the way during the discussion on Maughan's motion.
"We can't go back to putting people in the parks," Napack said. "That's just not right. I don't condone people being moved, but we can't allow a free for all. I've seen safety issues. I've seen piles and piles of bike parts and trash. Residents are being intimidated away from using public parks in their own neighborhoods."
"People also have a right to live," countered Maughan. "Please look at this issue with compassion. You don't know what it's like to be in their shoes. This is a hard decision and this is not going to be the end of it. We need new resources and we need a new path. Stopping the public camps is not the way to do it."
Support local news coverage and the people who report it by subscribing to the Corvallis Gazette-Times.
Three additional motions were proposed following the vote on Maughan's motion. Councilors a) unanimously backed a Chaplen motion to direct city staff to develop a system to safely store the belongings of homeless people during the day; b) unanimously backed a Shepherd motion that will increase distribution of the guidelines on homelessness that stem from the Martin Vs. Boise court decision; and c) rejected on a 5-3 vote a Chaplen motion that would have encouraged the formation of a city/county working group on shelter needs.
Councilors voted unanimously to tentatively move forward with an annexation agreement for 118 acres of property near the 53rd Street roundabout.
The decision, which still requires the council to approve formal findings at a future meeting, likely means housing — perhaps more than 1,000 units of it — will be built on the property. It would be the largest single development in Corvallis in at least a decade.
The council held a public hearing on the annexation at its June 21 meeting, but requests to hold the record open and to allow property owner David Lin to make a final argument postponed deliberations until Monday.
The key issue remains transportation, with community members expressing concerns about traffic impacts on West Hills Road, which forms the southern border of the property. Lin is planning an additional collector street that would connect 53rd Street with 35th Street via Sagebrush Drive in the Retreat student housing complex, but councilors were adamant that the new road, or at least a bike-ped path, should be a high priority.
Community Development Director Paul Bilotta advised councilors during deliberations that it us up to them when to require the road's construction.
Several steps must be taken before Lin can build, or even seek permits to build. Only the annexation agreement was being considered Monday. Lin wants to develop the property with city codes and infrastructure, which means the property had to be annexed into the city's stock of land.
The annexation agreement approach is a new process for the city, which since 1977 had sent all annexations to the voters until a 2016 state law limited the city's ability to do so. The record was closed before Monday's deliberations, but three residents members used the community comments segment of the meeting to express concerns about the annexation agreement process and the dangers of moving forward with a development as large as Lin's without an updated area plan for that part of the city.
An amendment was proposed by Shepherd that would have established deadlines for the road construction based upon the phases of Lin's preliminary building model. It failed on a 6-2 vote as most councilors thought Bilotta's comments on the council's discretion in the matter made the amendment moot.
"Our housing inventory is insufficient and we have a lot of problems because of that," said Lytle in supporting the annexation.
Napack, in whose ward the development would occur, backed it, but with some cautionary comments.
"There is almost unprecedented growth going on in this part of the city," she said. "We're going to have to be very careful going forward."