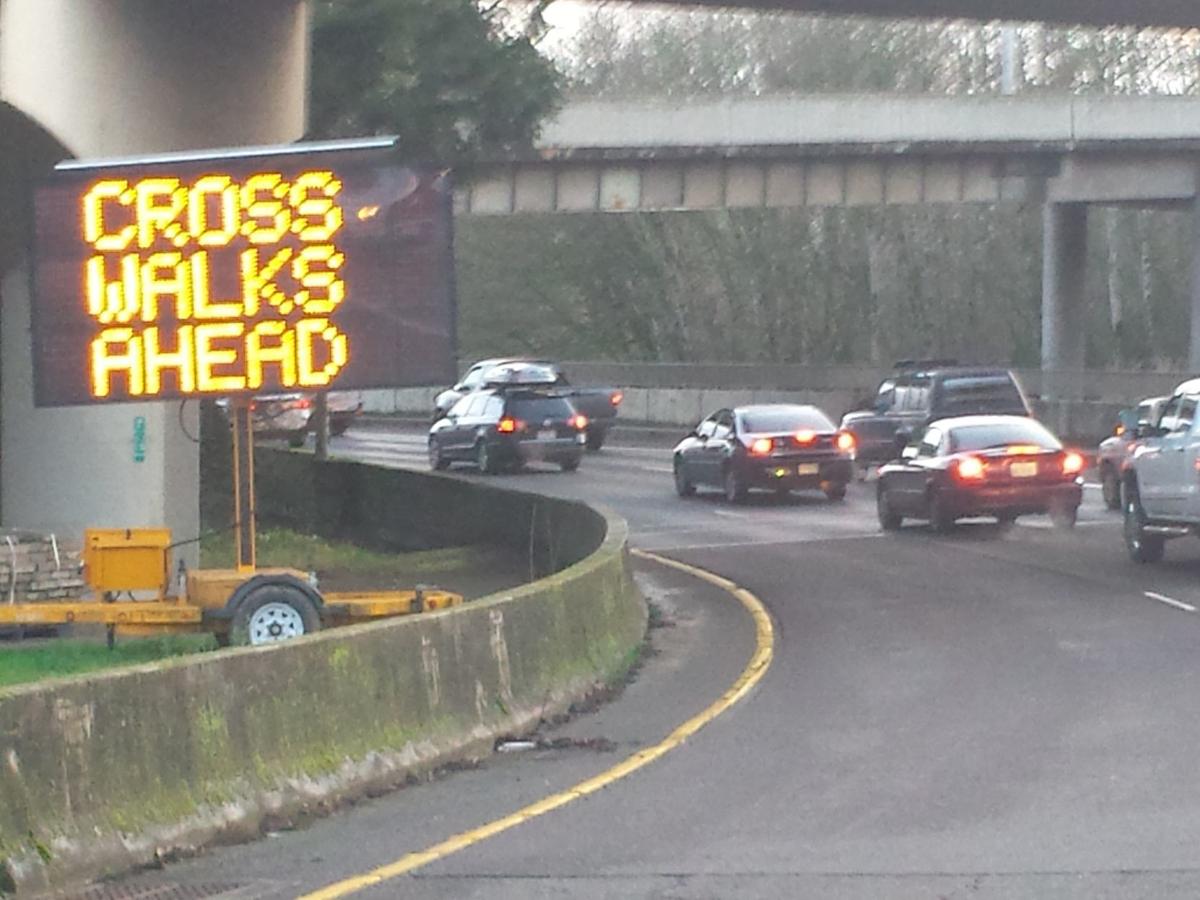 Bruce Austin watched from the sidewalk Tuesday evening as small knots of protesters took turns activating the flashing yellow lights and using the crosswalk on South Third Street where a young girl was fatally injured last week.
Afternoon rush hour was in full swing and traffic was moving slowly through the congested roadway just south of the Marys River Bridge, and every time a group of protesters walked across the street, it made the evening commute just a little bit longer.
Some drivers softly tooted their horns in a show of support, while others honked loudly in anger or shouted at the protesters to get out of the road. Some hoisted their middle fingers in disgust.
"That's not an uncommon attitude, that it's the pedestrian's fault," Austin said.
Austin doesn't see it that way. His son, Eric Austin, 32, was riding his bike in the same crosswalk when he was run down and killed by a motorist in June 2018. Another 32-year-old cyclist, Jeremy Gruver, was struck and killed in October while riding in the same block. And last Wednesday night, 11-year-old Rhiana Daniel was hit by a car while walking across the street. Daniel, who was in the sixth grade at Linus Pauling Middle School, died of her injuries the following day.
"I think things should have changed 18 months ago," Austin said. "One death is too many."
Police are still investigating the most recent fatality, but bicycle and pedestrian safety advocates have expressed outrage that the city of Corvallis and the Oregon Department of Transportation, which has authority over that stretch of Third because it also serves as Oregon Highway 99W, have not done more to make the crossing safer. Tuesday was the third day of protests at the crossing, and another "walk-in" is planned for 5:45 p.m. today.
Some of the criticism has focused on the fact that two of the four flashing lights at the crosswalk were never replaced after they were damaged last August in yet another motor vehicle crash.
Corvallis and ODOT officials have said plans were in the works to replace the missing lights as part of a larger project to upgrade four enhanced crosswalks on South Third with rectangular rapid-flashing beacons, but that work isn't expected to be done before the end of this month.
On Monday, Corvallis City Manager Mark Shepard and representatives of the city's Public Works Department met with ODOT officials to discuss additional safety measures.
The first fruits of that discussion were two lighted message boards placed by the side of the road alerting north- and southbound motorists to the upcoming crosswalks on South Third Street. Those were in place by Tuesday morning, Shepard said.
Other ideas that came out of the meeting included installing feedback signs to the north and south of the crosswalks that will tell approaching motorists how fast they're going and placing reflective flags at the crossings that pedestrians can hold aloft to make themselves more visible to drivers. Those improvements, Shepard said, will have to go through an ODOT approval process.
In addition, the city is working with Pacific Power to see about upping the wattage of streetlights on South Third and is making plans to remove vegetation from the crossings' pedestrian islands to reduce visual clutter.
Asked whether the city should have pushed harder to replace the missing flashers when they were damaged in August, Shepard said the city might have done things differently if ODOT didn't already have a project in the works to upgrade all the pedestrian crossings on South Third.
"I'm sure people in hindsight can second-guess that decision," he said.
Since the death of Rhiana Daniel, Corvallis police have been patrolling South Third Street during morning and evening rush hours. Shepard said the stepped-up patrols will continue at least through the end of this week, at which point they'll be re-evaluated.
Several motorists were stopped by police during Tuesday's protest, including one who drove within inches of protesters as they were crossing the street. The driver's actions brought cries of dismay from a number of the demonstrators, who then cheered when a police car activated its emergency flashers and signaled the driver to pull over.
For Austin, it was another sign of the indifference many motorists seem to have toward pedestrians and bicyclists.
"This is terribly sad. I'm starting to lose patience and get more angry," he said.
"Almost everyone I know has had some kind of near-miss," added his partner, Mia Murphy.
Also on hand during Tuesday's protest were Rhiana Daniel's father and stepmother, although they mainly stayed in the background.
Rhiana's father, Roy Daniel, told a reporter he wasn't ready to be interviewed, but he did offer one statement.
"There's no better feeling than knowing someone cares," he said, "and there's no worse feeling than knowing someone doesn't."
Get local news delivered to your inbox!
Subscribe to our Daily Headlines newsletter.