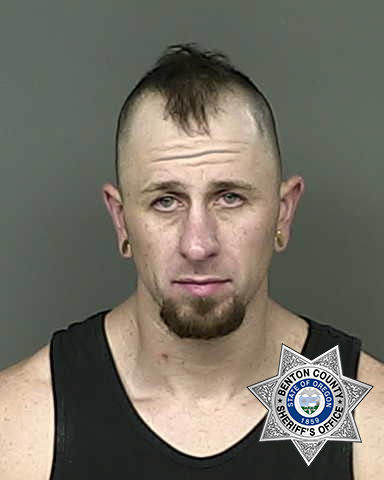 A Corvallis man pleaded guilty Tuesday in Benton County Circuit Court to two counts of first-degree forgery and two counts of first-degree possession of a forged instrument.
Jordan Early Price, 36, was arrested in April on allegations he'd passed forged bills more than a dozen times across Corvallis by making purchases with fake bills and taking change in real currency. More than 40 other charges of forgery, theft and possession of a forged instrument were dropped as part of a plea agreement in the case.
Price was sentenced to 26 months in prison and a year of post-prison supervision.
Price was also ordered to pay more than $1,700 in restitution to the various businesses where he passed the forged bills.
Kareem Walcott, the assistant district attorney handling the case, said Price is a repeat property crimes offender, which factored into the length of his sentence.
Clark Willes, who represented Price, said Price ended up reoffending after years of sobriety because he became a drug addict again. He added that Price accepts responsibility for the crimes, is sorry and wants to get better.
Wiles also said Price has had unhappy news since his arrest — his father has been diagnosed with an aggressive form of cancer.
"They don't know how long he will live. They anticipate months, not years."
Wiles said Price may try to request a temporary release to visit his father.
An Oregon Department of Corrections spokesperson said it does have a policy that allows for inmates to request to visit dying family members in cases like this. 
Judge Joan Demarest said crimes like this have a cascade effect on people who were defrauded with the fake bills. For business owners and employees, such forgeries can turn their world upside down and destroy their trust in people.
"This is not a great outcome for you," she said to Price, "but you have affected multiple people. ... The scope of your conduct goes well beyond those named in the charging instrument."
She added that she hoped Price could get treatment and support transitioning back into society through the parole system.
"I hope we don't see you again," she said.
"Me too," said Price, who didn't otherwise speak in the hearing except while making his guilty plea.
Michelle Runyan, who allegedly aided Price in passing the forged bills, was not charged in the case until about a month after he was. The charges against Runyan, 34, of Corvallis, are still pending and include eight counts of first-degree forgery, eight counts of first-degree possession of a forged instrument, three counts of theft in the third degree, and four counts of theft in the second degree.
Anthony Rimel covers weekend events, education, courts and crime and can be reached at anthony.rimel@lee.net, 541-758-9526, or via Twitter @anthonyrimel.