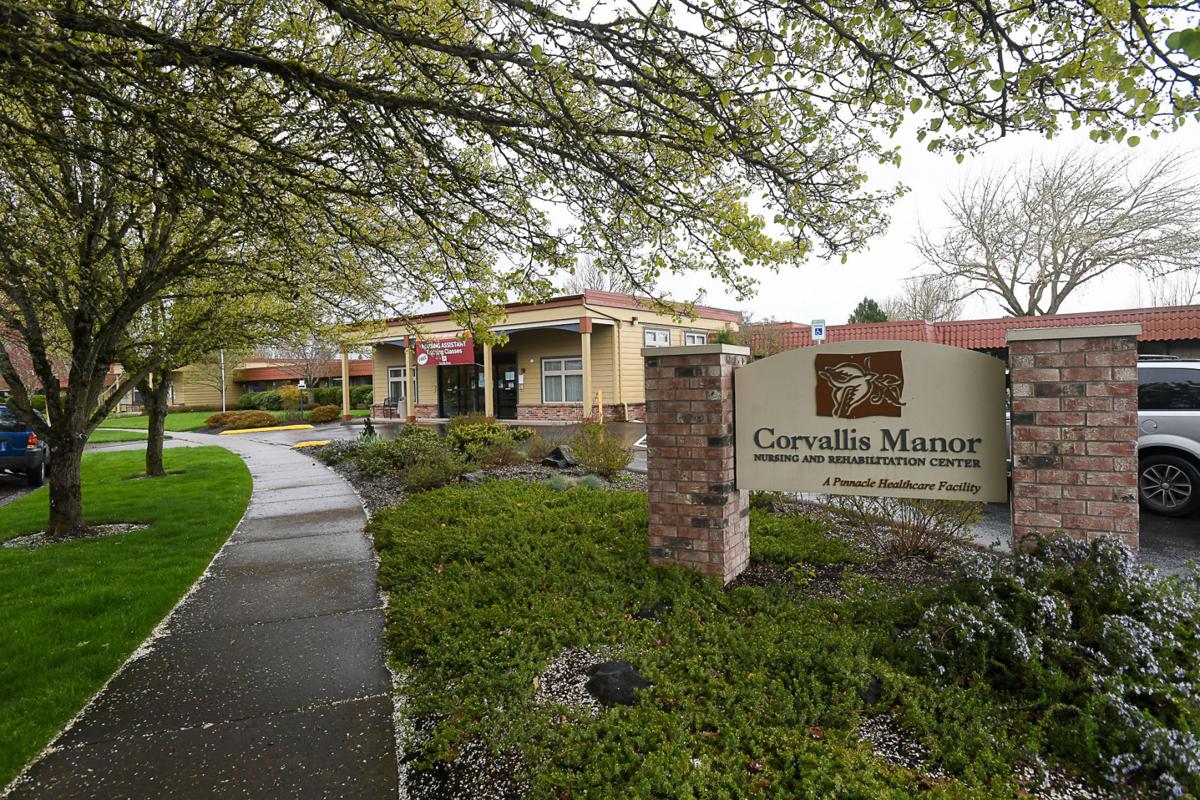 A large COVID-19 outbreak at a Corvallis nursing home has been declared resolved by the Oregon Health Authority.
According to a weekly update released Thursday by OHA, the outbreak at Corvallis Manor was reported on Nov. 30 and sickened 121 residents, staff members, members of their households or other close contacts. Six people died before the coronavirus flareup ran its course.
Another four people died and 21 became infected in an earlier outbreak at Corvallis Manor. To limit the spread of the virus, the facility set up a separate wing with dedicated staffing to care for residents diagnosed with COVID-19.
Two other outbreaks connected with mid-valley congregate care facilities are still considered active. An outbreak at Quail Run Assisted Living in Albany grew to 12 cases, up four from the previous week, while another case cluster associated with Timberhill Place Retirement and Assisted Living in Corvallis held steady at four.
Since the start of the pandemic, 13,060 cases and 1,180 deaths, including one staff person, have been associated with congregate care facilities in Oregon. OHA does not identify deaths connected with specific congregate care facilities, citing privacy concerns.
Four workplace outbreaks in the mid-valley were taken off the active list by OHA this week. A coronavirus cluster involving 25 people connected with ATI Specialty Alloys and Components (Wah Chang) in Millersburg – either employees, household members or other close contacts – has been declared resolved. Outbreaks involving 22 cases associated with Samaritan Lebanon Community Hospital, 16 connected with Selmet in Albany and 11 linked to Coastal Farm & Ranch in Albany are also considered resolved.
Meanwhile, an outbreak connected with National Frozen Foods grew to 16 cases last week, up three from the week before, according to OHA. It was the second outbreak associated with the Albany plant, where an earlier flareup was declared resolved in June after 41 people got sick. Other continuing outbreaks associated with mid-valley worksites include Samaritan Albany General Hospital, with 15 cases; the Linn County Jail in Albany, with six; and Willamette Veterinary Hospital in Corvallis, with five.
To date, 93 people have died and 17,844 cases of COVID-19 have been reported in connection with workplace outbreaks around the state. OHA does not identify deaths associated with specific workplace outbreaks, citing privacy considerations.
Seven mid-valley K-12 schools offering at least some level of in-person instruction have active outbreaks. Three cases have been reported at Central Valley Christian School in Tangent; two apiece at Lafayette Elementary School in Albany and Santiam Elementary School in Mill City; and one each at West Albany High School, North Albany Middle School, Centennial Elementary School in Scio and Jaguar Elementary School in Corvallis. Case counts can include students, staff members or school volunteers.
An outbreak at Alsea Charter School, where four students and one staff member or volunteer got sick, is now considered resolved.