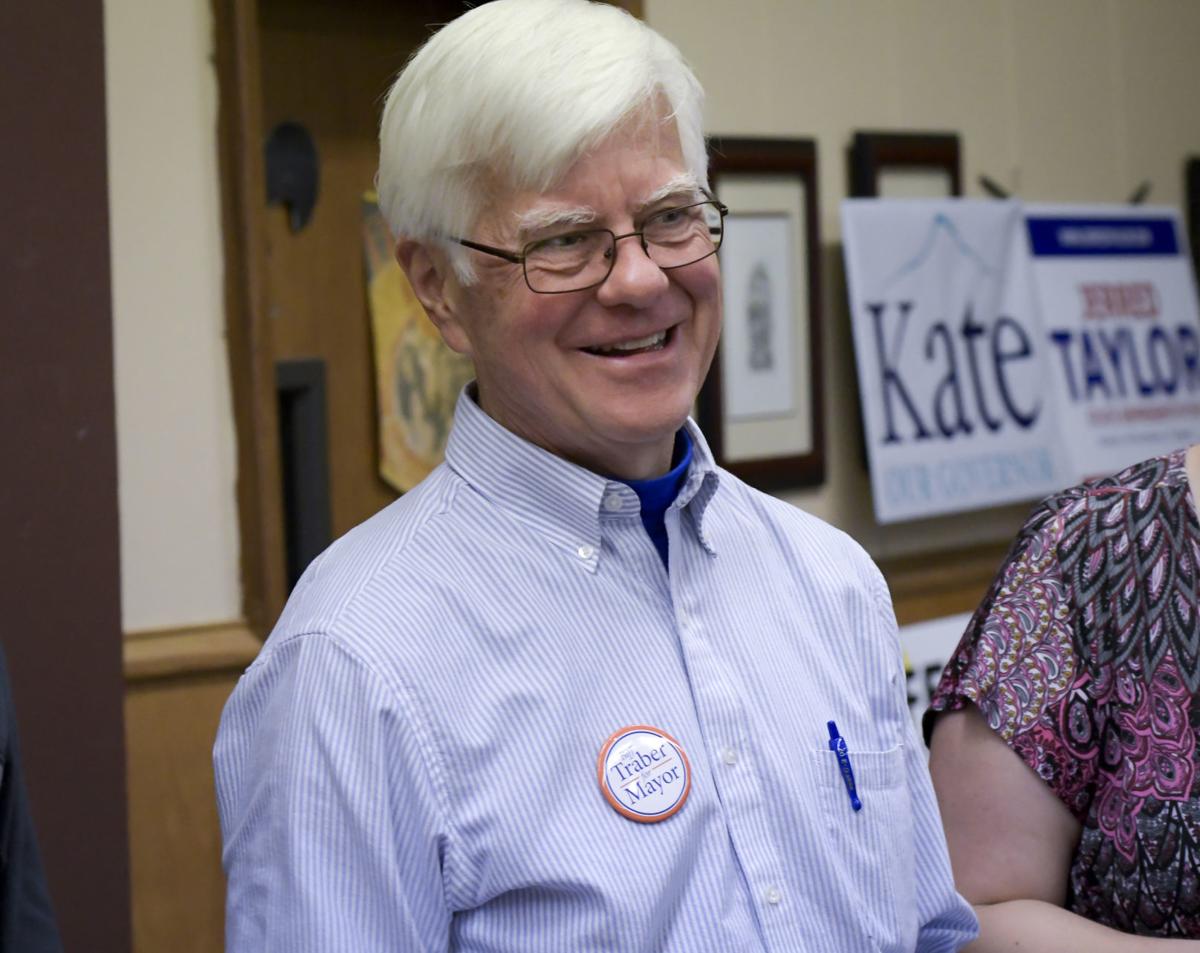 Corvallis Mayor Biff Traber was re-elected in convincing fashion Tuesday night.
Traber had received more than 11,000 votes, about 58 percent, in early unofficial returns and was leading Ward 2 Corvallis Councilor Roen Hogg by more than 5,000 votes. Hogg had about 31 percent. The other two challengers, Dean Codo, a community activist, and Peacock Bar & Grill employee Riley Doraine, both were polling approximately 1,000 votes (about 5 percent).
"I'm glad I get the chance to do the things I committed to do in this campaign, continuing to do the work I started in my first term," Traber said at an election night gathering of Benton County Democrats at Grace Lutheran Church.
Traber added he was pleasantly surprised by the margin of victory.
"I had positive reinforcement when I was canvassing," he said. "I was just concerned that Roen's message would have more impact than I was seeing when I was canvassing."
Asked what he thought led to his victory, Traber said, "Name recognition — and the recognition of what it takes to be a mayor," adding, "I seem to have some ability to do it."
"It was a good race," said Hogg, who gathered with supporters at Old World Deli. "The voters made their choice, and it's time for everybody to come together and work together for the city as a whole. I plan to be supportive of our mayor and our new councilor for Ward 2."
You have free articles remaining.
"It was a great experience," Hogg said of the campaign. "I knocked on 5,000 doors and visited some great neighborhoods. I'm really thankful of all the people who supported me."
When asked about his political future, Hogg said, "tomorrow I go on vacation to Bend. I can think about it then."
Traber and Hogg were on opposite sides of the most divisive issue during the past year — where to locate the men's cold weather homeless shelter. Traber, who only votes to break City Council ties, broke a 4-4 tie July 16 that awarded city support to plans for a shelter and other social services at a building on Southwest Second Street. Hogg opposed the plan. After weeks of political wrangling and threats of lawsuits, the shelter was placed at the old Hanson Tire Factory building on Southeast Chapman Place.
The shelter also was a key issue in Ward 2, Hogg's precinct. Affordable housing manager Charles Maughan held a solid lead there against engineer and downtown property owner Catherine Mater. Maughan backed the Second Street site, while Mater strongly opposed it.
Traber, who previously served two terms as a councilor in Ward 8 (from 2011-2015), was seeking a second four-year term. He defeated political neophyte Josh Gulliver by a 61.3 percent to 36.3 margin in November 2014. Traber replaced Julie Manning, who served one term. Manning endorsed Traber's candidacy in a letter to the editor to the Gazette-Times.
Traber spent 30 years as a software engineer, manager and executive before retiring. He was educated at the University of California, Berkeley.
Hogg, who also is retired, is finishing his fourth term as councilor in Ward 2, a diverse district that includes downtown and the eastern edge of Oregon State University. He served on the council from 2011-18.
In his professional life Hogg served as a systems analyst at Oregon State University, a software release manager at HP Inc. and a project manager with the Oregon Employment Department. Hogg earned degrees from Bates (Maine) College and Montana State University.