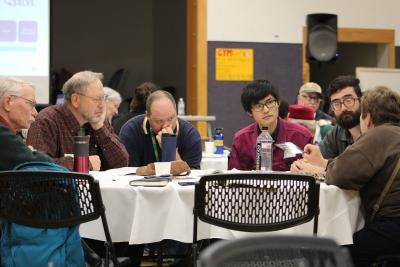 The meeting situation in Corvallis is starting to loosen up a bit. Since the March 2020 COVID-fueled lockdown the only groups that have met consistently have been the City Council, the Planning Commission, the Budget Commission and the Historic Resources Commission.
All four bodies have actions that they are required to take by state law, with the city budget a key element for the council and the budget panel, while state land-use law often drives agendas for the planning group and the HRC.
One new group and one veteran panel are joining the rotation this week. A task force looking at mayoral and councilor compensation meets for the first time at 5:30 p.m. Tuesday, with the Imagine Corvallis Action Network Advisory Board (ICAN) resuming its work at 4:00 p.m. Wednesday.
The main order of business for the compensation group is to answer two questions: First, should the mayor and councilors receive some form of compensation for their service?; and second, if the answer to the first question is "yes," what should the compensation be?
The mayor currently receives $100 per month. Councilors are not paid.
The panel, which consists of the nine citizen members of the city Budget Commission, also is scheduled to meet Oct. 12. The group will present its proposal to the council in November.
Implementing a change is a bit complicated, said City Attorney Jim Brewer. Section 13 of the City Charter currently allows the council to fix the amount of compensation for any city officer or employee.  To pay the mayor and council members, the City Council would need to adopt an ordinance or resolution that sets the amount of compensation. Because it would be an actual conflict of interest (to vote itself a raise), the council would need to delay the effective date of any compensation for the council until after the next general election of the entire council.
Support local news coverage and the people who report it by subscribing to the Corvallis Gazette-Times.
ICAN has not met since Feb. 24, 2020. Panelists will be reviewing the group's work in an "ICAN 101" session, which will focus on its history, five-year implementation plan and four workgroups.
The panel, which continues to be chaired by Mayor Biff Traber, is charged with implementing the Imagine Corvallis 2040 vision project.