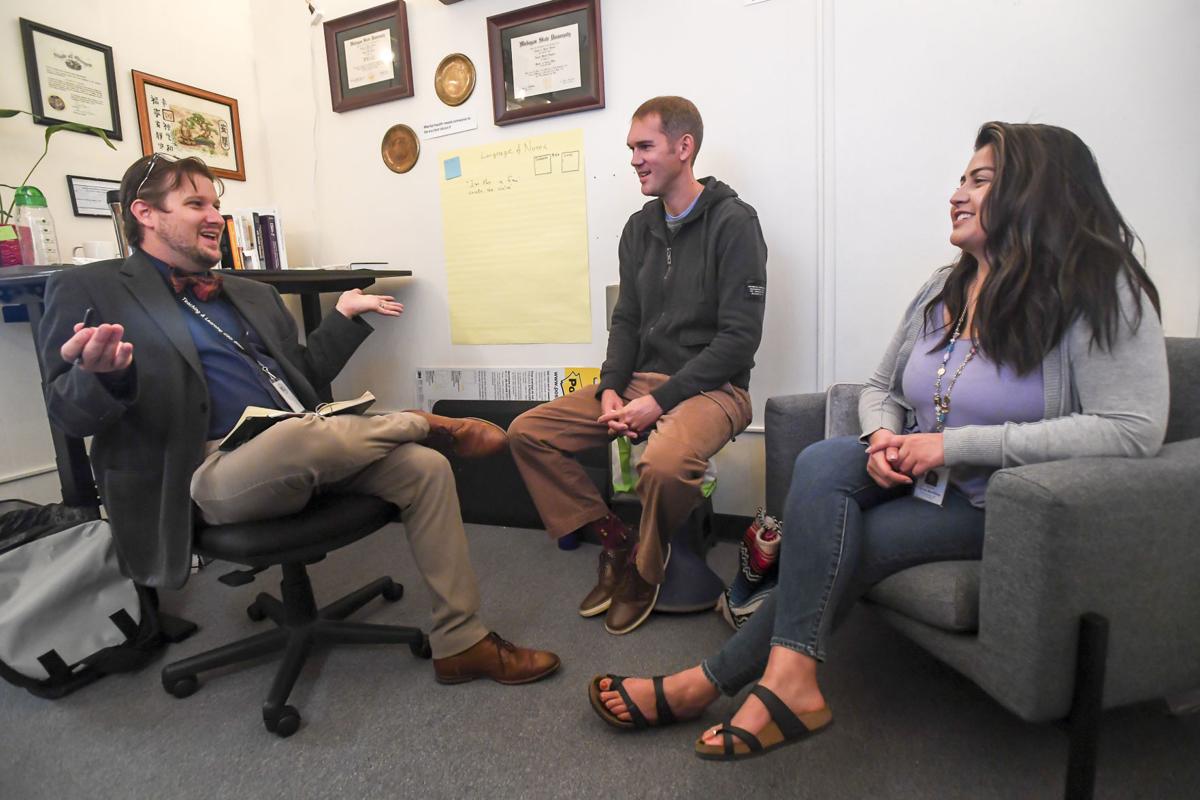 Joe Leykam got into mental health care because he knows firsthand the impact it can have.
"I'm a deep believer that treatment works," he said. "Help helps. If I didn't believe that I wouldn't be here."
Leykam struggled with mental illness in his youth and is a survivor of suicide attempts. And he's now in charge of an ambitious new program in the Corvallis School District that is attempting to enhance the mental health services the district offers to students.
Starting this school year the district has hired four mental health therapists with master's level education and four mental health skills trainers with bachelor's level education to work in the district's elementary schools. The new clinical mental health staff will work in pairs, with each pair splitting their time between two elementary schools.
Leykam, who has been hired to manage the new clinical mental health staff, said this new support will be in addition to the school counselors the district employs, who will continue to work with students on things like behavioral issues and academic support.
He added that the district intends for the services from the new mental health clinicians to be offered at no cost to families.
Leykam said it is common for school districts to offer clinical mental health services for their students. However, he said, those services are usually offered through outside contractors; in fact, that's what Corvallis has done in past years and continues to do in its middle and high schools. By hiring clinical mental health staff directly, Leykam said the district is trying to increase capacity in the county's network of child mental health care providers. And that additional capacity is badly needed: He said there can be a three- to six-month wait to see a child therapist in the county and an even longer wait to see a child psychiatrist.
Integrating mental health
The addition of this new staff is also aimed at a loftier goal — better integrating mental health care into Corvallis schools.
"Integration is when two things come together to create something greater than the sum of its parts," said Leykam, who has a master's in social work from Michigan State University and before starting with the district worked for six years with Benton County's mental health program.
Leykam said when a child has a mental health intervention, the schools themselves often do a lot of the work involved in supporting that child. But there can be a disconnect between the mental health providers and school staff members, and information can be lost because of that disconnect. Since the new clinicians will work directly in the schools and be part of the school's staff, there will be relationships and connections that develop with them that should make information flow easier.
There will also be other benefits, he said, such as existing school staff picking up more knowledge about how to support students with mental health issues just by virtue of working with the new clinicians.
Sabrina Alexander, who overseas special education and mental health in the district and has been working with Leykam to build the program, said bringing the mental health clinicians to the school environment actually will spotlight how much informal mental health support educators already are giving their students.
"Our educators have been doing this for years. What we're saying is keep doing what you are doing, but have intentionality to it," she said.
Leykam said people often conjure up images of people on a couch talking to a therapist when they think about mental health support. But it can work in seemingly smaller ways as well: Just asking someone how their day was or recognizing when they look overwhelmed and offering support can have a big impact.
Alexander said this is the kind of thing teachers are already doing. The new mental health staffers will be able to provide these smaller but still impactful moments simply by being part of the staff.
"We know environments that are rich with mental health support are spaces where everyone does well," she said.
But it's not just these intangibles that will be enhanced by integrating mental health professionals in schools — having the clinicians in schools will allow them to respond more quickly to students in need.
Leykam said every staff member in the district is trained in suicide intervention and schools have a quick response system in place for screening students. However, he said, that process sometimes ends with referrals to specialists for evaluation — and that could mean sending families to the emergency room. But the new program means there are specialists in schools ready to step in, which means families might be able to avoid ER trips. 
Leykam said tracking data about suicide screenings will be one way to measure the success of the program. Another will be the YouthTruth Survey the district started using last year, which asks students about their perceptions of their education and their mental health. Attendance and absenteeism rates and grades also could show the impact of the program over time, he said.
A significant investment
The program is not a small investment for the district. It will cost around $651,000 for the 2019-20 school year alone. Around $321,000 of that are designated funds that come from Medicaid claims, but around $330,000 has been allocated toward the program from the district's general fund.
Sami Al-AbdRabbuh, chair of the Corvallis School Board, said the program was a good investment.
"Investing in student mental health has its direct impact on students' wellness, well-being, and success in school," he said.
Al-AbdRabbuh added that the board is participating in the Oregon School Boards Association's Promise Scholarship Program, in which a district can earn scholarship funding for a program or student by completing a project. Al-AbdRabbuh said in the board's Sept. 26 meeting it decided by consensus it would work on health and wellness issues as part of a project to complete the requirements of earning that scholarship money.
"The project will include fleshing out metrics to evaluate the effectiveness of the significant investment the board made in student mental health services this year. The board will work collaboratively with district staff to identify those metrics over the course of the year," he said.
Superintendent Ryan Noss said over the last three years, the district has increased school counselor staffing hours, increased staffing of health navigators and family liaisons and increased its school nursing levels.
"Students experiencing these mental health issues may find it difficult to focus on academics," he said. "We believe that our investment in mental health support for our students will help them build resiliency and gain the skills they need to overcome any social-emotional barriers to learning."
Noss said survey data also shows students have increasing levels of need for mental health support.
"Data from the biannual 2017-18 Oregon Student Wellness Survey (completed by our students in grades 6, 8, and 11) was an important factor in our investment decision," he said.
That data showed an increase in students experiencing significant stress at any time within the 30-day period prior to the survey date. In all, 7% of sixth graders, 14.6% of eighth graders, and 15.6% of 11th graders reported feeling a "high level of psychological distress" within that 30-day window. These figures represent a steady increase at each of the three grade levels over the previous eight years.
In another segment of the survey, an increasing percentage of students — 14% of sixth graders, 27.9% of eighth graders, and 34.5% of 11th graders — reported feeling so sad or hopeless almost every day for two weeks or more in a row that they stopped doing some usual activities.
How the district will pay for the program in future years — and possibly expand it to secondary schools — is not yet known. In recent years, the district has carried cash reserves above the levels its own policy required and this year's budget included spending down about $4.7 million in reserves to reduce them to the levels policy dictates. That money has been used to make investments like the mental health program and maintain programs without cutbacks in a year when some other Oregon agencies were forced to trim programs because of the increasing costs of the Public Employee Retirement System.
However, district officials believe that Oregon's new Student Success Act, a school investment program expected to generate $1 billion annually through a business tax, may be a source of funding for the mental health program.
"This is the type of program that specifically meets the goals of the Student Success Act," said Brenda Downum, district communications coordinator. "It is an allowable investment in the area of health and safety."
Novel experiment
Leykam said his understanding is that this experiment with offering mental health services by clinicians working directly for a school district is fairly novel in Oregon.
Lisa Harlan, assistant superintendent with Greater Albany Public Schools, said her district does offer mental health services, but through contracts with Linn County Mental Health and Trillium Health.
"We are very interested to watch what Corvallis is doing to see if this is a model we would replicate in the future if it is successful," she said.
Leykam said he's not sure what the next phase of the program will look like in Corvallis or how it might expand to the district's middle and high schools.
"A lot of this is fairly new. We would like to have a comprehensive mental health care system for youth," he said.
"Working with younger students allows us to provide services for a longer time and also helps with building a strong foundation with younger students," he said.
He said the future of the program could involve hiring more mental health clinicians for the secondary schools or through its partnerships with organizations like Trillium, which the Corvallis district still uses for mental health services for its secondary schools.
Leykam said he has personal goals for the program: One is to reduce the waiting times for children to receive mental health care in the county.
Leykam said he estimated about three dozen individuals provide child mental health services in Benton County; just adding eight new clinicians to the network of care should have a big impact on capacity and wait times, he said.
His other goal is to strip away the stigma that still surrounds the act of getting mental health care. His hope is that by making mental health support an integral part of the school system, it will help to reduce the fear that sometimes prevents people from getting help when they need it.
"You can struggle with (mental health), but with support you can have a completely different outcome," he said.
Anthony Rimel covers education and crime in Benton County and weekend events across the Mid-Valley. He can be reached at anthony.rimel@lee.net or 541-812-6091.