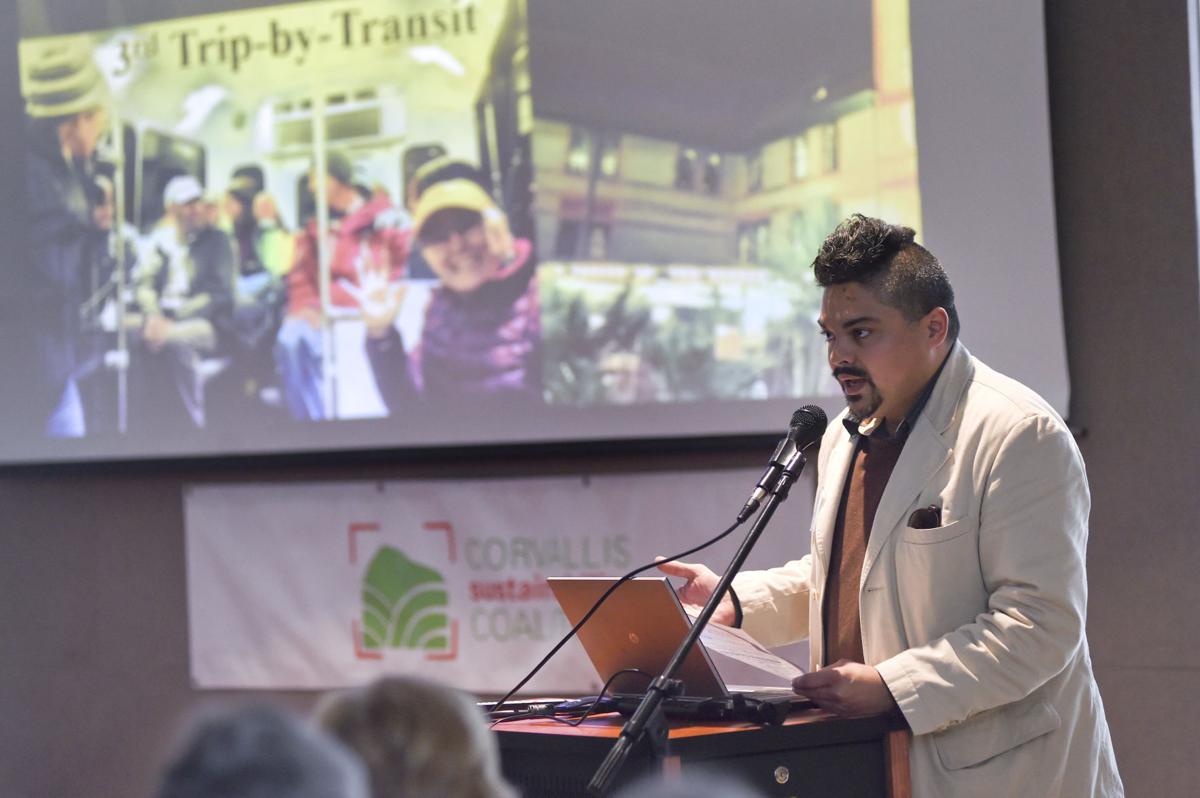 Solar house parties, bike valets, an affordable housing tour and a pledge to eat local were just a few initiatives of the Corvallis Sustainability Coalition in 2017.
The nonprofit group shared information about these programs and more during its annual meeting Friday at the Corvallis-Benton County Public Library. About 150 people, including many of the organization's community partners, attended the event.
"For the past 11 years, the Corvallis Sustainability Coalition has provided grassroots leadership, inspiration and resources for us to accelerate the creation of a sustainable community," said Annette Mills, the group's facilitator.
"And now, more than ever, what we do here at the local level really matters," Mills said. "Together we can be powerful agents for change."
The coalition facilitated bicycle valets at the Corvallis Fall Festival and Septembeer Fest in 2017, said Kevin Grant, the leader of the coalition's Transportation Action Team. At Septembeer Fest, the coalition parked 425 bikes in one day, Grant said.
The coalition last year launched a Saving Green program, which provides on-site assessments for businesses and organizations to help them decrease their operating costs and environmental footprints, Mills said.
"We really want Corvallis workplaces to have the healthiest environments and the lowest carbon footprints possible," she said.
Members of the coalition's Water Action Team, in partnership with Oregon State University students, tested city and OSU stormwater systems last year. They found that the filters are not maintained, nor do the filters treat all necessary pollutants, said Water Action Team leader Dave Eckert. The group published an analysis of its study.
The coalition has also been examining neighborhoods for walkability and bikeability in an effort to identify missing connections, said Land Use Action Team leader Ann Scheerer.
The coalition last year hosted a tour of affordable housing types in Corvallis, including an accessory dwelling unit, tiny homes and small cluster housing. The purpose was to stimulate dialogue about affordable housing options in Corvallis.
The coalition also organized six solar house parties last year to inform interested homeowners about solar panels.
"In 2017, we wanted to get the world out that putting solar on your home was easier and less costly than ever before," Mills said.
The coalition last year learned of a national clean power financing tool for homeowners called Property Assessed Clean Energy. The organization hopes to build local support for the program this year.
This spring, the coalition plans to invite 50 households to participate in a six-week food waste challenge, said Waste Prevention Action Team leader Jeanette Hardison. The participants will be asked to track their wasted food for two weeks. After that, the coalition will provide information and tools to help the households reduce waste. The participants will then record their waste for an additional four weeks. The challenge was made possible by a grant from the Oregon Department of Environmental Quality, Hardison said.
The coalition has also started a partnership with Rice's Pharmacy to reuse prescription bottles, which are not recyclable, Hardison said. 
This year, the coalition hopes to establish a Community Inclusion Action Team to promote equity, Mills said. The coalition is seeking a leader for that team. In 2017, the organization developed relationships with key social justice groups in Corvallis, she said.
Lillian Schrock covers public safety for the Gazette-Times. She may be reached at 541-758-9548 or lillian.schrock@lee.net. Follow her on Twitter at @LillieSchrock.