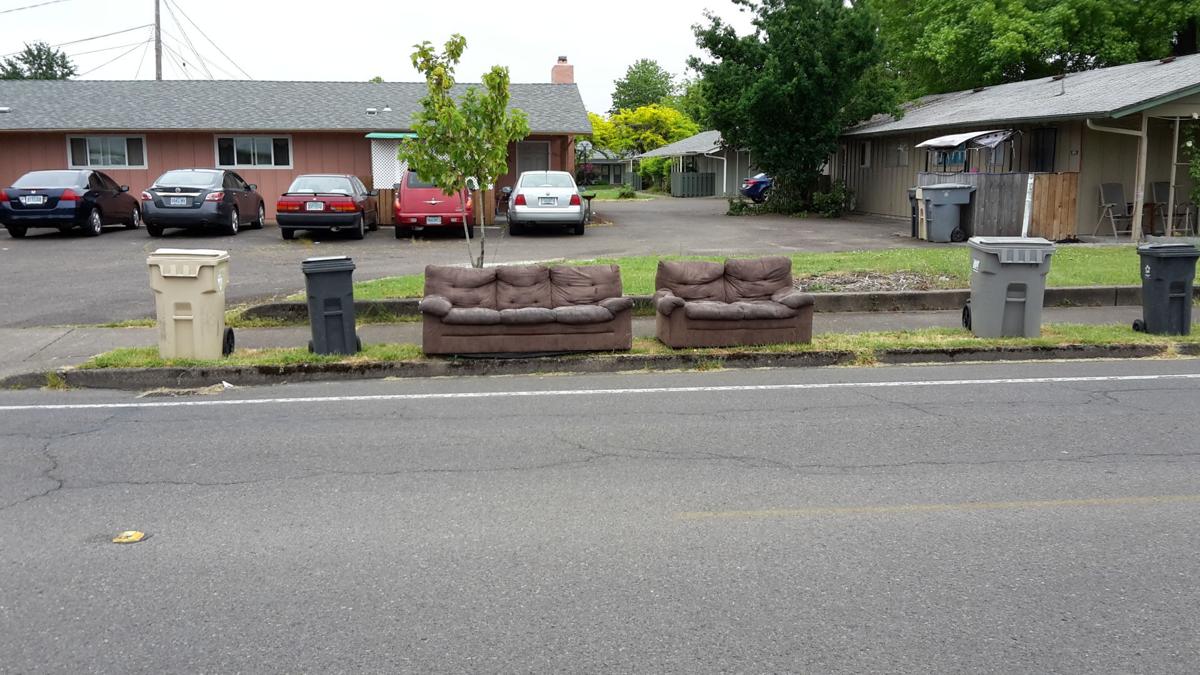 An armada is being assembled. A coalition of determined allies has signed on for the campaign. Plans are being hatched. The necessary resources have been committed. D-Day is June 19.
Republic Services, the city of Corvallis, Oregon State University and the Corvallis Rental Property Managers Group have launched "The Great Sofa Challenge."
The goal: to stamp out abandoned couches … and other detritus associated with OSU students moving out of the rental units they occupy.
Come Monday, June 19, two days after the university holds its 148th commencement exercises, a cadre of landlords, three city employees who work in code compliance and a fleet of Republic Services trucks will deploy in the neighborhoods, in a heartfelt and sincere effort to defeat the Couch Patrol!
The Couch Patrol is a veteran Gazette-Times investigative team that prowls the same neighborhoods as the armada looking for sofas and junk. The unit occasionally uses humor and sarcasm to draw attention to livability issues in town. But the Couch Patrol sincerely welcomes all efforts to limit any collateral damage.
The Couch Patrol has agreed to accept the challenge. Armada officials say their efforts will clear Corvallis neighborhoods of offending furniture and other items.
We'll see. The Couch Patrol will deploy into the post-graduation chaos after the armada does its work — we can't say when because the Couch Patrol never reveals details about its operations — and record what we see and hear.
The university, meanwhile, is rallying its forces for a pre-emptive strike, hosting "The Great Move-Out" on June 14-15. Students can bring furniture, mattresses, electronics, books, school and office supplies, clothes and kitchen and household wares to the parking lot of Grace Lutheran Church, 435 NW 21st Street. The event runs from 4 to 8 p.m. on June 14 and from 10 a.m. to 2 p.m. on the 15th.
Will the streets be cleaner? Will the armada succeed? Is this the last roundup for the Couch Patrol?
Well, less than a half mile from the Elks Lodge, where The Great Sofa Challenge was unveiled Tuesday, the Couch Patrol came upon a massive couch and loveseat. Could it be a sign of bad karma for the armada?