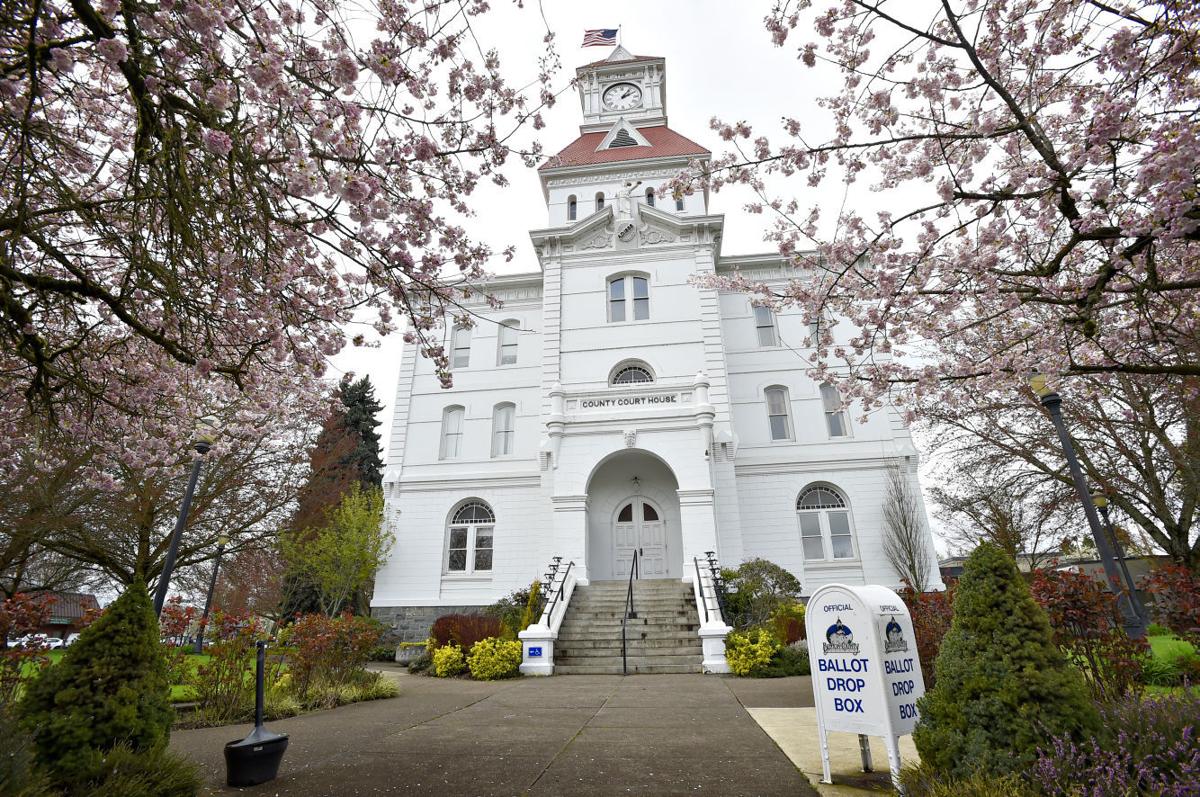 The Benton County Board of Commissioners unanimously approved a budget for the next two fiscal years on Tuesday, but not without a whiff of controversy.
The commissioners voted 3-0 in a public hearing at their noon meeting to adopt a $244 million budget for 2017-19. It was a modified version of the $243.8 million budget approved on May 23 by the Benton County Budget Committee, which consists of the three commissioners plus three citizen appointees.
As part of the same resolution, the commissioners also approved maximum property tax rates for the 2017 and 2018 tax years. Property owners in Benton County will pay a base rate of up to $2.2052 per $1,000 of assessed valuation plus up to 90 cents per thousand for the local option levy.
While no one spoke either for or against the budget during the public hearing, Helen Higgins of the Boys & Girls Club of Corvallis and Bettina Schempf of the Old Mill Center for Children and Families made a last-ditch plea for $35,000 in county funding for youth mental and behavioral health services delivered at the club. No action was taken on that request Tuesday, meaning the budget was passed with no funding for the program, whose previous funding source is about to expire.
All three commissioners expressed reservations about starting a "grant-making program" for noncounty organizations without taking more time to think through the implications of such a move.
"We also had eight budget meetings with our citizen members, and we feel a little uncomfortable with changing things at this time," Board of Commissioners Chair Anne Schuster said. "We also want to see what happens (with state funding) in the Legislature."
After the meeting, however, Higgins and Schempf expressed frustration, noting that county budget manager Pat Cochran had set aside about $700,000 in unallocated discretionary funds for outside agencies in his budget proposal. A dozen agencies asked for a piece of that pie, but their requests exceeded the available funding by more than $1.1 million.
In the end, the lion's share of the unallocated funds — $498,000 — went to the Benton County Historical Society, while another $280,000 was divvied up between six groups and the remaining outside agencies got nothing. Other groups that did not get funded include Community Outreach Inc., Heartland Humane Society and the operators of the men's cold weather homeless shelter.
Higgins said it makes no sense to devote nearly $500,000 of the county's two-year budget to support the Historical Society when there's so little funding available for social services. Suicidal behavior is on the rise among local teens, she said, and programs like the one at the Boys & Girls Club are badly needed to address the issue.
"So we can pay half a million dollars for the operations of a museum but we can't pay $35,000 for teen suicide?" she asked. "Counties are responsible for social services, but we've defunded it — because (nonprofits like the Boys & Girls Club and Old Mill Center) keep picking it up for free."
Benton County Historical Society Executive Director Irene Zenev said she sympathized with the needs of nonprofit social service providers but pointed out that the county has a long history of funding the society's operations.
In 1978, voters endorsed a "historical fund" that set aside $84,000 a year in property tax revenues to support the organization, which operates a museum and research library in Philomath and recently broke ground on a new museum in downtown Corvallis. In 1994, voters passed a special property tax levy that generated considerably more money by assessing 6.5 cents per $1,000 of assessed valuation.
But when Measure 50 passed in 1997, it rolled all such special levies into a single, consolidated county tax rate, cutting off a vital funding source that was generating $300,000 a year for the Historical Society. Since that time, the county has been providing a base funding level (currently about $250,000 a year) for the society's operations.
"I can understand the frustration" of nonprofits that didn't get funded, Zenev said. "But this appropriation we got has a very long history of perceived value by the community."
She noted that the Benton County Historical Museum serves as a repository for local history and that it has traditionally admitted visitors for free.
"Museums are for everyone," Zenev said, "and we hope we're giving back as much in value as we receive."
Schempf said she, too, was disappointed that the commissioners chose not to fund the program at the Boys & Girls Club, which pairs trainers and counselors from Old Mill Center with club staff to address behavioral issues and their underlying causes to de-escalate stressful situations. But she also expressed the hope that future budgets might find more money for organizations like hers.
"We tried — and I think we started a debate," Schempf said.
"We'll just have to keep nudging."
Reporter Bennett Hall can be reached at 541-758-9529 or bennett.hall@lee.net. Follow him on Twitter at @bennetthallgt.