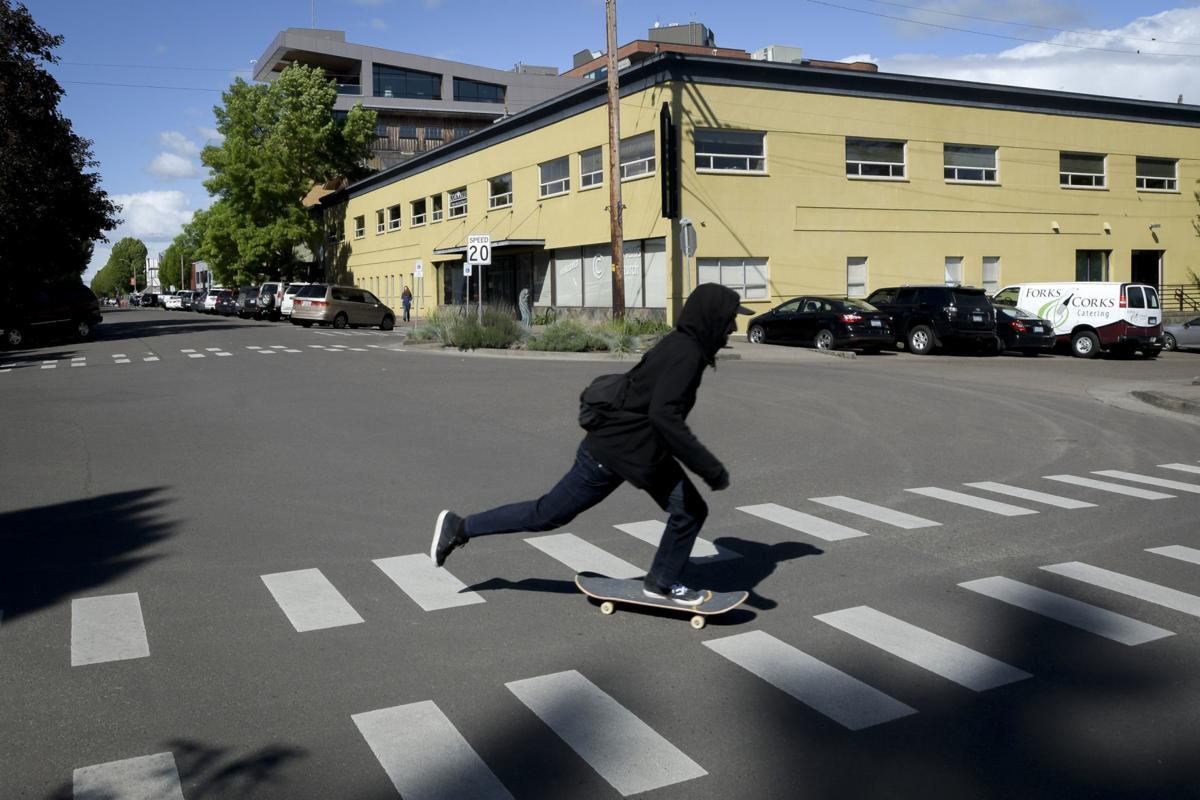 It appears the Corvallis men's cold weather homeless shelter finally has a home for this winter: 545 SW Second St.
The Benton County Board of Commissioners on Tuesday voted 3-0 to provide $60,000 toward shelter operations in 2018-19, reversing a June 14 decision not to fund the seasonal shelter at the controversial downtown location.
While the commissioners took no position on a shelter location at Tuesday's meeting, their vote came on the heels of Monday's 5-4 decision by the Corvallis City Council to kick in $60,000 for operations at the Second Street site. The two local governments provide roughly 75 percent of the shelter's annual budget of around $160,000.
Shawn Collins of the Housing Opportunities Action Council, the umbrella organization for the joint city-county plan to address homelessness, confirmed after the vote that his group will proceed with plans to open a men's shelter this winter in leased space at 545 SW Second.
"The intent is to get in there and operate and continue to operate," he told the Gazette-Times.
The shelter will have 40-50 beds and will be run, as it was last year, by the Unitarian Universalist Fellowship of Corvallis, Collins said, with a target opening date of Nov. 1. The Corvallis Daytime Drop-In Center, currently housed in the First United Methodist Church, hopes to move into the new space by the end of this month, and the Stone Soup meal service plans to move in after kitchen facilities are complete.
The men's shelter, which generally is open from November through March, has bounced from one temporary location to another for years. HOAC's announcement in May that it had found a long-term home for the three services in the Second Street building, which also houses the Community Services Consortium, was initially applauded by members of the City Council.
But objections were raised by a number of others, most notably members of the downtown business community led by Catherine Mater and Rich Carone, both of whom own property on the same block as the shelter site. Arguing that the shelter would create livability problems downtown, both offered alternative locations.
There was pushback against those sites as well, however, and in the end both the City Council and Board of Commissioners opted to provide funding and allow the shelter to move ahead at the Second Street site — at least for this year.
Noting the split City Council vote, Benton County Administrator Joe Kerby said during Tuesday's board session that he plans to meet with Corvallis City Manager Mark Shepard later this week to discuss potential alternatives for the future.
"Mr. Shepard did indicate to me that the majority of the City Council does not see the Second Street location as necessarily a long-term solution," he said.
All three commissioners spoke to the controversy surrounding the downtown location before casting their votes.
"This is a very difficult decision for all people in the community," Annabelle Jaramillo said, adding: "Sometimes I feel like Solomon up here."
She thanked HOAC for its work on the issue and also thanked Mater and Carone for contributing to the discussion.
And she defended fellow Commissioner Anne Schuster, saying the attacks against her were unfair. Schuster came under fire after a series of posts on her personal Facebook account that raised objections to having a homeless shelter at the Second Street location, warning that it would harm downtown.
"I'm certain we're not through with these conversations," Jaramillo added.
"Dividing the community serves no purpose; it makes no sense," Schuster said. "I wanted to preserve our downtown but (also) elevate the conversation about those services to a greater level."
She said she would advocate for reconstituting the Housing Opportunities Action Council (which she co-chairs with Corvallis Mayor Biff Traber) and suggested bringing in an outside consultant to examine ways to make the organization more effective.
You have free articles remaining.
"I think it makes sense to bring in a neutral party to look at this with a calmer eye," Schuster said. "I'm not the only one on the HOAC board who has concerns, and I think we need to listen to everybody."
Xan Augerot, the Board of Commissioners' chair, said, "I do think it's been a painful conversation but one that's been necessary."
Augerot said she believes in the combined service center approach but thinks more wraparound services are needed to help people make the transition out of homelessness to more stable lives. She cited the need for more high-barrier shelter space, noting that the Community Outreach shelter, which has a sobriety requirement, has been at or near capacity for years. (The men's cold weather shelter does not screen for sobriety but does not allow alcohol or drugs on site.) She also called for more transitional housing with sobriety requirements.
"I'm hoping this is the beginning of a conversation," Augerot said. "I think we're only going to see more homelessness going forward. I think it's not going to go away."
Mater and Carone did not attend the Board of Commissioners meeting and did not respond to phone messages on Tuesday seeking comment on the decision.
After the vote, Collins praised the commissioners' decision.
"I appreciate the time and energy they put into reconsidering their earlier decision," he said. "I know it was hard to do that."
He expressed the hope that the shelter, drop-in center and Stone Soup would be able to stay in the Second Street location for the long haul, saying all three organizations were committed to addressing the concerns of their downtown neighbors.
"I think we can show that we're a responsible operation and actually make things better downtown," Collins said.
"We're all invested in trying to make this work," he added. "What we hope is that the whole community is invested in trying to make this work and not just invested in trying to make this fail."
Other action
In other action, the commissioners:
• Approved a social gathering permit for a logging show in Oregon State University's Dunn Research Forest Sept. 13-15, contingent on additional approvals and conditions from county departments and outside agencies.
• Set aside $7 million for a self-funded employee health insurance plan.
• Vacated a portion of Evergreen Road in exchange for right of way on another portion.
• Approved an application for a $198,000 federal grant to fund expanded mental health and substance abuse services.
• Approved a supplemental budget amendment for the Health Department.
• Terminated a right of way, utility easement and restrictive covenant for one property in the Highland Dell Estates subdivision.
• Approved another covenant for a future dedication for road and utility purposes on the same property, and approved an easement for those purposes.
• Approved a $2,500 expenditure to support an awards dinner by the Oregon Cascades West Council of Governments.
Reporter Bennett Hall can be reached at 541-758-9529 or bennett.hall@lee.net. Follow him on Twitter at @bennetthallgt.