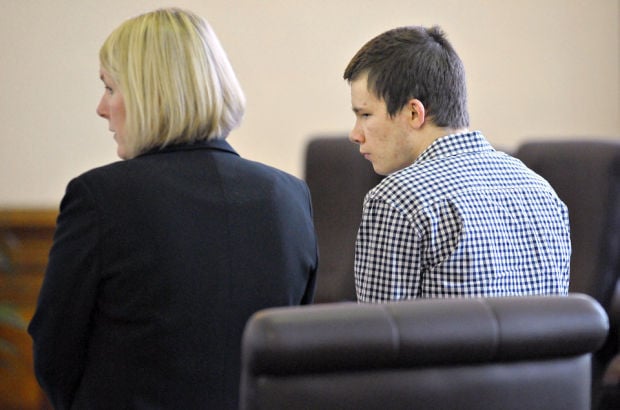 The West Albany High School student who was arrested last May after police found homemade bombs under his floorboards was sentenced Monday to 10 years in the custody of the Oregon Youth Authority as part of a plea agreement.
Grant Alan Acord, 17, admitted to six counts of manufacturing a destructive device and two counts of unlawful use of a weapon in juvenile court. The plea agreement dropped the adult charges that Acord faced, including a count of aggravated attempted murder. The charges for manufacturing a destructive device carry a five-year sentence, to be served consecutively with another five-year sentence for unlawful use of a weapon.
Albany police arrested Acord on May 23, 2013, after receiving a tip that Acord was planning an attack similar to the 1999 massacre of 12 students and one teacher at Columbine High School in Littleton, Colorado. Police found six homemade bombs in his bedroom and detailed written plans for an attack at West Albany.
Benton County District Attorney John Haroldson said the agreement took into account Acord's immaturity and the results of his psychological evaluations. He added that the principals of Albany's high schools supported the agreement, which will involve Acord receiving treatment through the juvenile system.
After Acord's arrest, his mother, Marianne Fox, said her son suffers from a rare condition that can trigger obsessive-compulsive behavior.
Through her attorney, Fox said that Acord suffers from Pediatric Autoimmune Neuropsychiatric Disorder Associated with Streptococcus (PANDAS).
Haroldson said the case is a reminder of the danger than can be imposed on innocents, but the case represents a successful intervention.
Benton County Circuit Court Judge Locke Williams commended the prosecution and defense on reaching the plea agreement.
Acord will serve his sentence with Oregon Youth Authority until age 25, and Williams said the juvenile system is the best place for Acord to get treatment.
"I feel this is the best resolution for this case," he said. "We can all be grateful (Acord) is getting the help he needs."
Leslie Templeton, the mother of Truman Templeton, the West Albany student who tipped police off to Acord's plans, attended the plea hearing and spoke to media afterward. She said she was glad Acord would be placed in the juvenile system.
"It's a really tragic situation," she said. "I was hoping (the hearing) would turn out the way it did."