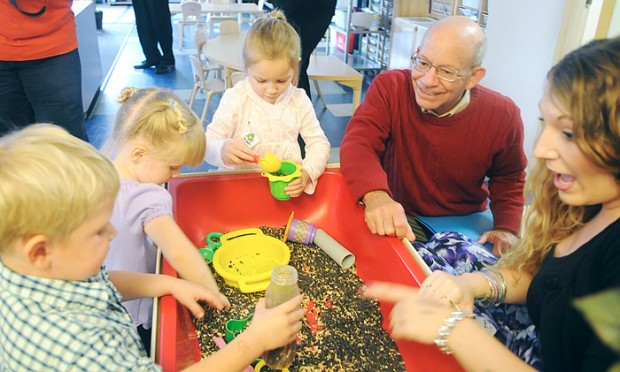 Amid the bitter partisan bickering over the federal debt crisis, U.S. Rep. Peter DeFazio said he sees signs of movement on a jobs proposal that could put a little life back into the ailing economy.
"There is a way forward," said DeFazio, a Democrat who represents southwest Oregon's 4th District. "In the last two weeks, the Republicans abruptly reversed themselves on infrastructure investment."
DeFazio made his comments in a meeting with the Gazette-Times' editorial board Monday afternoon during a swing through the mid-valley to visit constituents. Other stops in the area included a tour of the Old Mill Center for Children and Families in Corvallis and a business leaders forum at Linn-Benton Community College in Albany.
A senior member of the House Transportation and Infrastructure Committee, DeFazio has long advocated federal spending to rebuild crumbling bridges, dams and highways as a way to create jobs while boosting the nation's long-term economic competitiveness.
"The federal government is the only logical entity to do that, and we should do it," he said.
Republicans in Congress have argued that the best way to reduce unemployment is to cut taxes on higher-income earners, the "job creators." DeFazio called that a failed strategy.
"We tried deregulation and tax cuts for a decade. It didn't work," he said. "If you don't have a job, you don't get a tax cut."
While DeFazio doesn't see the GOP backing down on that issue, he said he has been encouraged by Republican statements in recent weeks supporting an increase in infrastructure spending.
Despite their party's stated opposition to President Barack Obama's jobs proposal, a number of Republican lawmakers have been pushing for pet infrastructure projects, raising the possibility that at least some federal stimulus money will find its way to that kind of work.
"So there is hope," DeFazio said.
The congressman also rejected the idea that Oregon State University might get short shrift from him now that redistricting has moved it into his bailiwick, which includes the University of Oregon. Though he's a UO grad himself and a rabid Duck fan, DeFazio insisted he'll have no problem giving OSU his full support.
"I've worked closely with Oregon State over the years," he said.
The new political boundaries, he said, simply correct a "gerrymander" of the old alignment that placed most of Benton County in the 4th District but the 2001 redistricting left the campus in the 5th District, represented by Kurt Schrader.
"I already had Corvallis in my district," he said. "It only made sense to include OSU."