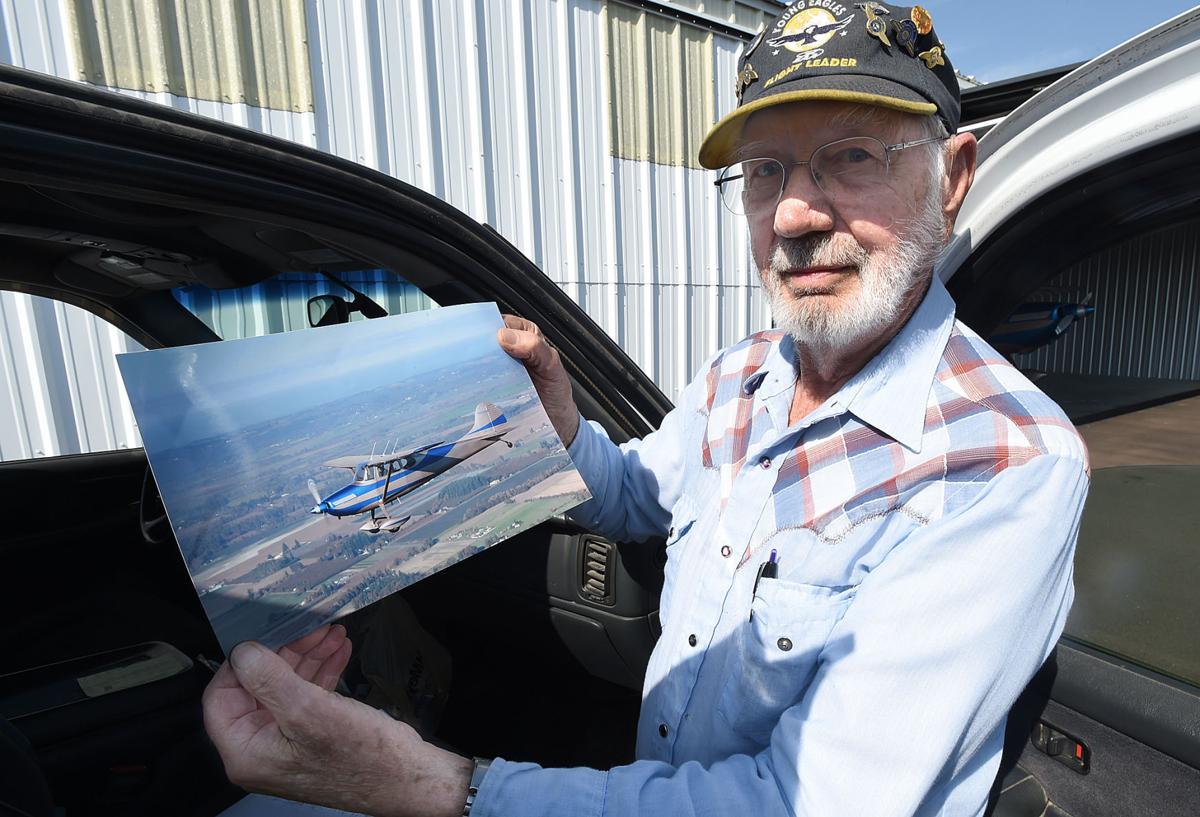 Few people deserve to be called a "Renaissance man," but there can be little doubt that longtime Albany resident Ed Hemmingson truly earned the title.
Hemmingson died in his sleep the morning of Jan. 16, in the house he shared for many years with his wife, June. He was 93.
Political activist, frequent writer of letters to the editor, aviator, piano tuner, musician, house builder, former Merchant Marine, previous avowed Communist, devoted husband and father … the list is long.
His wife, June, recalled meeting Ed in June 1980 at a dance for singles hosted by the Mavericks group in North Albany. June organized the dances. In her 40s, she had not yet married and was interested in meeting a special someone. That evening, she wore a Kelly green dress to set off her auburn hair. Along came Ed, and "he was for some reason smitten with me," June recalled.
He asked her to dance, then sat down at her table. "I was irritated," she said. "That was the kiss of death for a woman trying to find a man. I tried to get him to leave, but I promised him every waltz, because he was one of the few men who knew how to waltz."
Ed was newly divorced from his first wife and had five children. June thought Ed was "not husband material." His hair was a little shaggy, and at 5'11", he was not quite as tall as she would have preferred. He was not college-educated. Also, "he was very loquacious," she said. "We were a mismatch." But the two discovered they lived only a mile and a half apart, and began spending time together.
At first they were just friends; it took June "about six months to turn on to the fact that he was what I was looking for." She liked the fact that Ed was strong-willed and courageous, as well as competent in skills such as mechanics and carpentry. He flew her around in his airplane and had his own airstrip. He would play piano and guitar for her, and make her tea.
They married two years after meeting. "At 48, I got married for the first time," she said. "It was a big step for me, and a big step for him. We were both strong-willed, but we agreed on most things."
Looking back on their 40-year marriage, June said she and Ed were not just husband and wife, but true partners. "I look up once in a while and expect him to be in his chair," she said wistfully. "We hardly ever passed in the house without giving each other a hug and a kiss."
Ed was born in Minnesota and grew up on a small subsistence farm. When he started first grade at age 6, the teacher asked him to spell "cat," but he didn't know what she was talking about; he hadn't realized the symbols on his building blocks at home were from something called the alphabet.
He ended up repeating first grade, though he wasn't aware of it until he received a draft letter at age 18, while a junior in high school. It was 1945. "His buddies didn't get notices," June said. Ed didn't want to join the U.S. Army "because he didn't want to kill anybody," June said, so he signed up for the Merchant Marine. By the end of his training, the war had ended. His ships started carrying troops home from Europe, and later carried bananas to the U.S.
On one memorable trip, the ship ran into rough weather and the engine stopped. As the ship pitched and wallowed and soldiers on board became violently ill, Ed and a buddy spent two or three hours in the engine room, each clinging to the ship with one hand and working a wrench with the other. Eventually they got the engine running again.
Ed moved to Albany in 1955 and worked as a furnace operator at Wah Chang for three years. After a layoff he was assured would be temporary, Ed decided he wanted to be independent and began working full-time as a piano tuner, a trade he had learned from his father. He tuned many pianos in the mid-valley on a regular basis, including those at public schools and Albany Civic Theater — from 1957 till last year — and the instruments at Oregon State University.
At OSU, he tuned pianos before performances by Van Cliburn, the Carpenters and Ferrante & Teicher, the famous piano-playing duo of the '50s and '60s. The pianists paid Ed the ultimate compliment by insisting the two instruments he had painstakingly tuned to each other were still perfectly in tune at intermission and didn't need to be touched up.
But it wasn't all glamour — Ed once removed an escaped corn snake from inside a household piano in Lebanon.
The man who had joined the Merchant Marine to avoid having to kill anyone became actively involved in politics and social issues during his time in Albany. He was interested in workers' rights and union issues, and passionate about the Nevada National Security Site (a testing range for nuclear weapons), where he was arrested for civil disobedience. He traveled to Cuba with Pastors for Peace. He joined the Communist Party in the '70s and was active for 25 years, serving for a time as Oregon District director. He believed in the Bill of Rights and that the United States' profit motive was not good for the country, "that it cut people out too much," June said.
Ed was "one of the most distinctive characters to come through Albany in a long time," June said. "He was kind of rough and crude growing up, but he was a decent, good person with a great dedication to making life better for the working class. I will miss his sense of humor and vast thinking about how to do things differently politically. He had an encyclopedic mind for details, and could explain about finances and how the world could work. He could lay it all out. I admired his strength and his wide range of skills for a guy who didn't go beyond high school."
When asked about Ed's legacy, June said: "It would be, Keep active and keep after it. You don't have to put up with the way things are. You can work for change, even if you don't see a lot of progress. You can get things moving in the right direction. Keep the pressure on, and keep on keepin' on."