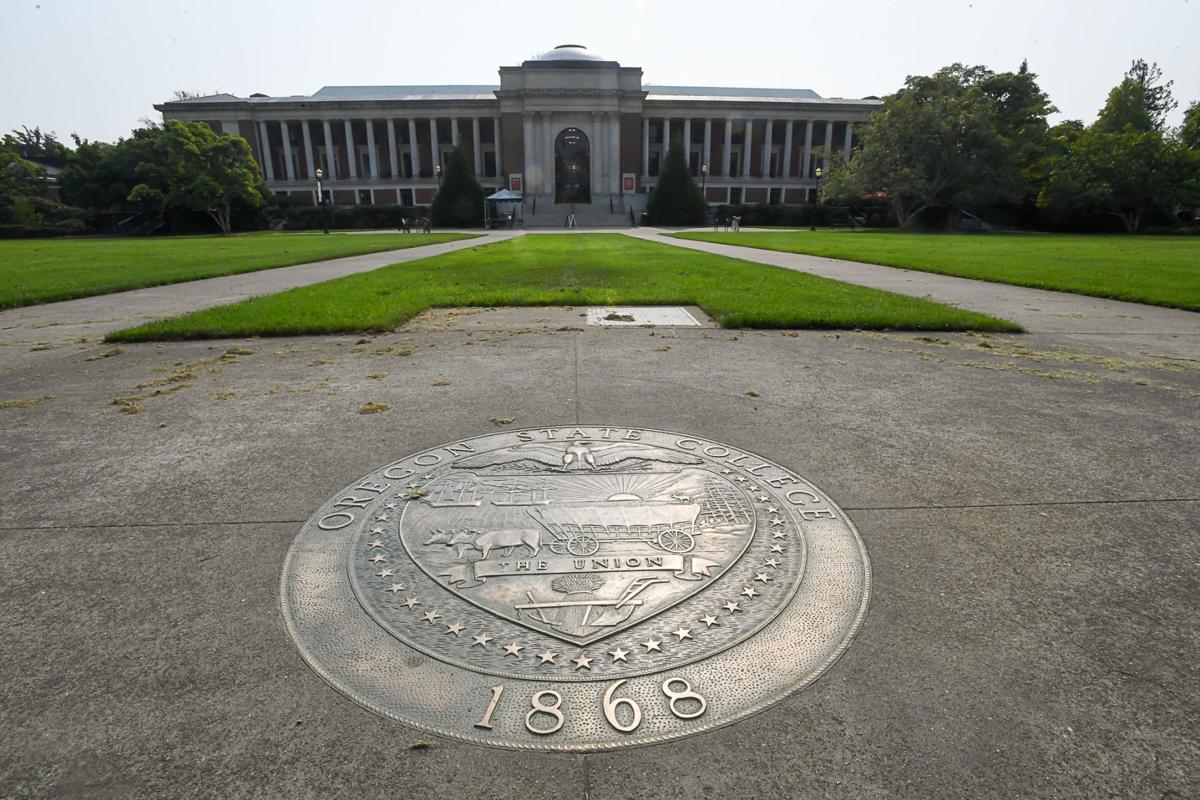 Oregon State University President F. King Alexander offered his resignation to the OSU Board of Trustees in what was the only logical conclusion to his sad saga in Corvallis.
Alexander, to be sure, had sullied the name of this fine institution, in part by statements that weren't truthful to the OSU board, and we probably don't know the full extent of his negligence while he led Louisiana State University.
Watchdog reporters in Oregon and Louisiana are going to chew on this story. New, highly unpleasant details likely will emerge.
While Alexander's resignation is effective April 1, he's on administrative leave until then and essentially persona non grata.
Alexander is done, and that's for the best. We won't even nitpick the $670,000 severance package, which will come from private sources. Frankly, that's money well spent. Begone!
Hopefully, OSU will move forward in a transparent fashion when picking a new president.
We still believe that if OSU had a more open hiring process, important facts would have emerged about Alexander. To recap:
Under his tenure, LSU failed to act on numerous compliance recommendations regarding Title IX, a federal law that requires educational institutions to protect students from sexual harassment and violence.
An independent law firm's recent report found a pattern of willful inaction regarding Title IX and a culture of sexual misconduct, much of this involving the football program at LSU.
Alexander knew of inappropriate behavior toward female students by then-LSU football coach Les Miles and did not terminate his employment. Alexander said he did not have the ability to fire Miles, but that feels like a weak denial of responsibility.
In essence, Alexander failed in his duties on a massive scale at LSU.
Alexander only made things worse for himself by making statements to the OSU board that weren't fully factual, leading LSU to blast him over his character.
For example, Alexander expressed his frustration with not being interviewed by the independent law firm about the crisis. In reality, Alexander twice declined to be interviewed and would only accept written questions from his former employer.
Alexander also mischaracterized his role regarding improvements with LSU's Title IX office, and the implementation new Greek life policies, according to the chairman of the LSU Board of Supervisors.
To be clear, Alexander was unpopular at OSU partly due to other reasons.
There is the proposed renovation of Reser Stadium, announced during the novel coronavirus pandemic, relying on millions of dollars in student funding.
Alexander also drew heat for continuing with the creation of an armed police department on campus, and plenty of questions remain about this agency, including the budget of the force.
While these elements of Alexander's brief tenure were controversial and spurred healthy debate, they weren't scandals.
The developments out of LSU are outrageous. They are why if Alexander didn't try to make an attempt to gracefully leave he probably would have been booted out the door.
Members of the OSU Board of Trustees apologized to the general public on Tuesday, and this seemed sincere, most notably regarding how victims of sexual violence survivors were treated when they spoke during a board meeting last week.
However, the OSU board should have terminated Alexander or demanded he quit during that meeting, and their unusual probation decision only prolonged the agony for the university, the campus and the wider community.
With Alexander's resignation, OSU now can try to move on from this unfortunate chapter in its history. But to do so, the university must make systematic and funding changes going forward with regards to sexual harassment and violence prevention and survivor support.
Perhaps now we'll be able to pay more attention to the outstanding scientific advances OSU has made, such as groundbreaking community testing for COVID-19.
Perhaps now we'll be able to focus on the amazing work of students and rank-and-file educators on the Corvallis campus, over in Bend, and those online.
Perhaps now we'll be able to cheer louder for the outstanding men and women wearing the orange and black on the hardwood, diamond and soccer pitch.
Residents will find it more difficult to be Beaver believers regarding the institution itself. Feelings of resentment are going to linger, and OSU has a lot of hard work to do to earn back trust within our community.